Pengendalian TBK, Mentan Instruksikan Penyuluh Dampingi Petani Kakao
Indonesian Agricultural Extensionist Must be Support Cocoa Farners
Editor : M. Achsan Atjo
Translator : Dhelia Gani

PUBLISHED: Jum'at, 15 Maret 2019 , 05:13:00 WIB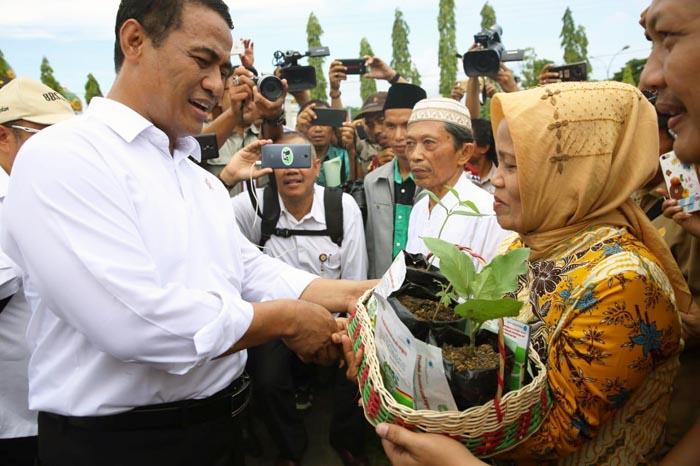 30 JUTA BATANG KAKAO: Mentan Andi Amran Sulaiman (kiri) menyerahkan bantuan bibit kakao kepada petani di Kabupaten Luwu, Sulsel [Foto: Biro Humas Kementan]
Luwu, Sulsel [B2B] - Menteri Pertanian RI Andi Amran menginstruksikan penyuluh pertanian mendampingi petani kakao mengatasi serangan hama pengerek buah kakao [TBK], khususnya dukungan dari penyuluh THL-TBPP yang telah diangkat menjadi CPNS dan ASN-P3K agar lebih rajin bekerja mendukung petani meningkatkan produksi pertanian khususnya tanaman perkebunan seperti kakao.

"Kementan sudah mengangkat penyuluh harian lepas menjadi CPNS sebanyak enam ribu orang pada 2017, dan baru-baru ini diangkat lagi 12 ribu THL-TBPP menjadi ASN-P3K. Sudah ada solusi untuk petani, kita angkat statusnya agar tambah rajin," kata Mentan Amran Sulaiman di Kabupaten Luwu setelah menyerahkan bantuan satu juta batang kakao untuk petani di Provinsi Sulawesi Selatan.

Menurutnya, Presiden RI Joko Widodo berupaya meningkatkan kinerja sekaligus kesejahteraan penyuluh, dengan meningkatkan statusnya sebagai CPNS dan ASN-P3K padahal sebelumnya moratorium.

"Presiden Jokowi perintahkan angkat status pegawai dari penyuluh THL-TBPP. Total ada 18 sampai 19 ribu yang kita angkat. Bahkan kita ingin angkat semua. Intinya, keberhasilan sudah ada di ujung kaki, yang terpenting kita sudah mau mulai. Bangsa Eropa datang ke sini karena tanaman rempah dan perkebunan, maka kita harus mengembalikan kejayaan tanaman perkebunan," kata Mentan Amran Sulaiman.

Instruksi Mentan sangat beralasan lantaran Pemerintah RI telah mengalokasikan bantuan 30 juta batang bibit kakao, kopi, lada, tanaman rempah dan perkebunan lainnya senilai Rp2,4 triliun untuk mendukung program peremajaan tanaman perkebunan dan rempah untuk petani di seluruh Indonesia, target Kementerian Pertanian RI adalah meningkatkan produksi perkebunan strategis hingga tiga kali lipat seperti halnya Vietnam.

"Bantuan ini sesuai instruksi Presiden Jokowi untuk petani di sektor perkebunan, maka hari ini kita tanam bibit unggul kakao yang produktivitasnya 4,5 sampai lima ton per hektar per tahun," kata Amran Sulaiman di Kamanre, Kabupaten Luwu, Provinsi Sulawesi Selatan, belum lama ini.

Program READSI
Sebelumnya diberitakan, Badan Penyuluhan dan Pengembangan SDM Pertanian (BPPSDMP) mengadakan pelatihan kompetensi PPL untuk meningkatkan kapasitas petani menerapkan cara berkebun kakao yang baik dan usaha tani kakao lestari oleh MARS Academy di Tarengge, Kabupaten Luwu selama satu bulan, 30 Januari - 28 Februari 2019.

Tujuan pelatihan agronomi MAR adalah mendukung peningkatan pendapatan dan kesejahteraan para petani kakao di lokasi program Pemberdayaan Pedesaan dan Pembangunan Pertanian (READSI) di tiga provinsi: Sulsel, Sulteng, dan Sultra serta petugas Monev dan petani.

Sebagaimana diketahui, pengentasan keluarga tani miskin menjadi fokus program Rural Empowerment and Agricultural Development Scalling - Up Innitiative disingkat READSI berlangsung di delapan kabupaten dari enam provinsi di Sulawesi, Kalimantan dan Nusa Tenggara Timur (NTT).

Metode pembelajaran praktik 70% dan teori 30%, peserta lebih banyak di lapangan dan praktik langsung materi yang disampaikan sehingga peserta lebih paham dan menguasai materi. [Liene]
Luwu of South Sulawesi [B2B] - Indonesian Agriculture Minister Andi Amran Sulaiman instructed agricultural extensionist assist cocoa farmers to overcome cocoa fruit picking pests in particular in particular support of honorary agricultural extensionist appointed as candidates for civil servants or the CPNS and ASN-P3K working hard to support farmers to increase agricultural production, especially plantation crops such as cocoa.

"The ministry has improved their employment status, a total of 18,000 agricultural extensionist across the country. There is already a solution for farmers, we improved the employment status of agricultural extensionist to be more diligent," said Minister Sulaiman here recently.

According to him, President Joko Widodo seeks to improve the performance and welfare of extensionist by improved staffing status even though it was previously a moratorium.

"President Widodo ordered to increase the employment status of agricultural extension workers. Success is in sight, the most important thing we have started," Minister Sulaiman said.

Ministerial instruction was very reasonable because President Widodo allocated 30 million stems of spices and plantation crops such as cocoa, coffee and pepper IDR2.4 trillion to support the rejuvenation program of plantation and spice plants across the country, the agriculture ministry´s target is to increase the production of plantation commodities for export.

"The assistance of plantation seeds according to President Widodo´s instructions for farmers in the plantation sector," he said.

READSI Program
Previously reported about the training of agricultural extensionist to increase capacity of farmers for good agricultural practice and sustainable cocoa farming by the MARS Academy in Tarengge of Luwu district in South Sulawesi province.

The objective of MARS agronomic training to support support increased income and the welfare of cocoa farmers at the READSI program location in Indonesian provinces: South Sulawesi, Central Sulawesi, and Southeast Sulawesi as well as Monev officers and farmers,

As is known, the alleviation of poor farmers is the focus of the Rural Empowerment and Agricultural Development Scaling-Up Innitiative program or the READSI held in eight districts of six provinces in Sulawesi, Kalimantan and East Nusa Tenggara.

The 70% practical learning methods and 30% theory, more participants in the field and direct practice so participants more easily understand the training material.