Penyuluh Inisiasi KEP, Sokong Pemuda Tani Suplai Jagung Pakan Ternak
Indonesian Youth Initiate Economic Institutions to Empower Corn Farmers
Editor : M. Achsan Atjo
Translator : Dhelia Gani

PUBLISHED: Minggu, 12 Mei 2019 , 05:14:00 WIB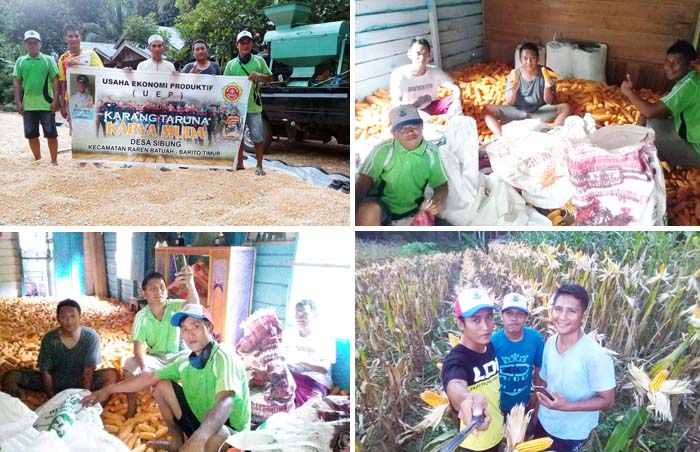 PRODUKSI BERLIMPAH: Jagung melimpah ruah hingga masuk ke dalam rumah lantaran gudang penyimpanan tidak muat lagi menampung para petani muda dari Barito Timur, Kalteng [Foto2: Pusluhtan/Lukmanul Chakim]
Barito Timur, Kalteng [B2B] - Produksi jagung komposit tergolong berlimpah di Kecamatan Raren Batuah, Kabupaten Barito Timur, Provinsi Kalimantan Tengah untuk memasok kebutuhan bahan baku industri pakan ternak, mendorong para pemuda tani di Desa Sibung untuk membentuk Kelembagaan Ekonomi Petani [KEP], yang diinisiasi oleh penyuluh pertanian dari Balai Penyuluh Pertanian [BPP] Raren Batuah untuk mendukung pemberdayaan petani merintis usaha produktif.
Pemuda tani setempat memilih jagung komposit ketimbang jagung hibrida lantaran dapat diproduksi untuk benih berikutnya, harga benih murah karena proses perbenihan mudah dan cepat, waktu tanam maksimal 25 hari dan kebutuhan pupuk kimia dosis sedang yang tidak memerlukan unsur hara tinggi dan potensi hasil sedang, lebih dari lima ton per hektar.
Penyuluh Barito Timur, Lukmanul Chakim melaporkan BPP Raren Batuah di bawah koordinasi Kateluniati beserta jajaran penyuluh setempat memfasilitasi terbentuknya KEP para pemuda tani dari Karang Taruna Karya Muda di Desa Sibung.
"Penyuluh pertanian seperti diamanatkan UU Perlindungan dan Pemberdayaan Petani No 19 tahun 2013 sesuai dengan kewenangannya berkewajiban mendorong dan memfasilitasi terbentuknya KEP," kata Lukmanul Chakim melalui pernyataan tertulis yang disarikan oleh Bidang Penyelenggaraan Penyuluhan di Pusat Penyuluhan Pertanian - Pusluhtan BPPSDMP Kementan.
Menurut Lukmanul Chakim, pengembangan KEP di Desa Sibung diharapkan menjadi KEP rintisan - semacam startup dari KEP - untuk pengembangan usaha yang dikelola oleh petani secara profesional berorientasi bisnis sehingga meningkatkan skala ekonomi, efisiensi usaha dan meningkatkan posisi tawar petani.
"Sesuai arahan Kepala Pusluhtan BPPSDMP Kementan, Siti Munifah maka peningkatan kelembagaan petani menjadi KEP dengan memberi peluang bagi kelompok tani yang telah merintis kegiatan usaha produktif," katanya yang sempat bertemu dengan Kepala Pusluhtan setelah menerima penghargaan penyuluh berprestasi dari Kepala BPPSDMP Kementan, Momon Rusmono di Makassar, awal April lalu.
Dia berharap inisiasi BPP Raren Batuah mendukung Karang Taruna Karya Muda di Desa Sibung akan melahirkan para pengusaha muda yang bermitra dengan kelompok tani, untuk memasok jagung komposit sebagai bahan baku pakan ternak kepada dunia industri. [LC]
East Barito of Central Borneo [B2B] - The composite corn production is classified as abundant in Raren Batuah subdistrict of Barito Timur district in Central Borneo province to supply raw material for the animal feed industry, encourage youth farmers in Sibung village to form Farmer Economic Institutions [KEP], which was initiated by agricultural extensionists to support local farmers in pioneering productive businesses.
The local farmer chooses composite corn rather than hybrid corn because it can be produced for the next seed, cheap seed prices because the process of seeding is easy and fast, maximum planting time of 25 days and the need for medium-dose chemical fertilizers that do not require high nutrient content, and medium yield potential, more than five tons per hectare.