Penyuluh Polivalen, Kapusluh Kementan Harapkan PPL Sumsel Serba Bisa
Indonesian Agricultural Extension Workers should be Versatile: Senior Official
Editor : M. Achsan Atjo
Translator : Dhelia Gani

PUBLISHED: Jum'at, 28 Juni 2019 , 05:02:00 WIB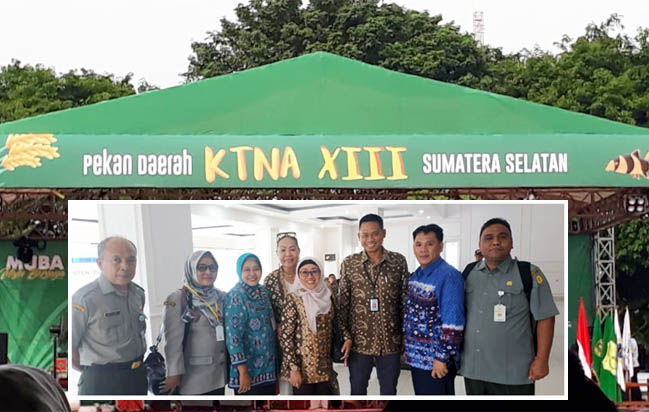 PEKAN KTNA: Kepala Pusluhtan BPPSDMP Kementan, Siti Munifah [ke-5 kiri] dan Kepala Balitbangtan, Fadjry Djufry [ke-3 kanan] dan Penyuluh Pertanian Kementan, Siti Nurjanah [batik hijau] Foto2: Humas Pusluhtan]
Musi Banyuasin, Sumsel [B2B] - Penyuluh pertanian lapangan [PPL] di Provinsi Sumatera Selatan [Sumsel] ke depan diharapkan bersatus serba bisa atau polivalen, mengingat potensi pertanian Sumsel bukan hanya komoditas tanaman pangan juga perkebunan seperti karet dan kelapa sawit, sebagai bahan baku utama aspal dan energi terbarukan B100.
"Pemerintah pusat khususnya Kementerian Pertanian RI mengharapkan PPL Sumsel mampu bertindak polivalen atau serba bisa. Artinya, penyuluh tidak hanya fokus pada satu komoditas tapi juga menguasai komoditas lain, yang berkaitan dengan tugas sebagai penyuluh," kata Siti Munifah, Kepala Pusat Penyuluhan Pertanian [Pusluhtan BPPSDMP Kementan] di Kabupaten Musi Banyuasin, Sumsel, Senin [24/6].
Menurutnya, peningkatan kebutuhan pangan nasional dan global, mengharuskan penyuluh memiliki kompetensi dari tanaman pangan [monovalen] juga harus menguasai hortikultura, perkebunan dan peternakan [polivalen]
Dalam era baru pertanian, kata Siti Munifah, penyuluh dituntut memiliki tiga fungsi yakni alih teknologi, fasilitator, dan penasehat sehingga penyuluh selayaknya menguasai dan memanfaatkan teknologi informasi dan komunikasi [TIK] mendukung kinerjanya.
Kepala Pusluhtan BPPSDMP Kementan hadir di Musi Banyuasin menghadiri pembukaan Pekan Daerah KTNA XIII 2019 Sumsel, yang dihadiri Kepala Badan Litbang Pertanian, Fadjry Djufry mewakili Mentan Andi Amran Sulaiman. Tampak hadir Gubernur Sumsel, Herman Deru, Ketua KTNA Pusat Winarno Tohir dan para bupati dan walikota dari seluruh Sumsel.
Siti Munifah menambahkan, tema-tema penyuluhan juga bergeser tidak hanya sekedar peningkatan produksi namun menyesuaikan dengan isu global yang lain misalnya bagaimana mendukung petani mengatasi persoalan perubahan iklim global dan perdagangan global.
"Petani perlu dikenalkan dengan sarana produksi yang memiliki daya adaptasi tinggi terhadap goncangan iklim, selain itu teknik bertani yang ramah lingkungan, hemat air serta tahan terhadap cekaman suhu tinggi nampaknya akan menjadi tema penting bagi penyuluhan pertanian masa depan," katanya. [Liene]
Musi Banyuasin of South Sumatera [B2B] - Indonesian agricultural extension workers in South Sumatra province in the future in the future must be versatile, considering the province´s agricultural potential is not only food crops but also plantations such as oil palm and rubber, as the main raw material for asphalt and renewable energy B100.