Target BKP Kementan 2018, 1.398 Mitra Gapoktan Dukung 3.433 Gerai Toko Tani
2018, Indonesian Farmer`s Store will be Supplied by 1,398 Staple Food Suppliers
Reporter : Gusmiati Waris
Editor : Cahyani Harzi
Translator : Dhelia Gani

PUBLISHED: Sabtu, 23 Desember 2017 , 05:33:00 WIB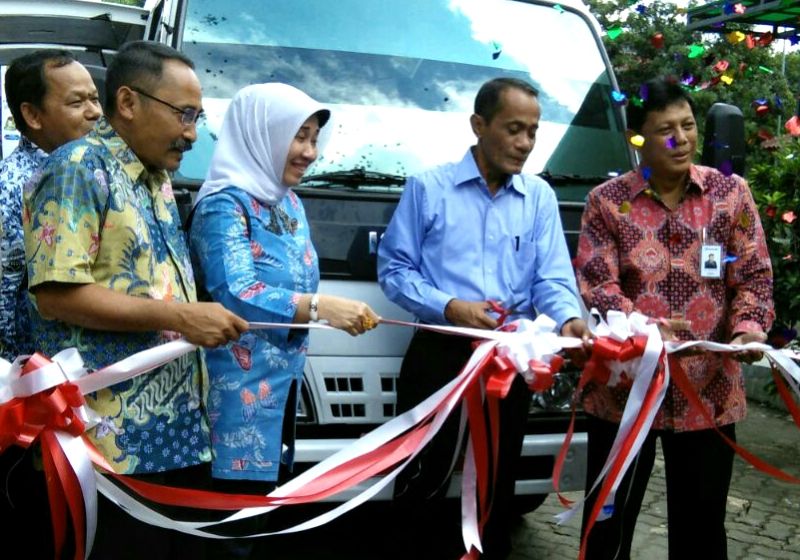 Kepala BKP Kementan, Agung Hendriadi (kemeja biru) menggunting pita (Foto: Humas BKP Kementan)
Jakarta (B2B) - Kementerian Pertanian RI menargetkan hampir 1.398 gabungan kelompok tani (Gapoktan) akan mendukung pasokan pangan pokok ke hampir 3.433 gerai Toko Tani Indonesia (TTI) di seluruh negeri tercinta untuk mendukung stok pangan siap jual, dengan harga yang menguntungkan petani dan terjangkau konsumen.
Kepala Badan Ketahanan Pangan (BKP) Kementan, Agung Hendriadi mengatakan TTI akan melakukan ekspansi pada 2018 dengan mengembangkan 1.000 gerai baru dan tambahan 500 Gapoktan sehingga totalnya 1.398 Gapoktan mendukung 3.433 TTI.
"Target tersebut untuk mendorong pengembangan TTI untuk mendukung stabilisasi pasokan, dan harga pangan pokok dan strategis yang dilaksanakan melalui kegiatan pengembangan usaha pangan masyarakat disingkat PUPM," kata Agung kepada pers di Jakarta, Jumat (22/12).
Melalui pengembangan usaha pangan maka pemasok pangan dan toko tani diberdayakan menjadi lembaga usaha pangan masyarakat dalam rantai distribusi yang efektif dan efisien.
Agung menambahkan PUPM yang dikembangkan BKP Kementan hingga saat ini didukung 898 Gapoktan dan 2.433 TTI di 32 provinsi. Kalau pada 2016 hanya 492 Gapoktan dan 1.320 TTI kemudian meningkat menjadi 406 Gapoktan dan 1.113 gerai TTI pada pertengahan 2017.
Khusus 2017, Gapoktan sebagai penyuplai bahan pangan dikonsentrasikan pada tujuh provinsi sentra padi yaitu Sumsel, Lampung, Banten, Jabar, Jateng, Jatim, dan NTB, untuk menyuplai beras, cabai dan bawang merah ke gerai TTI.
Jakarta (B2B) - Indonesian Agriculture Ministry is target nearly 1,398 farmer group associations support staple food supplies to 3,433 Indonesian Farmers Stores across the country to support food stocks at prices that benefit farmers and affordable for consumers.
Director General of Food Security Agency, Agung Hendriadi said the farm shop in 2018 will open 1,000 new outlets and add 500 suppliers, or a total of 1,398 suppliers to 3,433 farm shops.
"The BKP Food Security Agency support development of farm shops for stability of food stocks through the development of community food business," Mr Hendriadi told reporters here on Friday (December 22).
Through food business, suppliers and farmers´ shops are empowered to become community food business entities into an effective and efficient distribution chain.
Mr Hendriadi said the community food business developed by government was supplied by 898 suppliers and 2,433 outlets in 32 provinces.
In 2017, the farmer groups as food suppliers is concentrated in seven provinces of rice centers namely South Sumatra, Lampung, Banten, West Java, Central Java, East Java, and NTB to supply rice, chili and shallot to farm shops.