Petani Milenial Minahasa Pasok Tomat Sulawesi Utara
Indonesian Agriculture Anticipate Covid-19 by Weaker Health Systems
Editor : M. Achsan Atjo
Translator : Dhelia Gani

PUBLISHED: Kamis, 07 Mei 2020 , 05:36:00 WIB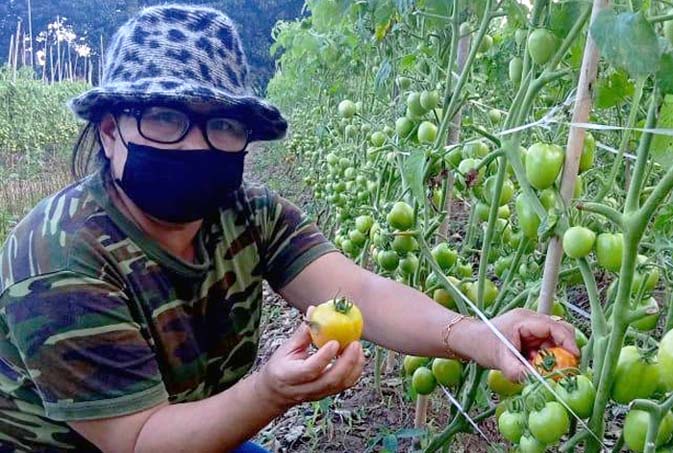 DUKUNGAN PENYULUH: Penyuluh Anneke Turangan selaku Koordinator BPP Lawongan Timur mendampingi kedua petani milenial Minahasa untuk olah lahan, olah tanam, pemeliharaan, panen hingga pasca panen tomat [Foto: Humas Pusluhtan]
Minahasa, Sulut [B2B] - Petani milenial Minahasa, Rival Otta dan Yorri secara rutin memasok kebutuhan tomat di tingkat kabupaten hingga Provinsi Sulawesi Utara. Keduanya menerapkan inovasi teknologi sistem tanam guludan yang menghasilkan minimal dua ton sekali panen, dari masa tanam tomat selama 50 hari di Desa Sumarayar, Kecamatan Lawongan Timur.
"Pertama kali panen, hasilnya dua ton. Harga di tingkat petani Rp10.000 per kg. Panen keempat mencapai tiga ton, harga jual tetap Rp10.000 per kg. Panen ketiga juga sama, tapi harganya kurang bagus, jatuh Rp7.500 per kg," kata Rival Otta didampingi Yorri melalui pernyataan tertulis.
Kendala tersebut disikapi keduanya dengan optimistis mengingat budidaya tomat tidak sulit setelah 'menyulap' bekas lahan jagung. "Kami sudah mendederkan tanaman baru untuk kembali menyiapkan tanam lagi."
Penyuluh Anneke Turangan selaku Koordinator BPP Lawongan Timur mendampingi kedua petani milenial Minahasa untuk olah lahan, olah tanam, pemeliharaan, panen hingga pasca panen tomat.
Keberhasilan kedua petani milenial juga didukung penyuluh Arnold C Turang saat mengontak petani binaanya via on line. "Hasil panen tomat dijemput oleh kendaraan pembeli yang dikemas dalam wadah kotak, yang sudah di modifikasi sedemikian rupa."
Penyuluh pertanian pusat di Kementerian Pertanian RI, Suwarna selaku pendamping kegiatan penyuluhan pertanian Provinsi Sulawesi Utara menyatakan kinerja petani tomat Minahasa sejalan instruksi Menteri Pertanian RI Syahrul Yasin Limpo bahwa pertanian tidak boleh berhenti di tengah pandemi Covid-19.
Sementara Kepala BPPSDMP Prof Dedi Nursyamsi mengingatkan petani dan penyuluh untuk mematuhi Protokol Kesehatan. "Kenakan masker, jaga jarak, hindari kerumunan dan sering cuci tangan pakai sabun untuk menangkal Corona."
Kepala Pusat Penyuluhan Pertanian [Pusluhtan BPPSDMP] Leli Nuryati mengapresiasi dukungan penyuluh pertanian yang setia mendampingi petani di lapangan. "Pangan berperan penting untuk memenuhi kebutuhan dasar manusia sekaligus menjaga stabilitas nasional di tengah krisis Covid-19." [Liene]
Minahasa of North Sulawesi [B2B] - Indonesia´s Agriculture Ministry is in intensive care after testing positive for the novel coronavirus, as civil servants in head office and across the country were ordered to close over the health threat. The World Health Organization has said it is particularly concerned about high-risk nations with weaker health systems, which who may lack the facilities to identify cases.