Petani Jateng Tolak Jagung Impor, Produksi Triwulan I Capai 1,45 Juta Ton
Central Java Farmers Reject Corn Imports because of Surplus Production
Editor : M. Achsan Atjo
Translator : Dhelia Gani

PUBLISHED: Senin, 18 Februari 2019 , 05:44:00 WIB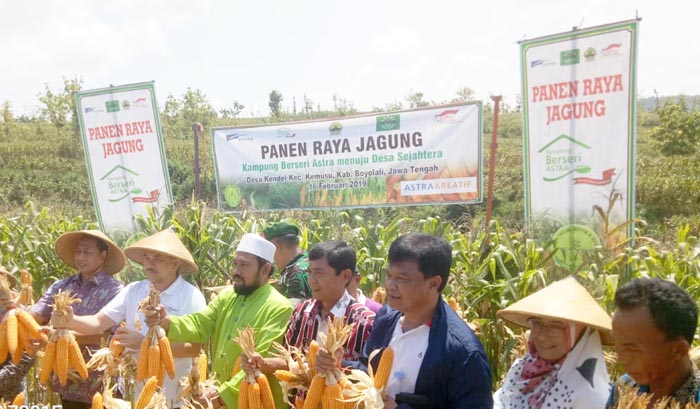 GANDENG ASOSIASI: Kadistan Pemprov Jateng Suryo Benandro panen jagung di Boyolali didampingi koordinator penyuluh pertanian Kecamatan Kemusu (Foto: Humas Pusluhtan)
Boyolali, Jateng (B2B) - Hasil produksi jagung semester pertama 2019 di Provinsi Jawa Tengah diperkirakan mencapai 1,45 juta ton hingga akhir Maret, meningkat ketimbang periode sama 2018, sehingga tidak memerlukan jagung impor karena hasil panen petani melampaui kebutuhan provinsi atau surplus produksi.
"Total produksi jagung Jateng tahun lalu mencapai 3,5 juta ton, sementara produksi jagung triwulan pertama 2019 bisa mencapai 1,45 juta ton. Surplus produksi mendorong petani menolak jagung impor karena akan menekan harga jagung petani," kata Kepala Dinas Pertanian Pemprov Jateng, Suryo Benandro usai panen jagung di Desa Kendel, Kecamatan Kemusu, Sabtu (16/2).
Menurutnya, sejumlah bupati dan walikota pun menolak jagung impor masuk wilayah Jateng mengingat hasil panen melimpah, sementara harga jagung saat ini di kisaran Rp4.200 atau di atas harga referensi pemerintah Rp3.150 per kg.
Pemprov Jateng berniat menggandeng Asosiasi Gabungan Pengusaha Makanan Ternak untuk mengantisipasi antisipasi jatuhnya harga jagung di provinsi akibat produksi melimpah.
"Asosiasi tersebut merupakan konsumen terbesar jagung di Jateng, langkah itu mem-back up harga agar tetap stabil," kata Suryo B.
Boyolali of Central Java (B2B) - Central Java´s corn production for the first quarter of 2019 is estimated reach 1.45 million tons by the end of March, increase compared to the same period in 2018, so that it does not require imported corn because farmers´ crop yields exceed provincial needs.
"Central Java´s corn production last year reached 3.5 million tons, while in the first quarter of 2019 could reach 1.45 million tons. The production surplus encourages farmers reject imported corn because it will suppress farmers´ selling prices," said Head of the Agriculture Service, Suryo Benandro after the corn harvest in Kendel village of Kemusu subdistrict, Saturday (February 16).
According to him, a number of regents and mayors also rejected imported corn into Central Java because of abundant production, while the current price is around IDR4,200 or above the government´s reference price IDR3,150 per kg.
The Central Java provincial government intends to partner with the Livestock Food Entrepreneurs Association anticipation of falling corn prices due to abundant production.
"The association is the largest consumer of corn in the province, to back up prices to remain stable," Benandro said.