"Penyuluh Jangan Kalah Pintar dari Petani," kata Bupati Tanahlaut Kalsel
Indonesian Agricultural Extentionists should be supported by Knowledge of Seed Breeding
Editor : M. Achsan Atjo
Translator : Dhelia Gani

PUBLISHED: Senin, 27 Mei 2019 , 05:55:00 WIB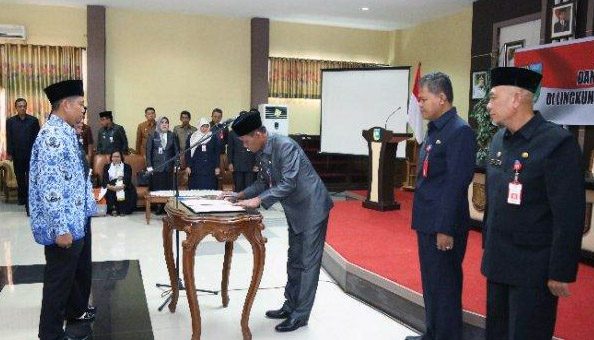 SENTRA JAGUNG: Bupati Tanahlaut H Sukamta menandatangani SK pengangkatan pejabat fungsional di lingukungan Pemkab [Foto: istimewa]
Tanahlaut, Kalsel [B2B] - Penyuluh pertanian di Kabupaten Tanahlaut, Provinsi Kalimantan Selatan diingatkan untuk meningkatkan pengetahuan tentang pertanian, khususnya teknik penangkaran benih jagung kepada petani, dan bukan hanya mendorong petani meningkatkan hasil produksi pertanian terutama jagung. Kemampuan produksi bukan lagi standar keberhasilan penyuluh pertanian, namun bagaimana meningkatkan kemampuan petani.
"Fungsional penyuluh pertanian jangan kalah pintar dengan petaninya. Rajin-rajinlah meng-update ilmu pertanian, dan harus lebih pintar dari petani. Kalau penyuluh aktif meng-update ilmu pertanian, jangan hanya mengajarkan cara meningkatkan hasil produksi, juga harus mengetahui penangkaran benih," kata Bupati Tanahlaut, H Sukamta saat pelantikan pejabat fungsional di lingkungan Pemkab Tanahlaut, Jumat [24/5].
H Sukamta mengingatkan Kabupaten Tanahlaut sebagai sentra produksi pertanian khususnya jagung di Kalsel harus didukung ´penyuluh mumpuni´ yang mampu mendidik petani untuk melakukan penangkaran benih jagung.
"Kalau petani bisa menangkar benih jagung, tentu akan menguntungkan petani, sebagai pejabat fungsional tentunya penyuluh merupakan profesional yang ahli di bidangnya," kata H Sukamta usai melantik sembilan penyuluh bersama pranata komputer, pelaksana bidan, pengawas sekolah madya, asisten apoteker pelaksana, perawat penyelia, pengawas penyelenggaraan urusan pemerintahan daerah pertama, dan pengelola pengadaan barang/jasa muda.
Sebagaimana diketahui, Tanahlaut kini berkembang menjadi sentra produksi jagung, Februari 2019 petani panen raya dengan produksi 14.646 ton dari 2.441 hektar. Maret 2019 sekitar 55.295 ton pipilan kering dari lahan 8.507 hektar, sementara luas panen April 2019 diperkirakan mencapai tiga ribuan hektar dengan perkiraan produksi 18.000 ton pipilan kering.
Tanahlaut of South Borneo [B2B] - Agricultural extensionists in TanahLat district of South Kalimantan province are reminded to increase knowledge about agriculture, in particular techniques of maize seed to farmers, and not only encourages farmers to increase agricultural production, especially corn. Production capability is no longer the standard of success of agricultural extensionists, but how to increase farmers´ knowledge.
"Functional agricultural extension workers must be smarter than farmers. Must be diligent in studying agricultural science, and must be smarter than farmers. Agricultural extensionists don´t just teach about increasing production, also about seed breeding," said Regent H Sukamta after inaugurating functional officials in Tanahlaut district government here on Friday [May 24].
H Sukamta reminded the Tanahlaut district as agricultural production center, especially corn, to be supported by ´qualified extensionists´ who were able to educate farmers to carry out corn seed breeding.
"If farmers can breed corn seeds, it will certainly benefit farmers, as functional officials of course extensionists are professionals who are experts in their fields," he said.