Panen Jagung Perdana, Penyuluh Kampar Dampingi Poktan Harapan Jaya
Indonesian Agricultural Extensionist Support Farmers to Increase Corn Production
Reporter : Gusmiati Waris
Editor : Cahyani Harzi
Translator : Dhelia Gani

PUBLISHED: Selasa, 19 Februari 2019 , 06:16:00 WIB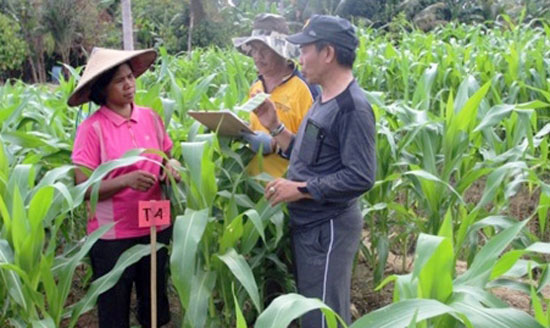 Foto: istimewa
Kampar, Riau (B2B) - Kerja bareng petani dan penyuluh pertanian di Kecamatan Tapung, Kabupaten Kampar membuahkan hasil, kelompok tani - Poktan Harapan Jaya berhasil melakukan panen perdana jagung seluas enam hektar dari potensi 69 hektar, Sabtu (16/2).
Keberhasilan kolaborasi tersebut diapresiasi oleh Kepala Dinas Tanaman Pangan, Hortikultura dan Perkebunan (TPHP) Pemerintah Provinsi Riau, Ferry HC Erna Putra yang menyempatkan hadir untuk menyaksikan panen perdana jagung Poktan Harapan Jaya di Desa Karya Indah.
Poktan Harapan Jaya merupakan petani binaan Dinas TPHP Riau yang bekerja sama dengan badan usaha milik petani (BUMP) PT Tani Mandiri.
"Adapun produksi jagung rata-rata enam hingga tujuh ton per hektar. Hasil panen perdana dijual kepada pengusaha pakan ternak di Kampar, harga jual Rp5.300 per kg," menurut pernyataan tertulis dari Pusat Penyuluhan Pertanian (Pusluhtan)
Kolaborasi petani dan penyuluh pertanian diakui peran pentingnya oleh Presiden RI Joko Widodo, yang membantu petani khususnya peningkatan produksi jagung sehingga impor komoditas jagung terus turun sejak 2014.
Jokowi menguraikan impor jagung 2014 mencapai 3,6 juta ton, turun menjadi hanya 180.000 ton pada 2018, artinya impor jagung berkurang hampir 3,4 juta ton selama 2014 - 2018.
"Kita berhasil kurangi 3,4 juta ton impor jagung. Itu adalah keberhasilan dari bapak, ibu dan saudara - saudara sekalian dalam memperbaiki produksi," kata Jokowi saat bertemu ribuan penyuluh pertanian di GOR Jatidiri, Kota Semarang, Minggu (3/2). (Lin)
Kampar of Riau (B2B) - Collaboration between farmers and agricultural extension workers in Tapung sub-district, Kampar district provides benefits for farmer groups who made the first six-hectare corn harvest from the potential of 69 hectares on Saturday (February 16).
The success was appreciated by Head of Riau provincial government agriculture office, Ferry HC who took the time to witness the first harvest of Harapan Jaya Poktan corn in Karya Indah village.
Harapan Jaya farmer group are assisted by the provincial government supported by a farmer-owned business entity, Tani Mandiri.
"The average corn production is six to seven tons per hectare. The first crop is sold to livestock feeders in Kampar, the selling price is IDR5,300 per kg," according to a written statement of Agricultural Extension Center at the Indonesian Agriculture Minister.
Collaboration farmers and extensionist is recognized by Indonesian President Joko Widodo as being important which helps farmers, especially increasing corn production so that the corn import continues to decline since 2014.
Widodo outlined 2014 corn imports reached 3.6 million tons, down to 180,000 tons in 2018, meaning that corn imports have decreased by 3.4 million tons during 2014 - 2018.
"Indonesia managed to reduce 3.4 million tons of corn imports. It was the success of farmers and agricultural extensionist," President Widodo said while met with thousands of extensionist in Semarang, in early February.