Kompetensi SDM Kopi, Puslatan Gelar Pendidikan Vokasi dan Pelatihan Sertifikasi
Indonesia`s Agribusiness Management Competence of Coffee Seeds
Editor : M. Achsan Atjo
Translator : Dhelia Gani

PUBLISHED: Jum'at, 11 Januari 2019 , 06:02:00 WIB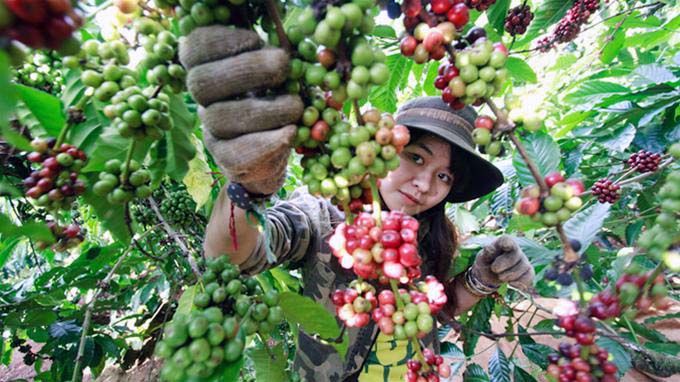 PANEN KOPI: Indonesia produsen kopi terbesar ke-4 dunia setelah Brazil, Vietnam dan Kolombia, total produksi 11,491,000 ton per tahun menurut International Coffee Organization (Foto: Puslatan BPPSDMP Kementan)
Jakarta (B2B) - Kementerian Pertanian RI mendorong penyiapan SDM kopi berbasis kompetensi pengelolaan budidaya dan pengolahan hasil, menyikapi posisi Indonesia sebagai produsen kopi terbesar keempat dunia dan meningkatnya animo masyarakat Indonesia mengonsumsi kopi sebagai gaya hidup.
Kepala Pusat Pelatihan Pertanian (Puslatan) Bustanul Arifin Caya mengatakan SDM kopi berbasis kompetensi menjadi tuntutan global, maka Badan Penyuluhan dan Pengembangan SDM Pertanian (BPPSDMP) telah menggelar pendidikan vokasi dan pelatihan sertifikasi pada unit pelaksana teknis (UPT) di dua provinsi yakni Lembang, Jawa Barat dan Kupang, Nusa Tenggara Timur.
"Dengan adanya pendidikan vokasi dan pelatihan sertifikasi berbasis kompetensi tersebut, ke depan akan tercipta SDM kompeten dan berdaya saing di bidang perkopian," kata Bustanul AC melalui pernyataan tertulis kepada B2B.
Sebagaimana diketahui, Sekolah Menengah Kejuruan Pertanian Pembangunan Negeri (SMK PPN) Tanjung Sari di Sumedang, Jawa Barat menjadi sekolah kopi pertama di Indonesia.
"Kini Indonesia dapat bermimpi menjadi produsen kopi nomor satu di di dunia melalui lulusan-lusan pendidikan vokasi dan pelatihan yang kompeten," kata Bustanul AC.
Kepala Bidang Standardisasi Sertifikasi Profesi Puslatan, Zuroqi Mubarok mengatakan BPPSDMP Kementan pun telah menyiapkan pelatihan teknis dan sertifikasi tenaga kerja bidang perkopian, salah satunya di Balai Besar Pelatihan Pertanian - BBPP Lembang, yang telah menghasilkan lulusan peserta pelatihan sebanyak 90 petani kopi dari seluruh Indonesia.
"Sebagian besar dari mereka berlatih budidaya dan pengolahan kopi. Sertifikasi juga merupakan salah satu bukti kompetensi atas kemampuan petani melakukan budidaya hingga pengolahan hasil," kata Zuroqi M yang akrab disapa Okky.
Jakarta (B2B) - Indonesian Agriculture Ministry encourages development of coffee human resources based on competency in cultivation management and processing of production, addressing Indonesia´s position as the world´s fourth largest coffee producer, and increasing coffee consumption as a lifestyle.
Director of ministry´s Agriculture Training Center, Bustanul Arifin Caya said competency-based coffee HR is the global demand, the Directorate General Extension and Agricultural HR Development or BPPSDMP has held vocational education and certification training in two provinces namely Lembang, West Java and Kupang, East Nusa Tenggara.
"Vocational education and training on competency-based coffee certification in the future will develop competent and competitive human resources," said Caya through a written statement to the B2B.
As is known, Tanjung Sari Agricultural Development Vocational School in Sumedang, West Java became the first coffee school in Indonesia.
"Now Indonesia can dream of becoming the number one coffee producer in the world through vocational education and competency training" Caya said.
Head of Standardization for Professional Certification, Zuroqi Mubarok said the ministry has prepared technical training and certification of the coffee workforce, such as the Lembang´s Agricultural Training Center, has graduated 90 coffee farmers across the country participated in Lembang training.
"Most of them practice coffee cultivation and processing. The Certification is also proof of competence of farmers do cultivation until processing the production," said Mubarok who is familiarly called Okky.