Gabah Bawon, Penyuluh Elaborasi Harga GKP `Padi Rebah dan Berdiri`
Indonesian Set Government Grain Prices to Protect Rice Farmers
Editor : M. Achsan Atjo
Translator : Dhelia Gani

PUBLISHED: Rabu, 27 Maret 2019 , 06:26:00 WIB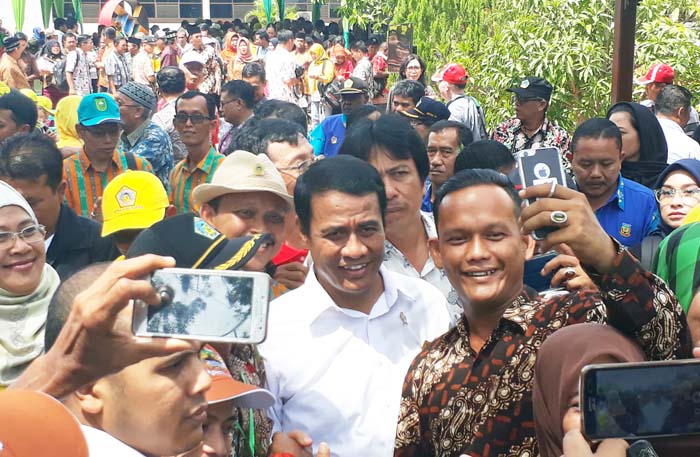 SELFIE DENGAN MENTAN: Penyuluh pertanian kerap mengambil kesempatan untuk swafoto [selfie] dengan Mentan Amran Sulaiman pada kunjungan kerja di wilayah pendampingan mereka [Foto: B2B/Mac]
Karawang, Jabar [B2B] - Pemerintah Kabupaten [Pemkab] Karawang memastikan harga gabah kering panen [GKP] di tingkat petani Rp4.200 hingga Rp4.300 per kg, dan harga Rp3.500 per kg berlaku untuk gabah bawon yang diberikan pemilik sawah kepada buruh tani sebagai upah kerja. Sementara Perum Badan Urusan Logistik [Bulog] membeli GKP dengan harga lebih tinggi untuk ´padi berdiri´ di atas harga pembelian pemerintah [HPP] Rp4.070 namun GKP dari ´padi rebah´ lantaran angin kencang dan hujan di kisaran Rp3.800 sampai Rp3.900 per kg.

Hal itu diungkapkan oleh Slamet Sugiman, penyuluh pertanian lapangan [PPL] di Desa Mekarsari, Kecamatan Jatisari, Karawang di Provinsi Jawa Barat, dan Kepala Dinas Pertanian Pemkab Karawang, Hanafi di sela kunjungan kerja Menteri Pertanian RI Andi Amran Sulaiman di Desa Mekarsari, Kecamatan Jatisari, Selasa [26/3].

Kabar tentang harga GKP Rp3.500 per kg awalnya sempat membuat gusar Mentan Amran Sulaiman yang menduga Bulog tidak serius mendukung program serap beras/gabah petani [Sergap] yang digagas Mentan sejak 2015 untuk menjaga suplai beras ke pasar dan semangat petani meningkatkan produksi sekaligus menaikkan kesejahteraan petani.

"Ini kami bawa Bulog. Ada gabah katanya lagi turun harganya Rp 3.500 per kilogram. Ini tolong dikejar. Harga gabah Rp 3.500 ini tidak boleh. Minimal kata Bapak Presiden Rp 4.070 per kilogram," kata Mentan.

Mentan hadir di Karawang pada kegiatan ´Sinkronisasi dan Apresiasi Program Kementerian Pertanian 2019´ yang dihadiri oleh lima ribu petani, santri tani milenial, dan penyuluh pertanian. Turut hadir Bupati Cellica N; Dirjen PSP Sarwo Edhy; Kepala Badan Penyuluhan dan Pengembangan SDM Pertanian [BPPSDMP] Momon Rusmono; Dirjen Perkebunan, Kasdi Subagyono; Kepala Badan Penelitian dan Pengembangan Pertanian [Balitbangtan] Fadjry Djufry; dan Tenaga Ahli Mentan, Baran Wirawan.

Sistem Bawonan
Hanafi pun menjelaskan bahwa berdasarkan hasil penelusuran, harga GKP Rp3.500 per kg berlaku untuk gabah bawon. Sampai saat ini, di kawasan lumbung padi seperti Karawang masih berlaku gotong royong dan kekeluargaan saat panen raya padi, untuk membantu saudara/kerabat/tetangga mendapatkan beras dengan bekerja sebagai buruh tani.

Sebagaimana diketahui ´bawonan´ merupakan alternatif yang baik bagi sistem pengupahan usaha tani padi. Bagi pemilik lahan hal ini akan menguntungkan dari siisi isiko rendah, biaya tanam lebih ringan, kualitas kerja buruh lebih bagus dan menciptakan ikatan sosial lebih erat.

"Bagi buruh tani yang diupah mendapat keuntungan yang lebih besar, terjaminnya kebutuhan pangan serta terjaminnya pekerjaan di sawah. Karena terorientasi hasil panen yang baik, maka kinerja buruh tani akan dioptimalkan agar mereka mendapatkan hasil panen yang baik pula untuk pengupahan," kata Slamet S.

Sistem bawon biasanya menerapkan bagi hasil 5 berbanding 1 hingga 6 : 1, tergantung kesepakatan antara pemilik lahan dan buruh tani. Hal ini berarti rata-rata setiap 5 kg gabah yang didapatkan pemilik, buruh tani berhak mendapatkan 1 kg gabah sebagai upah.

Terkait padi rebah, penyuluh Slamet S menguraikan tentang harga GKP pada 24 hingga 26 Maret 2019 untuk padi varietas Inpari 32, Inpari 33 dan Ciherang adalah Rp3.800 sampai Rp3.900 per kg untuk posisi pertanaman padi rebah.

"Harga Rp4.200 sampai Rp4.300 per kg untuk posisi tanaman pertanaman padi berdiri," katanya.

Adapun luasan padi rebah di Desa Mekarsari sekitar 12 hektar dan luasan padi yang dipanen baru mencapai 10 hektar sementara luas panen di seluruh Kecamatan Jatisari diperkirakan 175 hektar saat ini. [Budi]
Karawang of West Java [B2B] - Karawang district government ensures the price of harvested unhulled rice [GKP] at the farm level IDR4,300 per kg, and IDR3,500 per kg for first quality grain for farm laborers. While the National Logistics Agency [Bulog] buys GKP at a higher price for premium grain above the government purchase price [HPP] IDR 4,070 but the price of the second quality grain is IDR3.900 per kg.
It was stated by Slamet Sugiman, an agricultural extensionist in Mekarsari village of Jatisari sub-district, Karawang district, West Java province, and Head of Karawang Agriculture Office, Hanafi during the working visit of Indonesian Agriculture Minister Andi Amran Sulaiman here on Tuesday [March 26].
Information about the price of IDR3,500 per kg of GKP had upset Minister Sulaiman who suspected that Bulog was not serious in supporting the farmers´ rice purchase program [Sergap] to maintain the supply of rice to the market, keeping the spirit of farmers increasing production and welfare of farmers.
"I invited Bulog here today. I heard that the price of farmer´s grain dropped to IDR3,500 per kg. President Joko Widodo wants farmers´ grain prices not to be below IDR4,070 per kg," Minister Sulaiman said.
The bawon system usually applies profit sharing 5 to 1 to 6: 1, depending on the agreement between land owners and farm workers.
The area of rice lying in Mekarsari village is around 12 hectares and the harvested rice area has only reached 10 hectares, while currently the rice harvest area in Jatisari sub-district is estimated 175 hectares.
(US$1 = 14,255.0000 rupiah)