36.362 Ton, Pusluhtan BPPSDMP Kawal Target Sergap Bulog Cirebon
Indonesian Govt Reminded the obligation of Bulog to Support Rice Farmers
Editor : M. Achsan Atjo
Translator : Dhelia Gani

PUBLISHED: Senin, 11 Maret 2019 , 06:28:00 WIB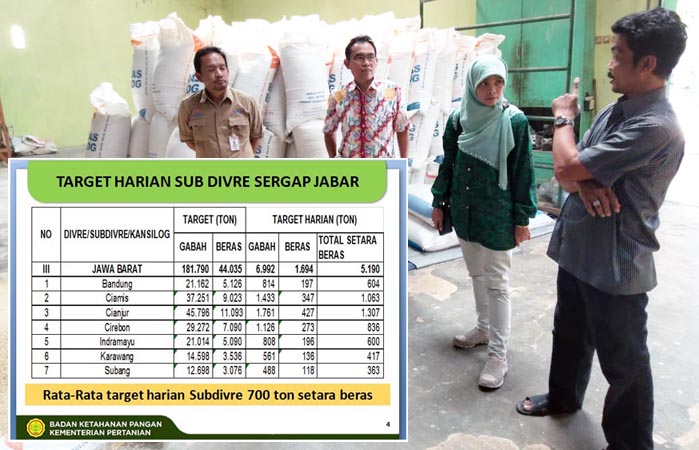 GUDANG BULOG: Kasubbid Informasi dan Materi Penyuluhan Pusluhtan, Septalina Pradini (hijab) pantau gudang Bulog Cirebon didampingi Kasubdivre Dedi Apriliadi (kiri). Foto: Humas Pusluhtan/Iwan & Tabel: BKP Kementan
Bandung, Jabar [B2B] - Perum Bulog Divre Jawa Barat mengakui realisasi serapan gabah/beras hingga awal Maret 2019 baru mencapai 957 ton atau 0,57% dari target 161.638 ton atau 8,8% dari potensi produksi beras provinsi hingga akhir Maret 2019 sebesar 1,83 juta ton. Kondisi tersebut meneguhkan komitmen Pusat Penyuluhan Pertanian [Pusluhtan BPPSDMP] untuk mengawal target Bulog Subdivre Cirebon sebesar 29.272 ton gabah dan 7.090 ton beras atau total 36.362 ton sementara target rata-rata harian Subdivre adalah 700 ton setara beras.
Hal itu terkuak dari keterangan Kepala Divre Bulog Jabar, Benhur pada rapat koordinasi serapan gabah/beras petani (Sergap) Jawa Barat, yang dipimpin Agung Hendriadi, selaku Penanggung Jawab - PJ Sergap Nasional dan dihadiri para PJ yang mengawal tujuh eks Karesidenan di Jabar [lihat tabel] di bawah koordinasi PJ Sergap Jabar, Momon Rusmono.
"Serapan gabah/beras Bulog hingga awal Maret 2019 jauh di bawah target, baru mencapai 0,57 persen dari target 161.638 ton, maka kami hadirkan ketujuh kepala Subdivre untuk koordinasi dengan Kementan," kata Benhur di Bandung, pada Rakor yang berlangsung di kantornya, Jumat (8/3).
Agung pun mengingatkan Bulog Jabar agar fokus pada beras komersial, medium dan premium; perpanjangan waktu beli jual dari dua minggu menjadi satu bulan, proaktif menyerap dan mencari pasar dengan mengubah mindset [pola pikir].
"Kalau perlu berikan uang muka atau bantuan operasional kepada Gapoktan jika diperlukan, termasuk pada Gapoktan binaan BKP Kementan dan Toko Tani, dan tingkatkan kerjasama dengan para mitra," kata Agung Hendriadi, yang juga menjabat Kepala Badan Ketahanan Pangan (BKP Kementan).
Dalam kesempatan tersebut, Agung H mengingatkan para PJ Subdivre di BPPSDMP Kementan untuk fokus dan bekerja keras mencapai target Sergap, termasuk Pusluhtan yang bertanggung jawab pada capaian Subdivre Cirebon, sebagai terbesar ketiga setelah Subdivre Cianjur dan Ciamis.
"Bulog Subdivre Cirebon membawahi empat kantor seksi urusan logistik atau Kansilog, Pusluhtan komitmen mengawal capaian target empat Kansilog di Majalengka, Kuningan, Kota Cirebon dan Cirebon," kata Septalina Pradini, Kasubbid Informasi dan Materi Penyuluhan yang hadir mewakili Kepala Pusluhtan, Siti Munifah yang berada di Cirebon pada hari yang sama.
Septalina menguraikan keempat Kansilog Cirebon: Malalengka 16.159 ton, Kuningan 6.234 ton, Kota Cirebon hanya 29 ton, dan Cirebon 6.849 ton.
"Kapusluh mengingatkan untuk meningkatkan komunikasi, koordinasi, dan sinkronisasi data dan fakta lapangan dengan Bulog, petani, dan pihak-pihak terkait," katanya yang mengerahkan hampir separuh stafnya mendukung pemantauan lapangan. (Iwan)
Bandung of West Java [B2B] - Indonesian Logistics Agency or the Bulog acknowledged realization of farmers´ rice purchases in West Java province until early March 2019 only reached 957 tons or 0.57% of the target of 161,638 tons or 8.8% of provincial rice production potential until the end of March 2019 amounting to 1.83 million tons. Indonesian Agriculture Ministry will oversee Bulog to oversee the Cirebon Bulog target of 29,272 tons of grain and 7,090 tons of rice, while the Subdivre daily average target is 700 tons of rice equivalent.
It was revealed by statement of Head of Bulog´s West Java, Benhur in coordination meeting on the purchase of rice for farmers by Bulog who was led by Agung Hendriadi, as the Person in Charge of national purchase of farmer´s rice by Bulog or the PJ Sergap.
"The purchase of Bulog until early March 2019 below the target, only reached 0.57 percent of the target of 161,638 tons," said Benhur here on Friday (March 8).
Hendriadi reminded Bulog West Java to focus on commercial, medium and premium rice; extension of selling time from two weeks to one month, proactively seeking market by changing the mindset.
"If necessary, provide advance payments or operational assistance to farmer groups if needed, and improve collaboration with partners," said Hendriadi, who was also served as the ministry´s Director General of Food Security
"The Bulog of Cirebon subdivre is divided into four logistics section offices or the Kansilog. The Pusluhtan is committed to support performance of four Kansilog in Majalengka, Kuningan, Cirebon City and Cirebon," said Septalina Pradini, as the Head of Sub-section for Agricultural Extension Information.
Pradini describes the four Kansilog in Cirebon: Malalengka 16,159 tons, Kuningan 6,234 tons, Cirebon City only 29 tons, and Cirebon 6,849 tons.
"My boss reminded to improve communication, coordination and synchronization of data and facts in the field with Bulog, farmers, and related parties," she said.