Bupati Nagekeo Temui Penyuluh Dukung #PertanianTidakBerhenti
Indonesian Govt Anticipate Covid-19 by Weaker Health Systems
Reporter : Gusmiati Waris
Editor : Cahyani Harzi
Translator : Dhelia Gani

PUBLISHED: Senin, 06 April 2020 , 06:44:00 WIB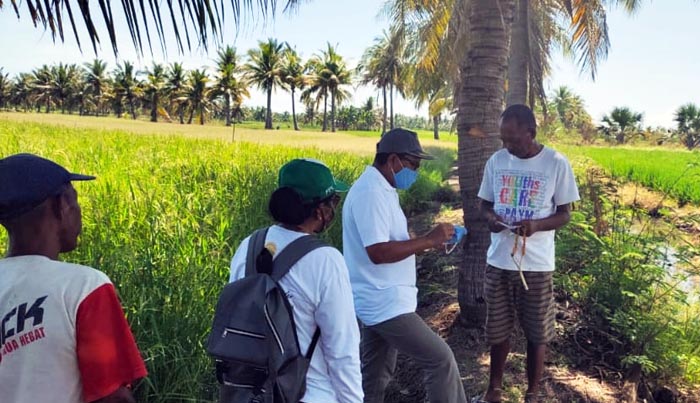 TOUR OF DUTY: Bupati Nagekeo Yohanes Don Bosco [kiri] berbincang dengan petani dan penyuluh didampingi penyuluh Matilde [ke-2 kiri] Foto: Humas Pusluhtan
Nagekeo, NTT [B2B] - Dalam suasana keprihatinan akibat pandemi virus Corona di Provinsi Nusa Tenggara Timur [NTT], Bupati Nagekeo Yohanes Don Bosco turun ke lapangan melakukan pembinaan terhadap penyuluh lapangan dan petani, Sabtu [4/4].
Kedatangan Bupati Yohanes DB disambut oleh para penyuluh dari balai penyuluhan pertanian [BPP] di bawah koordinasi Metilde didampingi penyuluh swadaya sekaligus petani maju, Hasyim A Wungo dan sejumlah petani.
Menurut Metilde, kunjungan Bupati Nagekeo sebagai wujud tanggung jawab kepala daerah untuk mengetahui permasalahan yang dihadapi petani, dan merumuskan kebijakan dengan kebutuhan lapangan.
"Terlebih di masa merebaknya Virus Covid 19 ini. Gembira dan haru dirasakan oleh para penyuluh dan petani atas perhatian Bupati Yohanes mengunjungi mereka," kata Metilde.
Dia menambahkan, penyuluh swadaya Hasyim A Wungo menyampaikan pengalamannya selama empat tahun bereksperimen usaha tani di sawahnya dengan mengikuti SOP yang telah direkomendasikan dan disiplin melaksanakan Sapta Usaha Tani.
"Kalau biasanya hasil per hektar 20 sampai 30 karung, namun setelah pola usaha tani sesuai SOP, hasilnya bisa 80 sampai 90 karung per hektar," kata Metilde mengutip keterangan Hasyim A Wungo saat berbincang dengan Bupati Yohanes.
Di hadapan Bupati, Hasyim pun menjelaskan dengan sangat lancar dan rinci, mulai dari persiapan sebelum tanam, pada saat tanam dan perawatan hingga 10 hari menjelang panen.
"Hasyim punya racikan ramuan semi organik. Setiap 10 hari selama 10 kali, disiplin melakukan penyemprotan terhadap tanamannya yang terkena ulat penggerek batang ternyata bisa teratasi," kata Metilde. [Liene]
Nagekeo of East Nusa Tenggara [B2B] - Indonesia´s Agriculture Ministry is in intensive care after testing positive for the novel coronavirus, as civil servants in head office and across the country were ordered to close over the health threat. The World Health Organization has said it is particularly concerned about high-risk nations with weaker health systems, which who may lack the facilities to identify cases, according to official of the region.