Panen Halmahera Barat, Penyuluh Buktikan #pertaniantidakpernahberhenti
Indonesian Agriculture Ministry Anticipate Covid-19 by Weaker Health Systems
Editor : M. Achsan Atjo
Translator : Dhelia Gani

PUBLISHED: Kamis, 02 April 2020 , 06:49:00 WIB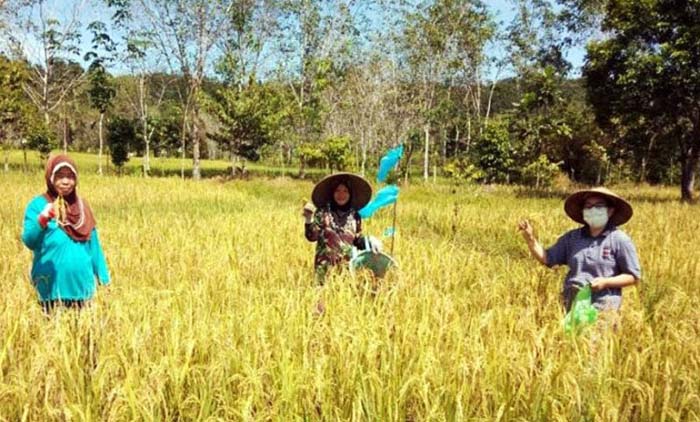 JAGA JARAK: Petani panen padi dengan menjaga jarak antar mereka untuk mematuhi instruksi pemerintah mencegah penyebaran wabah virus Corona [Foto: istimewa]
Halmahera Barat, Maluku Utara [B2B] - Ucap syukur tiada hingga dinyatakan para petani dari Poktan Mandiri di Desa Awer, Kecamatan Sahu Timur, Kabupaten Halmahera Utara, terutama Neus Kopong yang memanen padi dari ladangnya seluas dua hektar pada Senin [30/3] dari varietas lokal. Terlebih harga padi ladang di Maluku Utara tergolong tinggi di kisaran Rp12.000 per kg.
Pendampingan petani setempat dilakukan penyuluh Selfi Gola, karena Desa Awer merupakan wilayah binaannya. Dia mengingatkan petani untuk bekerja fokus dan waspada, mengingat saat ini tengah berjangkit wabah virus Corona, pemicu Covid-19.
"Ingat instruksi Mentan Syahrul Yasin Limpo dan arahan Kepala BPPSDMP Prof Dedi Nursyamsi agar fokus dan waspada virus Corona. Jaga jarak. Hindari berkerumun. Jangan lupa cuci tangan dengan sabun di air mengalir setelah panen," kata Selfi Gola kepada petani binaannya sebelum melakukan panen.
Sebelumnya, Koordinator Balai Penyuluhan Pertanian [BPP] Sahu Timur selaku KostraTani di Maluku Utara mengingatkan rekan-rekan penyuluh agar fokus pada wilayah binaan masing-masing, dengan sistem penyuluhan yang tepat dengan petani.
"Apabila mengadakan temu praktik langsung agar tetap menjaga jarak atau social distancing. Libatkan pengurus Poktan saja, kemudian hasil kegiatan lapang di-share melalui WA grup Poktan dan Gapoktan tentang masalah yang dihadapi di lapangan," kata Selfi Galo melalui pernyatan tertulis pada Rabu [1/4].
Seruan tersebut sejalan dengan Mentan SYL mengimbau SDM pertanian tetap bekerja di lahan pertanian dengan semangat, melaksanakan seruan pemerintah untuk menjaga jarak [social distancing], menghindari kerumunan, sering cuci tangan pakai sabun, gunakan masker apabila batuk atau pilek, rajin konsumsi produk empon-empon [herbal] seperti wedang uwuh, jahe, kunir asem, beras kencur, dan lain-lain yang secara klinis dapat melawan covid-19.
Hal senada disampaikan oleh Prof Dedi Nursyamsi kepada para penyuluh untuk mendorong petani tetap produktif dalam upaya penyediaan pangan dan memanfaatkan jejaring ostraTani, Kostrada, Kostrawil dan KostraTanas melalui AWR KostraTani membuat media informasi online interaktif melalui Cyber Extension dan media sosial terkait langkah praktis antisipasi Covid-19. [Liene]
North Halmahera of North Mollucas [B2B] - Indonesia´s Agriculture Ministry is in intensive care after testing positive for the novel coronavirus, as civil servants in head office and across the country were ordered to close over the health threat. The World Health Organization has said it is particularly concerned about high-risk nations with weaker health systems, which who may lack the facilities to identify cases, according to official of the region.