Korporasi Petani, Pusluhtan Dukung Pengembangan KEP di Lokasi KostraTani
Indonesian Govt Encourage Develop the Farmer`s Economic Institutions
Editor : M. Achsan Atjo
Translator : Dhelia Gani

PUBLISHED: Sabtu, 29 Februari 2020 , 07:03:00 WIB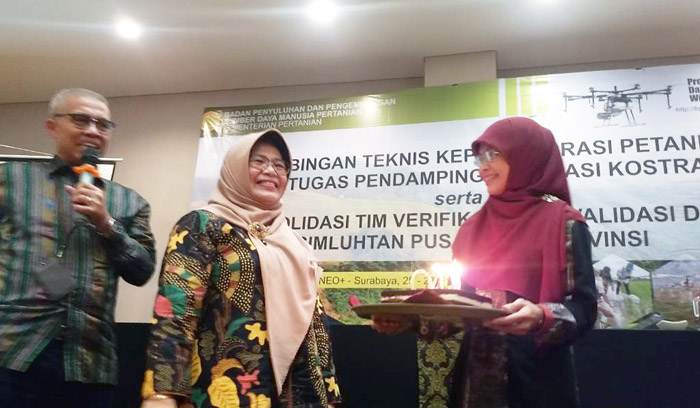 KEJUTAN PESERTA: Kapusluh BPPSDMP, Leli Nuryati [tengah] mendapat surprise yang digagas Kabid Penyelenggaraan Penyuluhan, I Wayan Ediana [kiri]; Kasubbid Septalina Pradini dan Yoyon Haryanto serta para staf [Foto: Humas Pusluhtan/Bima PS]
Surabaya, Jatim [B2B] - Kementerian Pertanian RI khususnya Pusat Penyuluhan Pertanian [Pusluhtan BPPSDMP] mendukung pengembangan Kelembagaan Ekonomi Petani [KEP] untuk mendukung Komando Strategis Pembangunan Pertanian [KostraTani]. Hal itu untuk merealisasikan target 2,5 juta petani milenial hingga 2024 di era pemerintahan Presiden RI Joko Widodo, sesuai instruksi Menteri Pertanian RI Syahrul Yasin Limpo [SYL].
"KEP menjadi target utama KostraTani yang digagas Mentan SYL. Tujuannya, mendorong petani menguasai sektor pertanian dari hulu ke hilir, dengan meningkatkan skala ekonomi dan posisi tawar petani, efisiensi usaha, dengan memberi peluang bagi Poktan/Gapoktan sebagai produsen utama bahan pangan mendapatkan laba setimpal dari kegiatan usaha taninya," kata Kepala Pusluhtan BPPSDMP, Leli Nuryati di Surabaya saat membuka kegiatan Bimtek KEP dan Verval Simluhtan mewakili Kepala BPPSDMP Prof Dedi Nursyamsi di Surabaya, belum lama ini.
Menurutnya, KEP merupakan salah satu terobosan pengembangan penyuluhan pertanian sesuai tuntutan pasar dengan aneka metode pemberdayaan, selaras dengan target KostraTani yang digagas Menteri Pertanian Syahrul Yasin Limpo [SYL] untuk revitalisasi peran Balai Penyuluhan Pertanian [BPP] sebagai pusat data dan informasi, pusat gerakan, pembangunan pertanian, pusat pembelajaran plus pusat konsultasi agribisnis, dan pusat pengembangan jejaring dan kemitraan.
"Dengan model KEP ini diharapkan diperoleh alternatif pemberdayaan petani untuk mengembangkan usaha secara profesional dari hulu ke hilir atau on farm dan off farm," kata Leli Nuryati pada kegiatan ´Bimbingan Teknis KEP/Korporasi Petani bagi Petugas Pendamping di Lokasi KostraTani serta Konsolidasi Tim Verifikasi dan Validasi Data Simluhtan Pusat dan Provinsi di Surabaya.
Agribisnis menjadi orientasi pembangunan pertanian nasional saat ini, karena kelembagaan petani di pedesaan kontribusinya sangat vital dalam akselerasi pengembangan sosial ekonomi, aksesibilitas pada informasi pertanian dan modal, pengembangan infrastruktur, pasar, dan adopsi pertanian.
"Hal itu sesuai dengan amanat UU Perlindungan dan Pemberdayaan Petani No 19/2013 bahwa pemerintah pusat dan pemerintah daerah sesuai dengan kewenangannya berkewajiban mendorong dan memfasilitasi terbentuknya kelembagaan petani dan KEP termasuk di kawasan perkebunan," kata Leli Nuryati didampingi Kabid Penyelenggaraan Penyuluhan - Pusluhtan, I Wayan Ediana.
Tampak hadir Kasubbid Kelembagaan Petani, Yoyon Haryanto; Kasubbid Informasi dan Materi Penyuluhan, Septalina Pradini serta sejumlah fungsional penyuluh Kementan di antaranya Inang Sariyati, Suwarna dan Susi Deliana. [Liene]
Surabaya of East Java [B2B] - Indonesian Agriculture Ministry will support the development of farmers´ economic institutions to establish corporations, by extending economies of scale, business efficiency, bargaining position and providing opportunities for farmer groups who have developed productive business activities, because farmers are the main producers of food it deserves profits from their farm, according to senior official here recently.