Akurasi Data, Pusluhtan Sosialisasi Fungsi Drone di BPP Gebang
Indonesia`s Agriculture Ministry Train Agricultural Extension Using Drones
Editor : M. Achsan Atjo
Translator : Dhelia Gani

PUBLISHED: Jum'at, 31 Juli 2020 , 07:47:00 WIB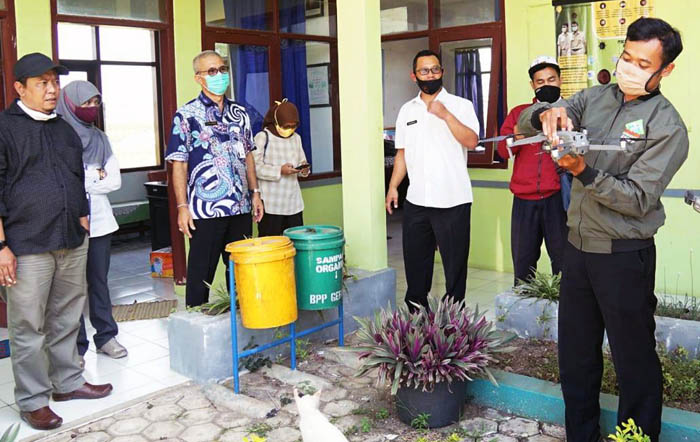 SOSIALISASI KOSTRATANI: Pelatihan drone penyuluh didampingi Kabid I Wayan Ediana [batik biru] di halaman kantor BPP Gebang [Foto: Pusluhtan/Bima PS]
Cirebon, Jabar [B2B] - Sejumlah penyuluh dan fungsional pada Balai Penyuluhan Pertanian [BPP] Kecamatan Gebang di Kabupaten Cirebon, Jawa Barat, Rabu [29/7], mengikuti ´pelatihan teori dan praktik penggunaan drone di lahan pertanian´ oleh Kementerian Pertanian RI di halaman kantor BPP Gebang.
Kegiatan tersebut diselenggarakan Badan Penyuluhan dan Pengembangan SDM Pertanian [BPPSDMP] khususnya Pusat Penyuluhan Pertanian [Pusluhtan] selaku pembina BPP Gebang sebagai model KostraTani di bawah kendali dan binaan Kepala Pusluhtan Leli Nuryati.
"BPP model KostraTani sesuai arahan Kepala BPPSDMP Dedi Nursyamsi mengacu instruksi Menteri Pertanian RI Syahrul Yasin Limpo, bahwa BPP yang berada di tingkat kecamatan merupakan locust pembangunan pertanian," kata Kapusluh Leli Nuryati pada berbagai pertemuan dengan petani dan penyuluh di seluruh Indonesia.
Penggunaan drone menjadi sarana vital pendataan dan penguatan data potensi pertanian di kecamatan. Data dimaksud meliputi luas baku lahan, luas tanam, produksi, luas panen, produktivitas, produksi, pengolahan hasil dan pemasaran, alat mesin pertanian [Alsintan] pra panen dan pasca panen produk per komoditas.
"Penggunaan drone baik live atau recording akan menjadi input pengumpulan data maupun update data pertanian tingkat kecamatan," kata Kabid Penyelenggaraan Penyuluhan - Pusluhtan, I Wayan Ediana.
Menurutnya, kegiatan share data melalui koneksi online langsung dari drone atau ke smartphone, computer processor unit [CPU], laptop dan monitor LCD didukung jaringan internet maupun wireless fidelity [WiFi].
"Sementara user-nya selain BPP selaku KostraTani juga Kostrada di tingkat kabupaten hingga Kostrawil di provinsi dan Kostranas di Kementan," kata I Wayan Ediana didampingi Bima PS dan Purwanto Nugroho selaku staf teknis pelatihan drone di BPP Gebang.
Kegiatan serupa berlangsung di BPP Patokbeusi, Subang, Selasa [28/7]. Agenda sama. Pelatihan IT dan sosialisasi manejemen KostraTani. I Wayan Ediana didukung Kasubbid Informasi dan Materi Penyuluhan, Septalina Pradini dan Kasubbid Kelembagaan Petani, Dwi Hayanti.
Selain BPP Gebang dan Patokbeusi, Pusluhtan BPPSDMP juga bertanggung jawab pada pembinaan empat BPP model KostraTani: BPP Gantar di Kabupaten Indramayu dan BPP Ciawigebang di Kuningan, kesemuanya di Jawa Barat. BPP Genteng di Banyuwangi, Jatim dan BPP Bone Pantai di Bone Bolango, Gorontalo. [Liene]
Cirebon of West Java [B2B] - Some agricultural extension of four agricultural extension centers [BPP] in West Java province attended ´training using drones on agricultural land´ which was held by Indonesian Agriculture Ministry at the BPP Imogiri of Cirebon district on Wednesday [July 29] to get to know the types of drones and regulations, regarding the use of drones on agricultural land, according to senior official of the ministry.