Komisi IV DPR RI Hadiri Temu Teknis 1.500 Penyuluh dan Petani Andalan Jabar
Indonesia Relies on Agricultural Extensionist to assist Farmers to Increase Production
Reporter : Gusmiati Waris
Editor : Cahyani Harzi
Translator : Dhelia Gani

PUBLISHED: Sabtu, 16 Februari 2019 , 08:30:00 WIB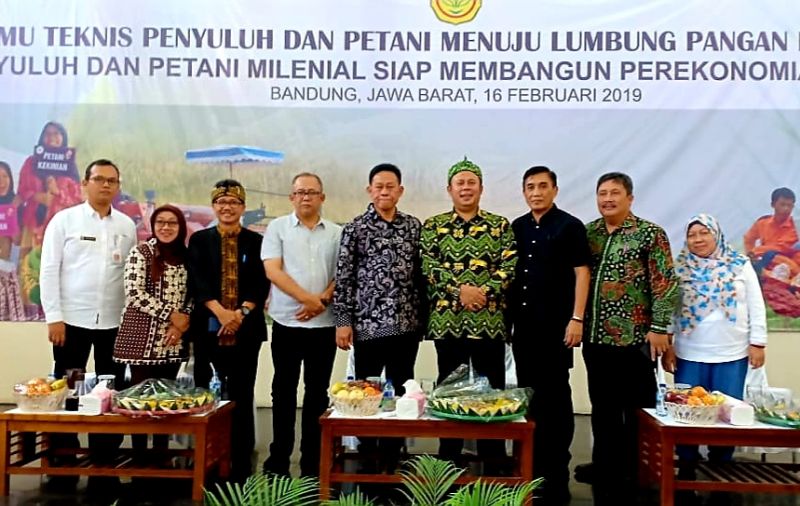 Foto: B2B/Mya
Bandung, Jabar (B2B) - Sejumlah legislator Senayan dari Komisi IV DPR RI pagi ini, Sabtu (16/1) menghadiri temu teknis penyuluh dan petani di Graha Alif Kecamatan Solokan Jeruk, Kabupaten Bandung, yang akan dihadiri 1.500 peserta dari seluruh Provinsi Jawa Barat mendukung pencapaian Lumbung Pangan Dunia 2045.
Kepala Badan Penyuluhan dan Pengembangan SDM Pertanian - Kementerian Pertanian RI (BPPSDMP) Momon Rusmono hadir mewakili Menteri Pertanian RI Andi Amran Sulaiman didampingi Kepala Pusat Penyuluhan Pertanian (Pusluhtan) Siti Munifah dan Sekretaris BPPSDMP Kementan, Prihasto Setyanto pada kegiatan bertajuk ´penyuluh dan petani milenial siap membangun ekonomi pedesaan´.
Mentan Amran Sulaiman dalam berbagai kesempatan menegaskan komitmennya membangun pedesaan, yang sebagian besar penduduknya adalah petani dengan pendapatan utamanya lebih 70% dari sektor pertanian.
Meningkatnya kesejahteraan petani berdampak pada menurunnya jumlah penduduk miskin di pedesaan secara konsisten, baik absolut maupun persentase.
Badan Pusat Statistik (BPS) melansir jumlah penduduk miskin per Maret 2015 mencapai 17,94 juta jiwa atau 14,21% dari total penduduk Indonesia. Setahun kemudian, Maret 2016 turun menjadi 17,67 juta jiwa atau 14,11%. Bulan yang sama di 2017 turun lagi ke 13,93% atau 17.09 juta jiwa, dan Maret 2018 kembali turun menjadi 13,47% atau 15,81 juta jiwa. (NurF)
Jakarta (B2B) - Some members of Indonesian parliament of the IV´s Food Commission this morning, Saturday (February 16) was scheduled to attend technical meeting of agricultural extensionist and farmers in Bandung of West Java province which will be attended by 1,500 participants of West Java province to support the achievement of Indonesia as the 2045 world food barn.
The Directorate General of Extension and Agricultural HR Development or the BPPSDMP, Momon Rusmon said come tol Purwakarta is representing Minister Andi Amran Sulaiman, and will be accompanied by the Director of the Agricultural Extension Center or the Pusluhtan, Siti Munifah.
Minister Sulaiman on various occasions affirmed his commitment to develop rural areas, with the majority of the population being farmers with a main income of more than 70% from the agricultural sector.
The welfare of farmers has an impact on decreasing the number of poor people in rural areas, both absolute and percentage.
The Indonesian Statistics Agency or BPS announced that the poor population in Indonesia as of March 2015 reached 17.94 people or 14.21% of the total population. One year later, March 2016 fell to 17.67 million or 14.11%. In the same month in 2017 it fell again to 13.93% or 17.09 million people, and in March 2018 it again dropped to 13.47% or 15.81 million people.