Serbuk Jahe Merah Palangkaraya Buktikan Pertanian Tangguh Hadapi Covid-19
Indonesian Agriculture Anticipate Covid-19 by Weaker Health Systems
Editor : M. Achsan Atjo
Translator : Dhelia Gani

PUBLISHED: Kamis, 16 April 2020 , 08:49:00 WIB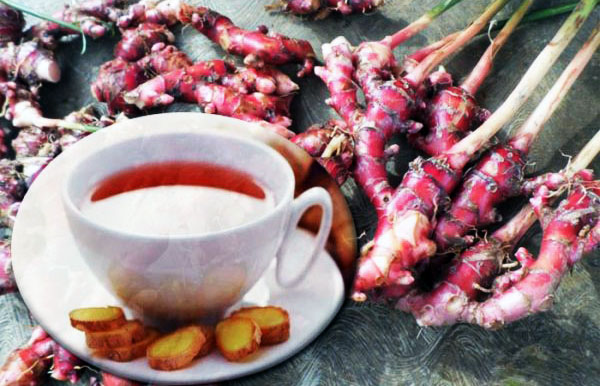 Khasiat lainnya adalah efektif meredakan gejala batuk dan sakit tenggorokan; mengurangi kadar kolesterol tubuh; rasa hangatnya meringankan sakit kepala; zat flanovoid-nya ampuh mengatasi rematik; layak dikonsumsi saat diet [Foto: istimewa]
Palangkaraya, Kalteng [B2B] - Tak selamanya mendung itu kelabu ... Sejumlah ibu rumah tangga dari Kelompok Wanita Tani [KWT] di Kota Palangkaraya mulai kewalahan memenuhi pesanan serbuk jahe merah dari luar Provinsi Kalimantan Tengah. Rata-rata produksi 18 kg per pekan atau 62 bungkus namun setelah merebak wabah virus Corona, pesanan yang masuk ke KWT Anyelir Bahalap naik hingga 14 kali lipat .... Nyatanya hari ini kulihat begitu ceria ...
Penyuluh pertanian, Lelaini terus mendampingi KWT Anyelir Bahalap di Desa Kalampangan, Kecamatan Sabangau di Kota Palangkaraya. RJ Maryatmi selaku Ketua KWT terus memotivasi anggota KWT tetap semangat bekerja memenuhi pesanan dari sejumlah kota di Indonesia, karena produk home industry mereka diyakini konsumen dapat meningkatkan imunitas tubuh untuk menangkal virus Corona.
Penyuluh Lelaini juga mengingatkan anggota KWT Anyelir Bahalap tentang seruan Menteri Pertanian RI Syahrul Yasin Limpo [SYL] kepada petani dan pelaku usaha pertanian untuk patuh pada Protokol Kesehatan WHO. "Jaga jarak. Jangan berkerumun. Kenakan masker. Rajin cuci tangan dengan sabun di air yang mengalir."
"Kepala BPPSDMP juga mengingatkan agar petani meningkatkan kuantitas dan kualitas produksi, karena kemajuan pertanian suatu negara tergantung pada kemampuan SDM-nya," kata Lelaini mengutip arahan Prof Dedi Nursyamsi.
Menurut Ketua KWT Anyelir Bahalap, RJ Maryatmi bahwa sejak pertengahan Maret 2020 hingga hari-hari ini pesanan serbuk jahe merah berlogo Rossemi meningkat 14 kali lipat sementara rata-rata menghasilkan 62 bungkus serbuk jahe, untuk satu kali produksi.
"Konsumen serbuk jahe merah Rossemi khas Palangkaraya bukan hanya warga Kalteng, tapi meluas ke Kalsel hingga Solo di Jawa Tengah dan Jakarta," kata RJ Maryatmi melalui pernyataan tertulis dari penyuluh Lelaini yang dihimpun Pusat Penyuluhan Pertanian [Pusluhtan BPPSDMP Kementan].
Saat ini pemakaian obat tradisional yang berasal dari tanaman rimpang seperti jahe merah tidak hanya digunakan bagi mereka yang tinggal di pedesaan, namun sudah diminati pula oleh masyarakat perkotaan. Terbukti dengan meningkatnya konsumsi masyarakat perkotaan terhadap jamu tradisional maupun produk olahan dalam kemasan.
Layak diketahui bahwa jahe memiliki aneka jenis, beberapa di antaranya memiliki khasiat lebih ampuh untuk menjaga kesehatan tubuh agar tetap prima, salah satunya adalah jahe merah. Sesuai namanya, jahe merah tidak sulit dibedakan dari jahe lain. Bagian dalamnya, berwarna sedikit kemerahan dan kuning. Ukurannya cenderung lebih kecil dan saat dicicipi terasa lebih pedas ketimbang cita rasa jahe lainnya.
Ini dia 10 manfaat jahe merah yang belum banyak diketahui. Utamanya adalah meningkatkan imunitas tubuh. Sembilan khasiat lainnya adalah efektif meredakan gejala batuk dan sakit tenggorokan; mengurangi kadar kolesterol tubuh; rasa hangatnya meringankan sakit kepala; zat flanovoid-nya ampuh mengatasi rematik; layak dikonsumsi saat diet; membantu menghindari risiko penyakit jantung; baik bagi kesehatan lambung dan pencernaan; mengurangi risiko radang usus; dan meredakan penyakit asma. [Liene]
Palangkaraya of Central Borneo [B2B] - Indonesia´s Agriculture Ministry is in intensive care after testing positive for the novel coronavirus, as civil servants in head office and across the country were ordered to close over the health threat. The World Health Organization has said it is particularly concerned about high-risk nations with weaker health systems, which who may lack the facilities to identify cases, according to Agriculture Minister Syahrul Yasin Limpo.