Temui Perbankan, Bupati Nagekeo NTT Ajak Petani Pakai KUR ... Kalau Tidak???
Indonesian Govt Anticipate Covid-19 by Weaker Health Systems
Editor : M. Achsan Atjo
Translator : Dhelia Gani

PUBLISHED: Senin, 06 April 2020 , 08:57:00 WIB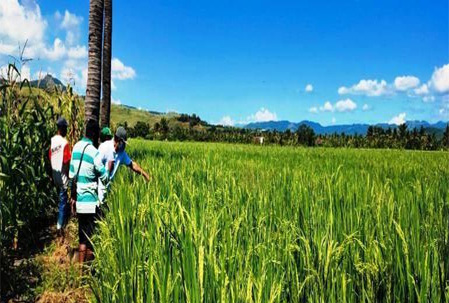 HIKMAH CORONA: Bupati Nagekeo Yohanes Don Bosco menilai Corona membuka cakrawala kita untuk berani berpikir benar dan mengambil tindakan tepat terutama meningkatkan ketahanan pangan [Foto: Humas Pusluhtan]
Nagekeo, NTT [B2B] - Kunjungan Bupati Nagekeo, Yohanes Don Bosco menemui petani dan penyuluh pada sentra produksi beras di Provinsi Nusa Tenggara Timur [NTT] berbuah manis sekaligus 'bikin pening' petani. Pasalnya, kunjungan kerja tersebut dimanfaatkan untuk sosialisasi pemanfaatan kredit usaha rakyat [KUR] sektor pertanian setelah bertemu dengan pimpinan perbankan, sekaligus mengingatkan sanksi bagi petani layak tapi menolak memanfaatkan KUR.
Bupati Yohanes Don Bosco mengatakan bahwa ke depan, seluruh petani wajib mengakses dana KUR yang manajemennya nanti diatur melalui organisasi seperti Perkumpulan Petani Pemakai Air [P3A] atau melalui kelompok tani [Poktan/Gapoktan].
"Saya sudah bertemu dengan pimpinan lembaga keuangan yang menyediakan KUR. Tahun ini pagu anggarannya sekitar Rp64 miliar. Bagi petani yang tidak mengakses dana KUR dan menjadi penghalang bagi petani lain, akan kita tarik sawahnya," kata Bupati Yohanes DB seperti dikutip penyuluh wanita Nagekeo, Matilde yang mendampingi kunjungan sang bupati, Sabtu [4/4] di Kelurahan Danga, Kecamatan Aesesa.
Sebagaimana diketahui, Pemerintah RI menyediakan anggaran KUR sekitar Rp50 triliun untuk dimanfaatkan petani meningkatkan produksi pertanian. Menteri Pertanian RI Syahrul Yasin Limpo mendorong petani agar berani memanfaatkan layanan program KUR yang disediakan negara, sebagai upaya negara meningkatkan kesejahteraan para petani di seluruh Indonesia.
"Kementan saat ini sudah menyiapkan anggaran KUR sekitar Rp50 triliun. Saya sangat mendorong penggunaan KUR ini, karena itu petani juga harus berani mengambil KUR agar produksi meningkat dan lossesnya berkurang dengan penggunaan alsintan. Intinya, kita tidak boleh pura-pura atau bohong mengurus pertanian ini. Sebab negara sudah banyak membantu," kata Mentan SYL pada Gerakan Tutup Tanam Padi di lahan pasang surut #Serasi di Desa Karang Baru, Kecamatan Sumber Marga Telang, Kabupaten Banyuasin, Sumatera Selatan, pada penghujung Desember 2019.
Bupati Yohanes DB mengingatkan petani dan penyuluh untuk meningkatkan sinergi demi pemenuhan kebutuhan pangan rakyat, apalagi di tengah pandemi Corona saat ini. Petani dan penyuluh harus sinergi sebagai ujung tombak pertanian Indonesia, mampu menghitung berbagai kebutuhan pasar dan bisnis demi terwujudnya kedaulatan pangan.
Menurutnya, pandemi Corona memberikan banyak momentum, selain penerapan perilaku hidup bersih dan sehat [PHBS] seperti cuci tangan pakai sabun di air mengalir, dan sebagainya yang selama ini kita kerjakan seperlunya. Corona membuka cakrawala kita untuk berani berpikir benar dan mengambil tindakan tepat terutama meningkatkan ketahanan pangan.
"Sawah Mbay misalnya, kita persiapkan secara benar menghadapi ancaman siaga bencana covid-19. Ketahanan pangan daerah harus benar-benar diantisipasi. Minimal, kecukupan pangan beras untuk kebutuhan warga masyarakat Nagekeo," kata Bupati Yohanes. [Gusti/Yulia]
Nagekeo of East Nusa Tenggara [B2B] - Indonesia´s Agriculture Ministry is in intensive care after testing positive for the novel coronavirus, as civil servants in head office and across the country were ordered to close over the health threat. The World Health Organization has said it is particularly concerned about high-risk nations with weaker health systems, which who may lack the facilities to identify cases, according to official of the region.