Tangkal Covid-19, Petani Milenial Siapkan Minuman Vitamin C bagi Tenaga Medis
Indonesian Agriculture Ministry Anticipate Covid-19 by Weaker Health Systems
Reporter : Gusmiati Waris
Editor : Cahyani Harzi
Translator : Dhelia Gani

PUBLISHED: Rabu, 01 April 2020 , 09:01:00 WIB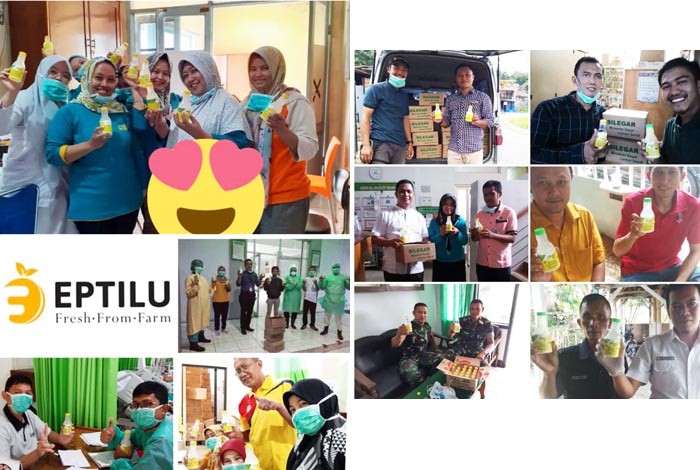 TENAGA MEDIS: Ide pemasaran sirop lemon ini direspon oleh manajemen rumah sakit umum di Kabupaten Garut, yang memesan 600 botol pada orderan pertama untuk tenaga medis, dokter, perawat, relawan [Foto: Humas BPPSDMP]
Garut, Jabar [B2B] - Duta Petani Milenial, Rizal Fareza, 29, dan adiknya Muhammad Ridwan, 24, menyuplai minuman vitamin C sirup lemon Garut bagi tenaga medis di rumah sakit umum di Kabupaten Garut, Provinsi Jawa Barat. Menteri Pertanian RI Syahrul Yasin Limpo [SYL] mengatakan hal itu adalah bukti bahwa pertanian menjadi enyelamat bangsa, khususnya menghadapi pandemi Covid-19 untuk meningkatkan imunitas tubuh.
Arahan Mentan SYL dipertegas oleh Kepala Badan Penyuluhan dan Pengembangan SDM Pertanian [BPPSMDP] Prof Dedi Nursyamsi bahwa "petani dan penyuluh terus bekerja untuk menyediakan pangan bagi rakyat Indonesia. Tentunya harus tetap mengikuti protokol kesehatan WHO dengan menjaga jarak satu meter saat bekerja, sering mencuci tangan, dan menghindari menyentuh muka terutama hidung mulut dan mata."
Rizal Fareza, duta milenial founder Kebun Edukasi Eptilu, nama yang berasal dari saduran logat sunda F3 [Fresh From Farm] bersama adiknya, Muhammad Ridwan kolaborasi dengan Pak Ade produsen sirup lemon Garut [Rizky Food]. Kerjasama ini memberdayakan Kelompok Wanita Tani (KWT) Putri Sawargi Garut dan menghasilkan produk sirup lemon Garut dan pure lemon Garut yang kemudian didistribusikan bersama Eptilu.
"Dengan berbagai macam jejaring yang dimiliki kang Ridwan [Eptilu]. Alhamdulillah produk sirup lemon Garut VIT C bisa diterima oleh konsumen dari berbagai instansi, perguruan tinggi dan momentumnya terjadi saat pandemi Covid-19," kata Rizal Fareza menceritakan keberhasilan adiknya memasarkan sirup lemon Garut VIT C.
Ide pemasaran sirop lemon ini direspon positif oleh pihak manajemen rumah sakit umum daerah di Kabupaten Garut. Pihak rumah sakit memesan 600 botol pada orderan pertama untuk tenaga medis, dokter, perawat, relawan yang berjuang melawan pandemi Covid-19 sebagai minuman penambah imunitas atau imun booster sumber vitamin C tinggi.
"Bersyukur dari orderan tersebut diikuti oleh orderan dari berbagai pihak lainnya. Semoga dengan momentum ini, dalam melawan pandemi Covid-19, petani buah lemon dan jeruk di Garut dapat terus berproduksi, produsen minuman lemon lokal Garut dapat berkembang memberdayakan kelompok wanita tani. Terlebih lagi para relawan, tenaga medis memperoleh asupan minuman vitamin C buah lemon sebagai penjaga imun mereka," katanya. [Prb/Riz]
Jakarta [B2B] - Indonesia´s Agriculture Ministry is in intensive care after testing positive for the novel coronavirus, as civil servants in head office and across the country were ordered to close over the health threat. The World Health Organization has said it is particularly concerned about high-risk nations with weaker health systems, which who may lack the facilities to identify cases, according to official of the region.