Sultra Dukung KostraTani, Digitalisasi Pembangunan Pertanian dari Kecamatan
Indonesian Govt Socialization Revitalizing Agricultural Extensionist in Sulawesi
Editor : M. Achsan Atjo
Translator : Dhelia Gani

PUBLISHED: Sabtu, 30 November 2019 , 00:27:00 WIB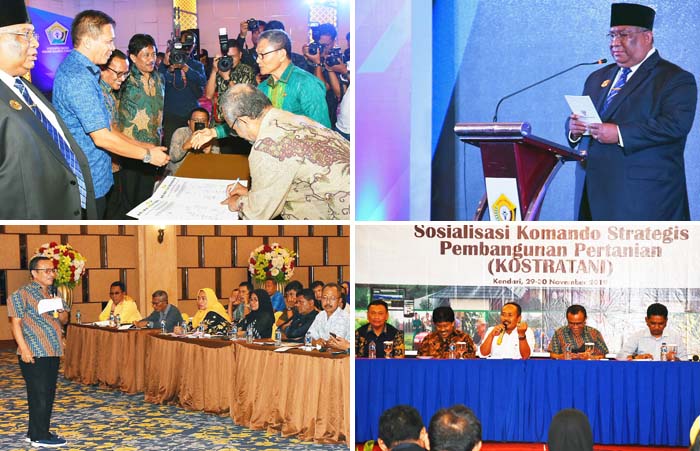 PENYULUH BPP: Gubernur Sultra Ali Mazi menyaksikan penandatanganan komitmen dukung KostraTani; Irjentan Justan R Siahaan [kiri bawah; dan Staf Ahli Mentan Bambang WD memimpin sosialisasi di Kendari [Foto2: istimewa]
Kendari, Sultra [B2B] - Para penyuluh di bawah koordinasi balai penyuluhan pertanian [BPP] di 25 kecamatan dari lima kabupaten di Provinsi Sulawesi Tenggara [Sultra] menyatakan siap melaksanakan gerakan Komando Strategi Pembangunan Pertanian [KostraTani], sebagai digitalisasi pembangunan pertanian dari tingkat kecamatan melalui BPP, dan selaras dengan Program Garbarata dari Pemprov Sultra.
Hal itu dikemukakan Gubernur Sultra, Ali Mazi saat membuka ´Sosialisasi KostraTani di Sultra´ yang dihadiri Inspektur Jenderal Kementerian Pertanian RI [Irjentan] Justan R Siahaan, Staf Ahli Mentan bidang Pengembangan Bio Industri, Bambang Wahyu Dwiantoro; dan Plt Kepala Dinas Tanaman Pangan dan Peternakan Pemprov Sultra, Hari Sismanto di Kendari, Jumat [29/11]. Kegiatan sosialisasi dirangkaikan dengan kegiatan Penyerahan Petikan DIPA 2020 secara simbolis kepada OPD dan pemerintah kabupaten/kota seluruh Sultra.
"Pembangunan pertanian di Sultra menjadi prioritas utama dalam visi dan misi Gubernur Sultra yang terangkum dalam Program Garbarata," kata Gubernur Ali Mazi dalam sambutannya yang dihadiri kepala dinas pertanian kabupaten/kota, camat, koordinator BPP terpilih dan sejumlah penyuluh pertanian.
Ali Mazi selaku Komandan Kostrawil Sultra mengajak para penyuluh Sultra untuk kerja keras mendukung program Presiden RI Joko Widodo yang menjadi tanggung jawab Mentan Syahrul Yasin Limpo [SYL] di sektor pertanian.
Staf Ahli Mentan, Bambang WD menegaskan bahwa KostraTani adalah program utama Kementan dalam upaya akselerasi pembangunan sektor pertanian, yang merupakan ´digitalisasi pembangunan pertanian Indonesia dari tingkat kecamatan hingga ke pusat´ yang ditunjang teknologi 4.0.
"KostraTani dilaksanakan secara berjenjang mulai dari tingkat kecamatan oleh BPP sebagai KostraTani, di kabupaten dan kota sebagai Kostrada di bawah koordinasi bupati atau walikota, Kostrawil di tingkat provinsi di bawah koordinasi gubernur," kata Bambang MM.
Sementara Irjentan Justan R Siahaan menekankan pada tujuan KostraTani secara sederhana adalah untuk meningkatkan kesejahteraan petani, melalui koordinasi dan dukungan penyuluh pertanian di tingkat kecamatan ke kabupaten/kota hingga provinsi dan pusat di Kementan.
"Kostra Tani juga menjadi tempat pelatihan lingkup kecil di pedesaan. Misalnya untuk on the job training sebagai kiat pemecahan masalah langsung di lapangan. Tentunya, kegiatan pelatihan dan bimbingan teknis akan berlangsung lebih masif dilakukan BPP di bawah koordinasi KostraTani," kata Justan R Siahaan.
Plt Kepala Dinas Tanaman Pangan dan Peternakan Pemprov Sultra, Ari Sismanto mengatakan bahwa Kementan akan mendukung KostraTani pada 25 BPP di lima kabupaten di Sultra untuk mendukung pilot project KostraTani dari Mentan SYL.
Ari Sismanto mengingatkan para koordinator BPP, Admin, petugas IT BPP di kabupaten yang ditunjuk mendukung pilot project KostraTani untuk bekerja keras mendukung program Mentan SYL, mencapai single data pertanian dan revitalisasi penyuluh pertanian di seluruh Indonesia. [Liene]
Kendari of Southeast Sulawesi [B2B] - The Southeast Sulawesi provincial government stated that it supports the agricultural extension program revitalization program [KostraTani] to improve the welfare of farmers and achieve strategic food self-sufficiency, especially rice, according to senior provincial government officials in Kendari, the provincial capital.