Lahan Terlantar Teluknaga Buahkan Tomat Saat Pandemi Corona
Indonesian Agriculture Anticipate Covid-19 by Weaker Health Systems
Editor : M. Achsan Atjo
Translator : Dhelia Gani

PUBLISHED: Sabtu, 09 Mei 2020 , 00:31:00 WIB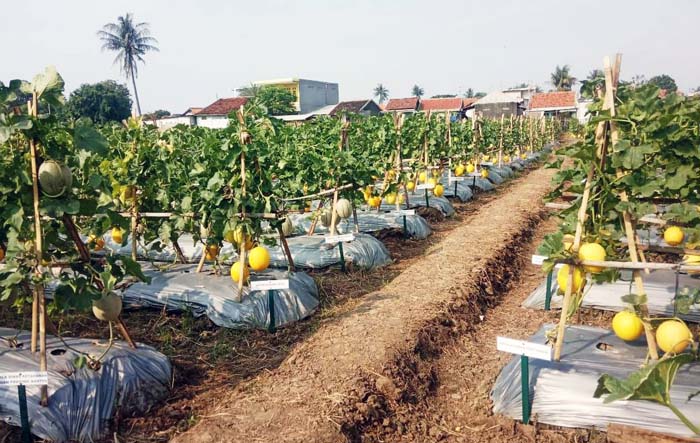 Kodam Jaya mengambil inisiatif untuk mengelola tanah terlantar tersebut bekerjasama dengan kelompok tani setempat, kelompok tani Oceh dan petani maju bernama Suratman
Tangerang, Banten [B2B] - Desa Pangkalan di Kecamatan Teluknaga, Kabupaten Tangerang, Provinsi Banten terdapat sekitar 200 hektar tanah tidak dimanfaatkan atau banyak orang bilang terlantar milik PT Agung Sedayu dan PT Tanjung Unggul Mandiri.
Kodam Jaya mengambil inisiatif untuk mengelola tanah terlantar tersebut bekerjasama dengan kelompok tani setempat, kelompok tani Oceh dan petani maju bernama Suratman yang biasa dipanggil dengan nama anaknya, yaitu Bagas.
Kelompoktani Oceh beralamat di Kampung Rajalini, Desa Teluknaga, Kecamatan Teluknaga, Kabupaten Tangerang Provinsi Banten, beranggota 54 orang menanam padi seluas 47 hektar dan telah mulai panen pada April 2020 sampai Mei 2020 dengan rata-rata produktivitas 5,25 ton/hektar GKP.
Sedangkan Suratman sebagai ketua Kelompoktani Podomoro yang beralamat di Kampung Rajawali, Desa Teluknaga Kecamatan Teluknaga, Kabupaten Tangerang Provinsi Banten yang berjarak sekitar 3 km dari lokasi, sebagai tenaga ahli untuk menanam melon yang luasnya sekitar 1,2 hektar.
Pada 8 Mei 2020 pukul 15.00 – 17.00, Pangdam Jaya menyelenggarakan acara panen melon di Desa Pangkalan Kecamatan Teluknaga Kabupaten Tangerang Provinsi Banten. Undangan yang hadir, antara lain Pangdam Jaya, Bupati Kabupaten Tangerang, Kepala Dinas Pertanian Provinsi Banten, PT Agung Sedayu, PT TUM, Kepala Pusluhtan dan perwakilan Ditjen Hortikultura.
Dalam acara ini Pangdam Jaya, Mayjen TNI Eko Margiono menyampaikan, bahwa ke depan direncanakan akan memperluas tiga zona sekitar 300 hektar yang terletak di Desa Pangkalan, Desa Tegalangus, dan Desa Tanjung Barang untuk pengembangan tanaman hortikultura dan padi sawah.
Pada acara ini , Bupati Kabupaten Tangerang, A. Zaki Iskandar memberikan apresiasi kepada Pangdam Jaya yang telah memotivasi petani setempat di tiga desa tersebut untuk memanfaatkan lahan terlantar sebagai penghasil produk pertanian.
Panen melon di atas lahan 1,5 hektar dengan produktivitas 19 ton/hektar dengan harga jual di tingkat petani Rp12 ribu per kg selanjutnya dijual ke supermarket.
Dari uraian di atas menunjukkan, bahwa kerjasama itu penting untuk menghasilkan yang lebih bermanfaat. Semoga daerah yang mempunyai banyak lahan terlantar mengikuti. [Adv]
Tangerang of Banten [B2B] - Indonesia´s Agriculture Ministry is in intensive care after testing positive for the novel coronavirus, as civil servants in head office and across the country were ordered to close over the health threat. The World Health Organization has said it is particularly concerned about high-risk nations with weaker health systems, which who may lack the facilities to identify cases.