Tangkal Corona, Timor Tengah Selatan Siapkan Pangan Lokal
Indonesian Agriculture Anticipate Covid-19 by Weaker Health Systems
Editor : M. Achsan Atjo
Translator : Dhelia Gani

PUBLISHED: Kamis, 14 Mei 2020 , 00:05:00 WIB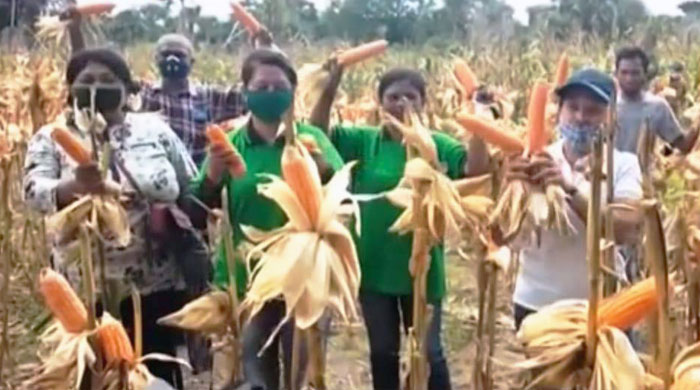 Yononci Seo mengakui tidak memimpin Poktan yang sebagian besar berusia lanjut, namun seruan Gubernur Victor B Laiskodat agar petani tetap bekerja di lapangan untuk menangkal virus Corona [Humas Pusluhtan]
Timor Tengah Selatan, NTT [B2B] - Kekeringan tak menghalangi tekad kelompok tani [Poktan] Bersaudara panen jagung seluas 10 hektar, bagian program Tanam Jagung Panen Sapi [TJPS] seluas 193 hektar pada enam desa di Kecamatan Kualin, Kabupaten Timor Tengah Selatan [TTS] di Provinsi Nusa Tenggara Timur [NTT].
Kepala BPP Kualin, Yoakim Pau mengatakan Program TPJS digagas Gubernur NTT, Victor B Laiskodat. Tujuannya, sebagian hasil panen jagung untuk membeli sapi dan sisanya untuk persediaan pangan. Sapi selain menghasilkan daging, kotorannya dijadikan biogas, kompos dan bokasi untuk kesuburan tanah, maka petani pun mendapat bantuan benih lamtoro.
Selama enam bulan tanam jagung, pengawalan selain oleh penyuluh, Gubernur NTT menginstruksikan BPTP, dinas pertanian provinsi dan kabupaten wajib mengawal. Realisasinya, pekan lalu pemerintah provinsi membeli 100 ton jagung hasil panen seharga Rp3.200 per kg.
Varietas jagung yang ditanam adalah Lamuru, jagung komposit yang cocok di lahan kering. Setelah ditanam seluas 193 hektar pada November 2019 kemudian pada Januari 2020 sudah bisa dipanen untuk konsumsi.
"Teknologi pemupukan sesuai kebutuhan meliputi urea 150 kg per hektar dan SP36 sebanyak 100 kg per hektar. Pembersihan rumput dengan antradek dan manual saat penimbunan. Jarak tanam 40 x 80 cm," kata Yononci Seo, Ketua Poktan Bersaudara di Desa Tuafanu, Kecamatan Kualin.
Yononci Seo mengakui tidak memimpin Poktan yang sebagian besar berusia lanjut, namun seruan Gubernur Victor B Laiskodat agar petani tetap bekerja di lapangan untuk menangkal virus Corona sekaligus mendukung ketersediaan pangan lokal maka anggota Poktan Bersaudara jadi lebih giat bekerja.
"Anggota Poktan yang sebagian oma dan opa ternyata rajin membersihkan rumput dan membubun, itu semua berkat dorongan para penyuluh," katanya.
Menurutnya, Gubernur NTT Laiskodat mengingatkan kalau petani tetap tinggal di rumah selama pandemi Covid-19 malah muncul masalah baru, kekurangan pangan sementara tubuh juga butuh sinar ultraviolet dari matahari untuk menangkal virus Corona.
Penyuluh pertanian pusat di Kementerian Pertanian RI, Yulia Tri Sedyowati, selaku pendamping kegiatan penyuluhan pertanian NTT menyatakan sinergi dan koordinasi petani dengan penyuluh, sejalan dengan instruksi Menteri Pertanian RI Syahrul Yasin Limpo kepada petani dan penyuluh tetap bekerja di lapangan untuk memenuhi ketersediaan pangan.
Sementara Kepala BPPSDMP Kementan Prof Dedi Nursyamsi berulangkali mengingatkan petani dan penyuluh mematuhi Protokol Kesehatan untuk menangkal pandemi Covid-19. Kenakan masker, jaga jarak, hindari kerumunan dan sering cuci tangan pakai sabun untuk menangkal Corona."
Kepala Pusluhtan BPPSDMP] Leli Nuryati mengapresiasi dukungan penyuluh pertanian yang setia mendampingi petani di lapangan. "Pangan berperan penting untuk memenuhi kebutuhan dasar manusia sekaligus menjaga stabilitas nasional di tengah krisis Covid-19." [Liene]
East Timor Tengah of East Nusa Tenggara [B2B] - Indonesia´s Agriculture Ministry is in intensive care after testing positive for the novel coronavirus, as civil servants in head office and across the country were ordered to close over the health threat. The World Health Organization has said it is particularly concerned about high-risk nations with weaker health systems, which who may lack the facilities to identify cases.