Tadah Hujan, Penyuluh Manna Dampingi Petani di Pantai Bengkulu
Indonesian Rice Production until December 2020 is Predicted 15 Million Tons
Editor : M. Achsan Atjo
Translator : Dhelia Gani

PUBLISHED: Rabu, 15 Juli 2020 , 10:52:00 WIB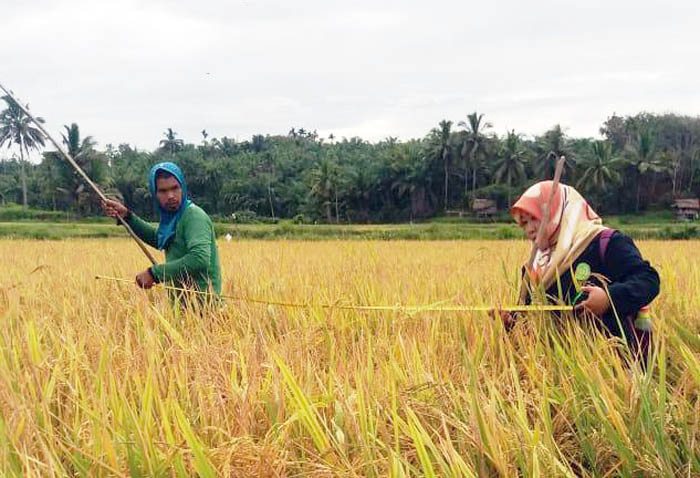 MENGHITUNG UBINAN: Penyuluh Yossi Arianti (kanan) bersama petani binaan dari Poktan Pinggir Payau di Desa Tanjung Besar, Kecamatan Manna, Bengkulu Selatan [Foto: Pusluhtan BPPSDMP]
Manna, Bengkulu [B2B] - Produktifitas sawah di tepi pantai Kabupaten Bengkulu Selatan, Provinsi Bengkulu tergolong tinggi, 6,2 ton per hektar, meskipun tanah cenderung berpasir dan mengandalkan pengairan dari air hujan. Varietas Cigeulis menjadi pilihan sebagian besar petani karena cocok dengan kondisi lahan setempat.
"Kondisi lahan dengan pengairan terbatas, ternyata masih memberikan produktifitas 6,2 ton per hektar. Kalau pengairan atau curah hujan cukup bisa naik hingga 7,2 ton per hektar," kata Yossi Arianti, penyuluh di Desa Tanjung Besar, Kecamatan Manna, Bengkulu Selatan.
Petani juga happy lantaran harga jual gabah kering panen [GKP] beras tergolong tinggi Rp4.800 kg. Hal itu mendorong Yossi tetap semangat mendampingi petani binaannya tetap produktif di tengah pandemi Covid-19.
Dia mengaku semangatnya tetap terpicu meski sawah di tepi pantai hanya mengandalkan curah hujan dan air di muara Sungai Bengkenang. Kendati begitu, kelompok tani [Poktan] binaannya, Poktan Pinggir Payau tetap semangat bekerja setelah menggelar panen 15 hektar.
"Saat ini volume ketersediaan air di muara sungai terus berkurang menjelang musim kemarau," kata Yossi Arianti melalui keterangan tertulis yang dihimpun Pusat Penyuluhan Pertanian [Pusluhtan BPPSDMP].
Penyuluh Pusat di Kementerian Pertanian RI, Lilik Winarti selaku pendamping penyuluhan Provinsi Bengkulu terus mendorong para penyuluh termasuk Yossi Winarti tetap memotivasi petani binaan agar tetap produktif, dengan berbagai upaya agar petani tetap produktif.
Hal itu sejalan dengan instruksi Menteri Pertanian RI Syahrul Yasin Limpo bahwa penyuluh senantiasa menjaga ketahanan pangan melalui pendampingan.
"Kalian [penyuluh pertanian] adalah otaknya petani. Kalian yang menunjukkan mulai dari hulu ke hilir. Mulai tanam, lalu panen hingga jual," kata Mentan Syahrul.
Kepala Badan Penyuluhan dan Pengembangan SDM Pertanian - Kementerian Pertanian RI [BPPSDMP] Dedi Nursyamsi senantiasa mengingatkan penyuluh untuk mendampingi petani, seraya membuktikan pertanian tetap bekerja di tengah wabah virus Corona.
"Patuhi Protokol Kesehatan. Kenakan masker, hindari kerumunan, jaga jarak dan rajin cuci tangan dengan sabun di air yang mengalir," kata Dedi Nursyamsi.
Sementara Kapusluh Leli Nuryati menyoroti dukungan penyuluh terhadap pengembangan pertanian dari hulu ke hilir seperti diinstruksikan Presiden RI Joko Widodo, agar ke depan, petani mengembangkan korporasi petani.
"Mulailah dengan mengolah hasil panen. Jangan jual mentah. Misalnya panen padi, baiknya mengolah gabah menjadi beras lalu dikemas menarik sehingga petani mendapat nilai tambah. Hindari menjual gabah,' kata Leli Nuryati. [Liene]
Manna of Bengkulu [B2B] - Indonesia´s Agriculture Ministry is in intensive care after testing positive for the novel coronavirus, as civil servants in head office and across the country were ordered to close over the health threat. The World Health Organization has said it is particularly concerned about high-risk nations with weaker health systems, which who may lack the facilities to identify cases.