Penyuluh Ahli, Kepala Pusluhtan Bekali Pelatihan Dasar Fungsional di BPP Jambi
Agricultural Extensionists of Indonesia`s Sumatra Attended Training in Jambi
Editor : M. Achsan Atjo
Translator : Dhelia Gani

PUBLISHED: Jum'at, 17 Mei 2019 , 01:01:00 WIB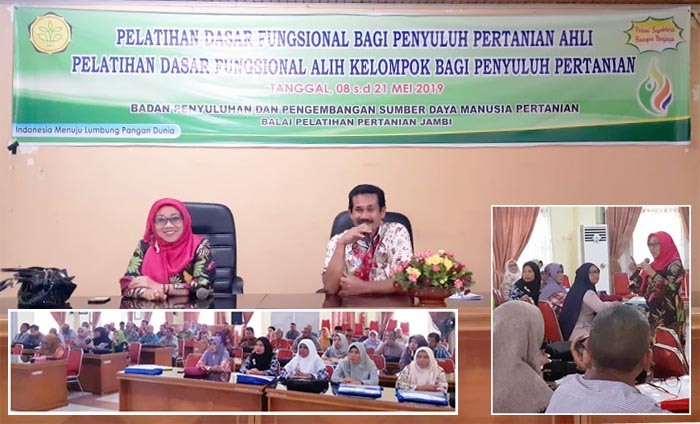 PELATIHAN 112 JAM: Kepala Pusluhtan BPPSDM Siti Munifah [hijab merah] didampingi Kepala BPP Jambi, Sabir memberi pembekalan pada peserta pelatihan [Foto2: Humas Pusluhtan/Rostika]
Kota Jambi, Jambi [B2B] - Penyuluh pertanian harus menatap ke depan, dengan melakukan transformasi sebagai keharusan di tengah perubahan zaman saat ini, yang berkembang cepat di era industrialisasi 4.0. Kondisi tersebut menuntut peningkatan kompetensi dan profesionalisme penyuluh agar mampu bekerja cepat, kolaboratif, dengan memanfaatkan teknologi informasi sebagai keharusan di tengah perubahan zaman saat ini.
Hal itu dikemukakan Kepala Pusat Penyuluhan Pertanian [Pusluhtan] Siti Munifah saat menguraikan tentang tugas pokok dan fungsi [Tupoksi] Badan Penyuluhan dan Pengembangan SDM Pertanian [BPPSDMP] sebagai unit kerja Kementerian Pertanian RI mendukung, mendorong dan mengembangkan potensi dan kinerja penyuluh pertanian di seluruh Indonesia melalui kegiatan pelatihan seperti ´Pelatihan Dasar Fungsional bagi Penyuluh Pertanian Ahli´ di Balai Pelatihan Pertanian Jambi [BPP Jambi] yang berlangsung pada 8 - 21 Mei 2019.
"Pelatihan selama dua minggu ini harap dimanfaatkan sebaik-baiknya menjadi aparatur pertanian profesional, amanah, kreatif, proaktif dan responsif melaksanakan tugas memecahkan permasalahan petani di lapangan sesuai disiplin ilmu pengetahuan yang dimiliki, metodologi dan teknis analisis yang tepat sesuai potensi wilayah masing-masing," kata Siti Munifah didampingi Kepala BPP Jambi, Sabir di Kota Jambi, Sabtu pekan lalu [11/5] saat memberi pembekalan kepada 35 penyuluh CPNS dari provinsi di Sumatera bagian utara.
Menurutnya, transformasi penyuluhan sudah diatur dalam Peraturan Menteri Pertanian, Permentan No 3/2018 tentang Pedoman Penyelenggaraan Penyuluhan Pertanian untuk penguatan penyuluhan pertanian berbasis informasi dan teknologi, pengembangan penyuluh swadaya, pemantapan pos penyuluhan desa [Posluhdes], penguatan kelembagaan petani orientasi bisnis dan berbadan hukum, penguatan BPP sebagai pusat integrasi data dan kegiatan, pelibatan generasi muda berbasis online, penerapan sistem pertanian terpadu dan berbasis korporasi.
Kepala Pusluhtan Siti Munifah mengajak para penyuluh mensosialisasikan kemudahan dan keuntungan akses informasi melalui internet kepada petani menyikapi era industrialisasi 4.0. Penyuluhan berbasis internet harus disadari akan mempercepat interaksi dan komunikasi dengan petani untuk menjangkau wilayah lebih luas, sekaligus mengatasi ´rasio jumlah penyuluh´ dengan wilayah binaan yang belum sebanding hingga saat ini.
Ke-35 penyuluh pertanian mengikuti pelatihan selama dua minggu akan menempuh 112 jam pelajaran dalam tiga materi: kelompok dasar, inti dan penunjang.
Kepala BPP Jambi, Sabir mengatakan ´pelatihan dasar´ merupakan salah satu pelatihan dasar yang wajib diikuti oleh penyuluh pertanian sesuai dengan levelnya atau pendidikannya. Pelatihan bertujuan meningkatkan kompetensi sesuai dengan tugas pokok dan fungsi sebagai penyuluh.
"Pelaksanaan pelatihan ini di BPP Jambi memberikan materi peningkatan kompetensi dan pembinaan karakter untuk meningkatkan disiplin para penyuluh pertanian melaksanakan tugasnya di lapangan untuk mendukung dan melaksanakan program Kementan," kata Sabir. [Ika]
Jambi City of Jambi [B2B] - Indonesian agricultural extensionists must look forward, by transforming as a necessity amid the changing times in the era of industrialization 4.0. These conditions require competence and professionalism of agricultural extensionists to work quickly and collaborative, by utilizing information technology as a necessity in the midst of changing times today, according to senior Indonesian official.
It was stated by Director of Agricultural Extension Center [Pusluhtan] while describes about main tasks of the Directorate General of Extension and Agricultural HR Development at the Indonesian Agriculture Ministry [BPPSDMP] support, encourage and develop potential and performance of agricultural extensionists in the northern Sumatra region through training activities at at the Jambi Agriculture Training Center [BPP Jambi] on 8 to May 21, 2019.
"The two-week training should be utilized as well as possible to become a professional, trustworthy, creative, proactive and responsive agricultural apparatus," said Siti Munifah here on Saturday last week [May 11] when giving debriefing to 35 training participants at BPP Jambi.
According to her, According to him, the transformation of agricultural extension services has been regulated in Minister of Agriculture Regulation No. 3/2018 for strengthening information and technology-based agricultural extension services, development of self-supporting agricultural extension, consolidation of village agricultural extension posts, strengthening of business orientation and legal entity farmer institutions, data and activity integration center, young generation based online, implementation of integrated and corporate-based agricultural systems.
Siti Munifah invited the training participants to socialize convenience and benefits of internet to farmers in responding era of industrialization 4.0. Agricultural extension supported by the internet must be realized to accelerate interaction and communication with farmers to reach a wider area.
The 35 participants taking part in the two-week training will take 112 hours, divided into three materials: basic, core and supporting groups.