Panen Tomat, KostraTani Dukung Produksi Hortikultura Maluku Utara
Indonesia`s North Moluccas Increase Horticulture Production
Editor : M. Achsan Atjo
Translator : Dhelia Gani

PUBLISHED: Sabtu, 18 Juli 2020 , 12:09:00 WIB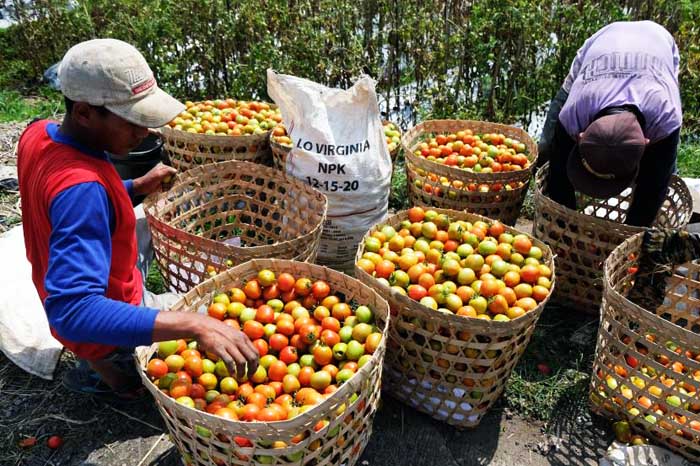 Hal itu dilaksanakan oleh Gubernur Maluku Utara KH Abdul Gani Kasuba meluangkan waktu mendampingi petani di Kecamatan Oba Utara di Kota Tidore Kepulauan melaksanakan panen tomat seluas 0,25 hektar di Desa Gosale [Foto: Humas Pusluhtan]
Ternate, Maluku Utara [B2B] - Sektor pertanian harus tetap berproduksi mendukung ketersediaan pangan pokok strategis maupun hortikultura, seperti digaungkan oleh Menteri Pertanian RI Syahrul Yasin Limpo, "insan pertanian merupakan pejuang pangan secara mandiri maupun didukung pemerintah pusat dan daerah tetap mampu menyediakan pangan pada kondisi darurat seperti saat ini, di tengah pandemi Covid-19.
"Aktifitas pertanian harus terus berlanjut. Tidak boleh terhenti. KostraTani berperan vital mengawal petani untuk meningkatkan produksi. Pertanian adalah garda terdepan penyedia pangan untuk kebutuhan daerah maupun nasional," kata Mentan Syahrul.
Kepala BPPSDMP Dedi Nursyamsi menekankan tentang ketahanan pangan juga terkait kemampuan daerah memproduksi bahan pangan secara mandiri, apalagi di tengah pandemi Covid-19 saat ini.
Hal itu dilaksanakan oleh Gubernur Maluku Utara KH Abdul Gani Kasuba meluangkan waktu mendampingi petani di Kecamatan Oba Utara di Kota Tidore Kepulauan melaksanakan panen tomat seluas 0,25 hektar di Desa Gosale.
Gubernur KH Abdul Gani mengapresiasi komitmen dan kinerja petani yang didampingi penyuluh pertanian tetap bekerja dan berproduksi di tengah pandemi Covid-19.
Koordinator BPP Oba Utara, Bahtiar Muhammad mengatakan dengan luas lahan yang diusahakan sekitar 0,25 hektar. Produktifitas rata-rata 25 sampai 30 ton per hektar yang diusahakan kelompok tani (Poktan) Bersehati yang dipimpin Umar Nurdin selaku Ketua Poktan Bersehati. Sementara harga tomat di pasaran setempat sekitar Rp20.000 per kg.
"Kelompoktani Bersehati selalu berproduksi dengan optimal dan sudah berjalan setahun ini petanimya selalu mengikuti perkembangan jenis varitas tomat yang digemari oleh pasar/konsumen dan produksinya tinggi," kata Bahtiar Muhammad melalui keterangan tertulis yang dihimpun Pusat Penyuluhan Pertanian (Pusluhtan BPPSDMP).
Penyuluh Pusat, Siti Hafsah Husas di Kementerian Pertanian RI selaku pembina penyuluhan pertanian Provinsi Maluku Utara kembali mengingatkan tentang pesan Mentan Syahrul bahwa petani harus mendapat keuntungan dari hasil produksi pertaniannya, sehingga mendorongnya untuk tetap berusaha tani sekaligus mengundang petani lain untuk melakukan replikasi. [Liene]
Ternate of North Moluccas [B2B] - Indonesia´s agriculture ministry to make sure that the 90% requirement of horticultural commodities during 2020 supplied from domestic production and import products only 10%, include of horticulture products of North Mollucas.