Badan Pangan PBB Ingatkan Masyarakat Jangan Timbun Makanan di Rumah
UN`s Food Agriculture Organization Ensure Indonesia Rice Supplies More than Needs
Reporter : Gusmiati Waris
Editor : Cahyani Harzi
Translator : Dhelia Gani

PUBLISHED: Selasa, 05 Mei 2020 , 01:51:00 WIB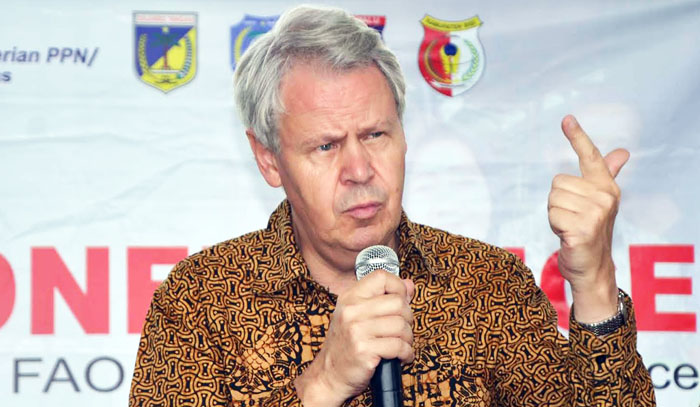 FAO INDONESIA: Kepala Perwakilan FAO Indonesia, Stephen Rudgard [Foto: istimewa]
Jakarta [B2B] - Badan Pangan PBB [FAO] mengingatkan rakyat Indonesia bahwa persediaan pangan cukup sehingga tidak perlu menimbun makanan di rumah karena petani, nelayan dan peternak tetap produktif didukung sarana transportasi yang mengangkut hasil produksi pangan ke pusat-pusat perniagaan pangan.
"Masyarakat tidak perlu menimbun makanan di rumah. Pandemi Covid-19 tidak langsung mempengaruhi produksi pangan. Hargai kerja keras para pahlawan pangan yang tetap bekerja dan produktif," kata Kepala Perwakilan FAO Indonesia, Stephen Rudgard melalui pernyataan tertulis, Senin [4/5].
Pahlawan pangan, menurutnya adalah petani, nelayan, peternak, pengemudi yang membawa hasil pertanian dan pedagang di pasar.
"Sudah saatnya bagi kita untuk memperhatikan satu sama lain dan menghargai mereka yang berada di garis depan dalam pandemi ini. Mereka yang memproduksi pangan untuk kita makan setiap hari di masa yang sulit ini," kata Stephen Rudgard.
FAO mengajak membeli makanan dari usaha kecil setempat. Hargai petani, nelayan dan peternak yang memproduksi pangan. Berbelanja dengan bijaksana, dan makan makanan sehat.
Sementara Guru Besar Ilmu Ekonomi IPB, Muhammad Firdaus mengapresiasi upaya pemerintah dalam menata sistem distribusi pangan.
"Sistem distribusi pangan perlu ditata dengan baik untuk mengurangi disparitas harga antarwilayah," katanya.
Menurutnya, data stok terkini dan prediksi ketersediaan pangan menurut juga sudah sangat lengkap. "Ini bagus dan perlu diketahui publik, supaya masyarakat lebih tenang," pungkasnya.
Jakarta [B2B] - Indonesian Agriculture Ministry ensure national rice supplies more than enough, with dry milled grain harvest estimate of two million hectares of rice fields across Indonesia in January until June 2020, with an average production of at least six million tonnes per hectare will produce 12 million tons of milled grain, while the rice supplies in Logistics Agency, known as the Bulog, about 1.7 million tons.