Penyuluh Barito Timur Latih Petani Milenial Tingkatkan Produksi DOD Itik Peking
Peking Duck Breeders of Central Borneo Attended Management Training
Editor : M. Achsan Atjo
Translator : Dhelia Gani

PUBLISHED: Rabu, 13 November 2019 , 01:54:00 WIB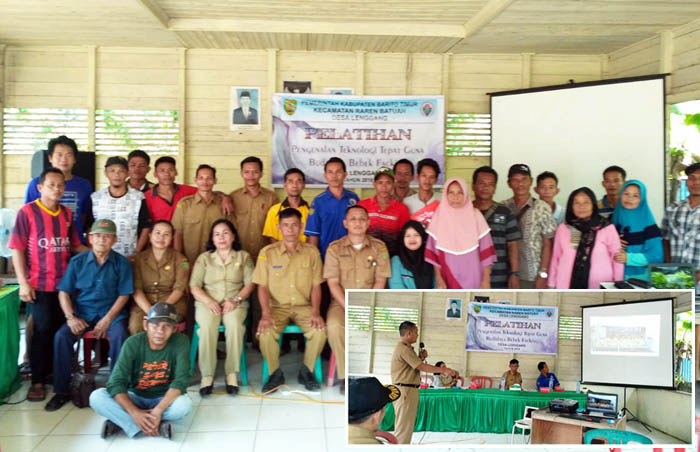 PETANI MILENIAL: Koordinator BPP Raren Batuah, Kateluniati [duduk, ke-3 kiri], Kades Rundeng [duduk, ke-4 kiri] dan penyuluh Lukmanul Chakim [duduk, ke-2 kanan] bersama peserta pelatihan [Foto2: Lukmanul Ch]
Barito Timur, Kalteng [B2B] - Beternak itik Peking petelur semakin menjanjikan lantaran meningkatnya minat masyarakat mengonsumsi daging bebek, termasuk di Kabupaten Barito Timur, Provinsi Kalimantan Tengah. Restoran dan warung bebek menjamur di Tamiang Layang, ibukota kabupaten hingga sembilan kota kecamatan di seantero Barito Timur.
Hal itu berdampak pada meningkatnya kebutuhan bibit itik Peking, day old duck [DOD], untuk dipelihara menjadi bebek siap konsumsi. Pasalnya, daging itik Peking yang dikenal sebagai bebek pedaging atau bebek potong paling diminati konsumen. Tentunya dituntut kemampuan peternak itik Peking di Barito Timur untuk memenuhi kebutuhan pasar, dengan meningkatkan produksi telur itik Peking.
Sejumlah penyuluh pertanian Barito Timur menyadari peluang dan kendala yang dihadapi petani milenial setempat selaku peternak itik Peking, dengan menggelar 'pelatihan manajemen usaha ternak itik Peking berbasis ekonomi kerakyatan' di Desa Lenggang, Kecamatan Raren Batuah, yang dikenal sebagai desa pemasok telur itik Peking di Kalteng.
Penyuluh pertanian Raren Batuah, Lukmanul Chakim mengatakan kegiatan pelatihan diinisiasi kepala desa Lenggang dan difasilitasi oleh Koordinator BPP Raren Batuah, Kateluniati serta Preti Matalatta, penyuluh pertanian Desa Lenggang.
"Diharapkan dari pelatihan manajemen ini, nama Desa Lenggang makin dikenal. Begitu menyebut itik maka yang teringat adalah telur itik Peking dari Lenggang," kata Kepala Desa Lenggang, Rundeng saat membuka pelatihan.
Sebagaimana diketahui, itik Peking adalah jenis bebek pedaging yang cepat panen. Saat bebek baru berumur dua bulan, bobotnya sudah mencapai 3 kg, sementara ayam ras di usia yang sama, bobot maksimalnya 2 kg. [Liene]
Barito Timur of Central Borneo [B2B] - Indonesian people increasingly like duck meat, it requires an increase in the production of day old duck to meet market demands including in East Barito district, of Central Borneo province.