Verval Simluhtan, Pusluhtan Kementan Konsolidasi Maraton 5 Kabupaten/Kota DIY
Indonesian Govt to Develop an Online Database of Farmers in Simluhtan
Editor : M. Achsan Atjo
Translator : Dhelia Gani

PUBLISHED: Jum'at, 23 Agustus 2019 , 01:54:00 WIB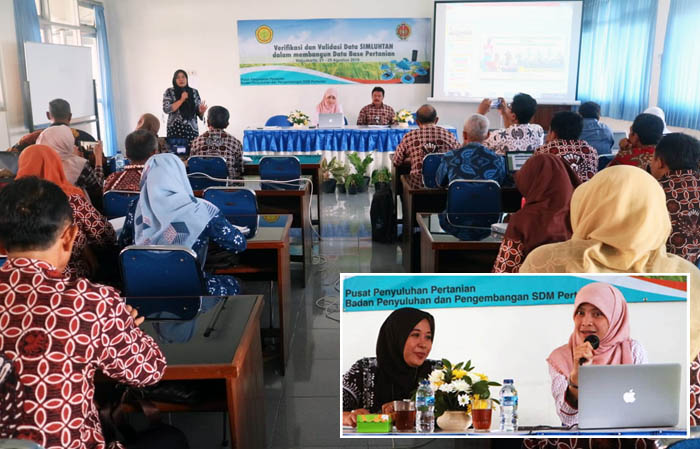 NOMOR INDUK KEPENDUDUKAN: Kasubbid Informasi dan Materi Penyuluhan - Pusluhtan BPPSDMP Kementan, Septalina Pradini [hijab pink, inset] memimpin kegiatan verifikasi dan validasi Simluhtan di Bantul, DIY.
Bantul, Yogyakarta [B2B] - Sedikitnya 200 penyuluh pertanian dan perwakilan dari kantor dinas pertanian di Provinsi Daerah Istimewa Yogyakarta [DIY] mengikuti secara maraton kegiatan ´verifikasi dan validasi´ [Verval] yang diinisiasi oleh Pusluhtan BPPSDMP Kementan di Kabupaten Bantul, DIY yang berlangsung Kamis pagi hingga petang [22/8]. Tujuan Verval, untuk melengkapi nomor induk kependudukan [NIK] petani yang bergabung pada kelompok tani [Poktan dan Gapoktan] sebagai database Sistem Informasi Manajemen Penyuluhan Pertanian [Simluhtan].
Simluhtan dikembangkan Pusat Penyuluhan Pertanian pada Badan Penyuluhan dan Pengembangan SDM Pertanian - Kementerian Pertanian RI [Pusluhtan BPPSDMP Kementan] merujuk data kependudukan pada Direktorat Jenderal Kependudukan dan Catatan Sipil - Kementerian Dalam Negeri [Ditjen Dukcapil Kemendagri] sebagai Strategi Nasional dari Komisi Pemberantasan Korupsi [Stranas KPK] mendukung pembangunan pertanian nasional.
"Tujuan Verval menyediakan data dan informasi melalui SIMPP atau Sistem Informasi Manajemen Penyuluhan Pertanian yang ter-update dan dapat dipertanggungjawabkan sebagai dasar pengembangan Big Data pertanian nasional ," kata Kasubbid Informasi dan Materi Penyuluhan - Pusluhtan, Septalina Pradini.
Menurutnya, ke-200 peserta Verval didorong dan didukung melakukan pemutakhiran data dan informasi tentang penyuluh pertanian, kelembagaan petani seluruh Indonesia sehingga dapat digunakan sebagai dasar realiasi program Kementan. Kegiatan Verval berlanjut hari ini, Jumat [23/8] sejak pagi hingga petang yang akan diikuti sekitar 200 peserta di Kabupaten Kulon Progo dan Gunung Kidul.
Tujuan pokok lainnya, kata Septalina Pradini, adalah membangun dan mengembangkan aplikasi Simluhtan, agar setiap saat data terverifikasi dan tervalidasi melalui perbaikan dukungan sarana teknologi informasi dan komunikasi (TIK).
"Payung hukum kegiatan Verval adalah Peraturan Presiden RI [Perpres] Nomor 39/2019 tentang Satu Data Indonesia, dan Peraturan Menteri Pertanian [Permentan] Nomor 16/2013 tentang SIMPP," katanya.
Database yang dikembangkan Pusluhtan meliputi ´data ketenagaan penyuluhan´ meliputi penyuluh PNS, penyuluh honorer [THL], penyuluh swadaya, penyuluh swasta. Data tentang balai penyuluhan pertanian di tingkat kecamatan [BPP] masuk kategori ´data kelembagaan penyuluhan´ sementara kelompok tani [Poktan], gabungan kelompok tani [Gapoktan] dan kelembagaan ekonomi petani [KEP] termasuk ´data kelembagaan petani´
Septalina juga mengingatkan inilah data yang harus di-Verval dari lima kabupaten/kota di DIY hingga 19 Agustus 2019, tercatat pada Simluhtan ada 8.511 unit Poktan tersebar 1.836 unit di Kulon Progo, 1.802 [Bantul], 2.824 [Gunung Kidul], 2.597 [Sleman] dan 172 [Yogyakarta]. Beranggotakan 193.835 pria dan 35.182 wanita atau total 240.421 orang, namun terdapat 10.966 anggota Poktan yang belum mengisi jenis kelaminnya.
"Ternyata ada selisih anggota Poktan apabila mengacu pada NIK. Berdasarkan data rekapitulasi Simluhtan untuk DIY, total anggota Gapoktan 240.421 orang sementara mengacu pada NIK hanya 231.160. Selisihnya 9.261 orang antara data Rekap Simluhtan DIY dengan data NIK, maka di situlah tujuan dari Verval ini diadakan untuk menihilkan selisih antara rekap Simluhtan dan data NIK," kata Septalina Pradini.
Bantul of Yogyakarta [B2B] - At least 200 agricultural extensionist and representatives of the agriculture service office in Yogyakarta province participate in the ´verification and validation´ activity was initiated by the Agricultural Extension Center of Indonesian Agriculture Ministry in Bantul district, Yogyakarta, which runs from Thursday morning to evening [August 22]. The purpose of verification and validation is to complete the residence number of farmers who join the farmer groups as a database of Agricultural Extension Management Information System [Simluhtan].