TOS 3M, Mentan SYL Sokong Kinerja Penyuluh, P4S dan PWMP Bali
Indonesian Govt Promotes Healthy Food at Bali`s Car Free Day
Editor : M. Achsan Atjo
Translator : Dhelia Gani

PUBLISHED: Minggu, 05 Januari 2020 , 17:55:00 WIB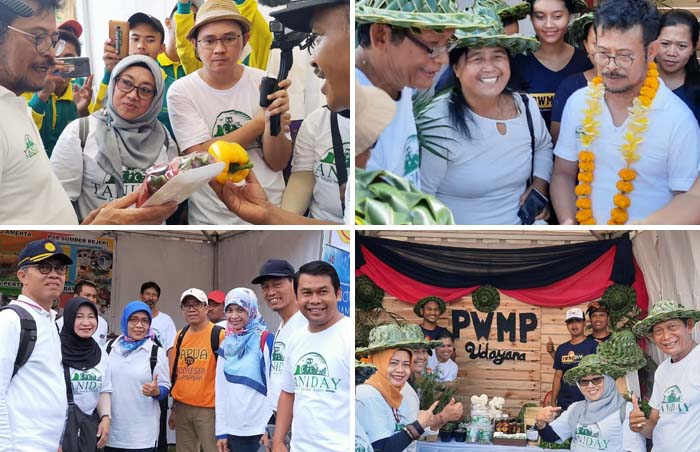 BALI´S CAR FREE DAY: Mentan Syahrul Yasin Limpo didampingi Sesba BPPSDMP Siti Munifah; Kabid Penyuluhan, I Wayan Ediana dan Kabid Pendidikan, Ismaya NR Parawansa dialog dengan penyuluh, PWMP dan P4S [Foto2: Humas Pusluhtan]
Denpasar, Bali [B2B] - Kementerian Pertanian RI terus menggelorakan semangat ´Gerakan Pertanian Maju, Mandiri dan Modern [3M] melalui Tani on Stage/Tani Day [TOS 3M] di seluruh Indonesia. Pagi ini, Minggu [5/1], Menteri Pertanian RI Syahrul Yasin Limpo memimpin sosialisasi Tani Day 3M di Lapangan Renon Denpasar didampingi Kepala BPPSDMP Kementan, Prof Dedi Nursyamsi dan Sekretaris BPPSDMP Siti Munifah bersama ribuan peserta Car Free Day Denpasar [CFD].
Kegiatan TOS 3M yang berlangsung di ajang CFD Denpasar dihadiri puluhan penyuluh dari seluruh Provinsi Bali, para pengurus dan anggota dari Pusat Pelatihan Pertanian dan Pedesaan Swadaya [P4S] terbaik se-Bali dari tiga kabupaten [Bangli, Tabanan dan Buleleng]. Hadir pula Kelompok Penumbuhan Wirausahawan Muda Pertanian [PWMP] dari Universitas Udayana Bali.
Setelah tiba di Lapangan Renon, Mentan SYL mengawali kegiatan sosialisasi TOS 3M dengan mengikuti jalan pagi dilanjutkan senam ´Gerakan Tiga Kali Lipat Ekspor Komoditas Pertanian disingkat GratiEks seraya mengajak masyarakat Bali untuk menyantap pangan sehat produksi petani Indonesia, dan bukan produk impor.
Mentan SYL mengatakan menjaga makanan sehat bukan hanya tugas pemerintah, bukan hanya kewajiban Kementan, tetapi juga harus menjadi gerakan di seluruh ibukota provinsi, "karena itu kita menggelar TOS 3M untuk menggetarkan ayo makan sehat, tujuannya agar masyarakat terbiasa makanan sehat."
"Kita mau sehat. Caranya adalah makan dengan baik. Orang Indonesia mengonsumsi beras paling tinggi di dunia, 111 kilogram per orang per tahun. Warga Jepang hanya 60 kilogram per orang pertahun, dan Malaysia 75 kilogram. Di Indonesia sendiri makan 111 kilogram beras per orang per tahun, kalau dia punya bobot besar itu pasti akan mengundang berbagai penyakit. Dengan TOS 3M, Kementan mendorong diversifikasi variasi makanan, jadi tidak hanya beras tetapi makanan lainnya," kata SYL yang tak surut semangatnya meski Denpasar dilanda hujan.
Mentan mengatakan kementeriannya juga menjalankan GratiEks, titik beratnya komoditas yang mempunyai peluang pasar ekspor. Pemerintah melalui Kementan sekarang mempersiapkan kebutuhan dari hulu sampai hilir, sehingga pada akhirnya akan didapatkan kualitas komoditas ekspor memadai.
SYL berkesempatan mengunjungi booth PWMP dan P4S didampingi Sesba BPPSDMP Siti Munifah dan Kabid Penyelenggaraan Pendidikan - Pusdiktan, Ismaya NR Parawansa. Sementara Kabid Penyelenggaraan Penyuluhan - Pusluhtan, I Wayan Ediana mendampingi Mentan SYL saat menyapa para penyuluh Bali. Turut hadir Kasubbid Informasi dan Materi Penyuluhan BidPelLuh - Pusluhtan, Septalina Pradini dan Kasubbag Humas BPPSDMP Djajawarman Alamprabu.
Kelompok P4S yang hadir di Lapangan Renon adalah P4S Mupu Amerta dari Kabupaten Bangli, P4S Batur Sari, P4S Hidayah, P4S Somya Pertiwi dari Tabanan dan P4S Sumber Rejeki dari Buleleng. [Liene]
Denpasar of Bali [B2B] - Indonesian Agriculture Ministry once again held the Tani On Stage in Denpasar, the capital of Bali, Sunday [January 5] attended by Indonesian Agriculture Minister Syahrul Yasin Limpo with 5,000 participants, for the socialization of agricultural sector programs and policies to Denpasar residents.