Sasaran KostraTani, Pusluhtan BPPSDMP Dukung Bimtek Simultan di 67 Kabupaten
Indonesian Agriculture Ministry Asked Farmers to Maintain Soil Fertility
Editor : M. Achsan Atjo
Translator : Dhelia Gani

PUBLISHED: Rabu, 04 Maret 2020 , 18:24:00 WIB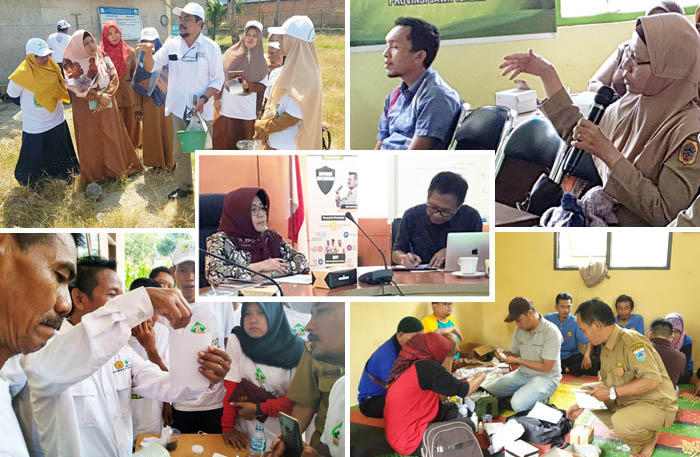 BIMBINGAN TEKNIS: Bimtek didukung peneliti dan ahli tanah dari Balitbangtan berlangsung simultan di 67 kabupaten; Kepala Pusluhtan BPPSDMP, Leli Nuryati memimpin rapat koordinasi didampingi Kasubbid Welly Nugraha [inset tengah] Foto2: Humas Pusluhtan
Jakarta [B2B] - Sekitar 1.220 penyuluh pertanian dan 362 penyuluh swadaya dari 67 kabupaten di 16 provinsi mengikuti Bimbingan Teknis [Bimtek] Pengelolaan Kesuburan Lahan yang digelar secara simultan [serempak pada waktu yang sama], untuk meningkatkan kemampuan dan kompetensi penyuluh sekaligus memperkuat kapasitas Balai Penyuluhan Pertanian [BPP] di kecamatan, sebagai locust pembangunan pertanian yang merupakan salah satu sasaran dari KostraTani sebagai pusat pembelajaran bagi petani selaku pelaku utama sektor pertanian.
Kepala Pusat Penyuluhan Pertanian - Kementerian Pertanian RI [Pusluhtan BPPSDMP] Leli Nuryati mengatakan kegiatan Bimtek secara simultan untuk menindaklanjuti penyediaan bantuan kepada 362 BPP berupa 687 unit perangkat uji tanah sawah [PUTS], 37 unit perangkat uji tanah rawa [PUTR] dan 362 unit perangkat uji pupuk yang didistribusikan pada akhir 2019 melalui Proyek Integrated Participatory Development and Management of Irrigation Project [IPDMIP].
"Dalam jangka pendek, penyediaan perangkat pengelolaan kesuburan lahan diarahkan untuk memperkuat kapasitas BPP dalam melayani dan membimbing para petani terkait dengan rekomendasi pemupukan," kata Leli Nuryati pada rapat koordinasi pelaksanaan Bimtek di Jakarta, belum lama ini.
Kegiatan Bimtek didukung oleh Balai Penelitian Tanah Bogor dengan menerjunkan para peneliti dan ahli tanah guna memberikan pembekalan berupa pengetahuan pengelolaan kesuburan lahan dan praktek penggunaan PUTS/R dan PUP.
Sementara untuk jangka panjang, kegiatan tersebut untuk memberi kontribusi dalam mengamankan dan memelihara kemampuan lahan sawah di Indonesia untuk mencapai produktivitas yang optimal guna menyediakan pangan bagi 267 juta orang penduduk Indonesia.
"Bimtek dilaksanakan di BPP sebagai wujud keseriusan BPPSDMP untuk memperkuat BPP sebagai markas Kostratani dalam merealisasikan peran-perannya secara optimal, khususnya sebagai pusat gerakan pembangunan pertanian, pusat pembelajaran, dan pusat konsultasi agribisnis," kata Leli Nuryati. [BGN]
Central Lampung of Lampung [B2B] - Indonesian Agriculture Ministry encourages and supports shallot farmers in Brebes district of Central Java province to maintain the biological nature and structure of the land through proper and correct use of fertilizers and pesticides.