Gubernur Apresiasi, Penyuluh Papua Barat Kawal Petani Percepat Tanam
Indonesian Rice Production until December 2020 is Predicted 15 Million Tons
Editor : M. Achsan Atjo
Translator : Dhelia Gani

PUBLISHED: Sabtu, 04 Juli 2020 , 19:08:00 WIB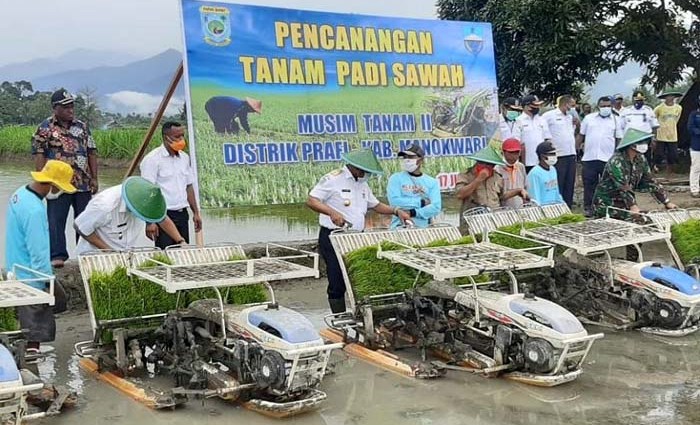 PUPUK CUKUP: ketersediaan pupuk untuk MT II di Manokwari tidak ada masalah, namun alat mesin pertanian (Alsintan) masih kurang karena beberapa rusak sehingga percepatan tanam MT II menjadi krusial di awal Juli [Foto: Humas Pusluhtan]
Manokwari, Papua Barat [B2B] - Petani bersama penyuluh Kabupaten Manokwari hari-hari ini bekerja keras melakukan percepatan tanam padi seluas 276 ha dari target 822,5 ha di Kampung Prafi Mulya, Distrik Prafi. Pandemi Covid-19 tidak menghalangi tekad petani dan penyuluh pada musim tanam kedua (MT II) mendukung pencapaian mandiri pangan di Provinsi Papua Barat.
Koordinator Penyuluh Pertanian Distrik Prafi, Djaka Mastuti kegiatan pencanangan berlangsung pada lahan kelompok tani (Poktan) Ngudi Rejeki dari Gapoktan Karya Bersama, yang diketuai Sujiono. Varietas padi Sertani 4, Inpari 4, Inpari 30 dan Mekongga pada lahan 276 ha dari target 822,5 ha untuk MT II (April - Juli 2020).
"Manokwari berupaya percepat tanam, karena kondisi saat ini masih tersedia air di lahan, sehingga perlu penanaman sesegera mungkin sebelum ketersediaan air di lahan berkurang," kata Djaka Mastuti di sela kegiatan Pencanangan Tanam Padi Sawah Musim Tanam II (MT) belum lama ini.
Menurutnya, ketersediaan pupuk untuk MT II di Manokwari tidak ada masalah, namun alat mesin pertanian (Alsintan) masih kurang karena beberapa rusak sehingga percepatan tanam MT II menjadi krusial di awal Juli, sehingga Poktan pada lahan lain dapat bergantian menggunakan sebelum musim kemarau.
Kegiatan Pencanangan Tanam Padi Sawah MT II dihadiri oleh Gubernur Dominggus Mandacan, mengajak petani tetap bekerja meski di tengah pandemi Covid-19 tanpa mengabaikan Protokal Kesehatan.
"Pemerintah provinsi akan membeli beras petani, untuk menjaga ketahanan pangan di Papua Barat, khususnya Manokwari," kata Gubernur Dominggus.
Penyuluh Pusat, Mugi Rahayu di Kementerian Pertanian RI selaku pendamping kegiatan penyuluhan pertanian di Provinsi Papua Barat mengatakan langkah petani dan penyuluh Manokwari sejalan dengan instruksi Menteri Pertanian RI Syahrul Yasin Limpo.
Mentan Syahrul mengajak penyuluh dan petani memanfaatkan sisa musim hujan hingga Juli 2020, untuk percepatan tanam mendukung target luas tanam 11,66 juta hektar di seluruh Indonesia.
"Potensi panen padi Juni 2020 diperkirakan 0,74 juta hektar, yang dapat menghasilkan beras 1,94 juta ton sebagai upaya mencapai ketahanan pangan dan tersedia pangan bagi 267 juta rakyat Indonesia," kata Mentan.
Dalam kesempatan terpisah, Kepala BPPSDMP Dedi Nursyamsi menegaskan komitmen Kementan khususnya Badan Penyuluhan dan Pengembangan SDM Pertanian [BPPSDMP] berupaya mengembangkan penyuluh pertanian menjadi agen utama di dalam pembangunan pertanian mendukung kinerja petani menjaga ketahanan pangan nasional. [Liene]
Manokwari of West Papua [B2B] - Indonesia´s Agriculture Ministry is in intensive care after testing positive for the novel coronavirus, as civil servants in head office and across the country were ordered to close over the health threat. The World Health Organization has said it is particularly concerned about high-risk nations with weaker health systems, which who may lack the facilities to identify cases.