1 Penyuluh 1 Desa, DPR RI Minta Kementan Tambah Jumlah Penyuluh Pertanian
Indonesian Parliament Asked Government to Increase Number of Agriculture Extension Workers
Editor : M. Achsan Atjo
Translator : Dhelia Gani

PUBLISHED: Sabtu, 15 Februari 2020 , 02:00:00 WIB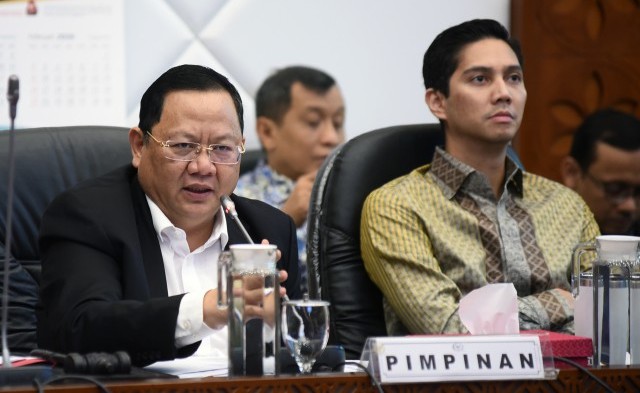 RAPAT DENGAR PENDAPAT: Ketua Komisi IV DPR RI Sudin [kiri] saat memimpin Rapat Dengar Pendapat (RDP) dengan pejabat Eselon Satu Kementan di Jakarta [Foto: istimewa]
Jakarta [B2B] - Amanat utama dari UU Perlindungan dan Pemberdayaan Petani No 19/2013 mensyaratkan 'rasio satu desa satu penyuluh pertanian', karena keberadaannya vital dalam mengawal dan mendampingi petani guna memastikan penerapan teknologi maju yang direkomendasikan, penumbuhan dan pengembangan kelembagaan petani, membangun kemitraan dengan pelaku usaha, akses modal, prasarana dan sarana pertanian serta peluang pasar.
Ketua Komisi IV DPR RI, Sudin mengingatkan bahwa penambahan jumlah penyuluh pertanian mendekati rasio UU No 19/2013 dapat dipenuhi melalui penambahan jumlah penyuluh swadaya atau pengangkatan Tenaga Harian Lepas Tenaga Bantu [THL-TB] lingkup pertanian menjadi Aparat Sipil Negara [ASN] atau Pegawai Pemerintah dengan Perjanjian Kerja [P3K].
"Paling sedikit dibutuhkan satu orang penyuluh dalam satu desa potensi pertanian hal itu sesuai dengan Pasal 46 Ayat 4 dari UU No 19/2013," kata Sudin saat memimpin Rapat Dengar Pendapat [RDP] dengan pejabat Eselon I Kementan di Jakarta, Rabu [12/2].
Menurutnya, untuk mendekati jumlah ideal, Kementan harus berupaya menambah jumlah penyuluh pertanian melalui penyuluh swadaya sehingga dapat terpenuhi rasio satu desa didukung seorang penyuluh pertanian.
"Kementan juga perlu memperkuat sarana dan prasarana penyuluhan yang sudah ada sesuai dengan kemampuan keuangan negara," kata Sudin saat membacakan hasil
Sementara soal alokasi anggaran yang dibahas Kementan dan Komisi IV DPR meliputi anggaran di semua direktorat jenderal. Ditjen Hortikultura mendapat alokasi Rp 1,082 triliun, Ditjen Peternakan dan Kesehatan Hewan Rp2,022 triliun, Badan Penyuluhan dan Pengembangan SDM Pertanian [BPPSDMP] Rp1,7 triliun, Badan Ketahanan Pangan [BKP] Rp823 miliar, Badan Litbang Pertanian Rp1,8 triliun, dan Badan Karantina Pertanian Rp1,025 triliun.
Jakarta [B2B] - Indonesia´s parliament asked to Agriculture Ministry to increase number of agricultural extension workers to support the farmers to increase agricultural production, develop farmer organizations, utilize technological innovations, access banking capital, and other resources to support food self-sufficiency and improve farmers´ welfare, according to Indonesian member parliament.