BPTP Kaltim Sosialisasi Riset Balitbangtan Kementan ke Gubernur
Indonesian Govt Anticipate COVID-19 by Weaker Health Systems
Editor : M. Achsan Atjo
Translator : Dhelia Gani

PUBLISHED: Rabu, 22 Juli 2020 , 20:16:00 WIB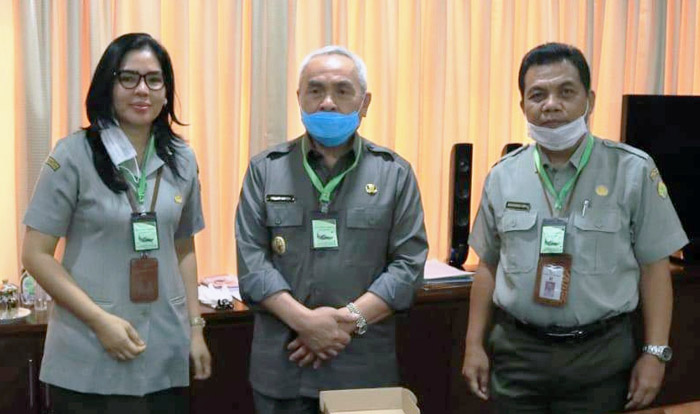 SOSIALISASI EUCALYPTUS: Gubernur Kaltim Isran Noor [tengah] bersama Kepala BPTP Kaltim Muhammad Amin [kanan] dan Kasie KSPP BPTP Kaltim Margaretha Tarigan [Foto: BPTP Kaltim]
Samarinda, Kaltim [B2B] - Kementerian Pertanian RI melakukan sosialisasi dan diseminasi hasil riset Badan Penelitian dan Pengembangan [Balitbangtan] dengan Pemerintah Provinsi Kalimantan Timur [Pemprov Kaltim] seperti dilakukan oleh Kepala BPTP Kaltim, Muhammad Amin dengan Gubernur Kalimantan Timur, Isran Noor di Kota Samarinda, belum lama ini.
Hal itu sejalan dengan instruksi Menteri Pertanian Syahrul Yasin Limpo kepada Kepala Balitbangtan, Fadjry Djufry agar seluruh jajarannya di seluruh Indonesia melakukan sosialisasi dan diseminasi hasil riset Balitbangtan Kementan kepada masyarakat, termasuk produk aroma terapi eucalyptus untuk menangkal Corona.
Fadjry Djufry menegaskan bahwa Mentan Syahrul mendorong unit pelaksana teknis [UPT] Kementan, khususnya Balai Pengkajian Teknologi Pertanian [BPTP] di seluruh Indonesia melakukan komunikasi dan koordinasi dengan pihak terkait, terutama kepala daerah. Langkah tersebut ditindaklanjuti oleh Kepala BPTP Kaltim Muhammad Amin bertemu dengan Gubernur Isran Noor.
"Hari ini kita kedatangan Kepala BPTP Kaltim, Muhammad Amin menyampaikan hasil riset Kementan, termasuk produk eucalytus yang sempat viral. Kita harus dukung produk yang berpotensi menangkal virus Corona," kata Isran Noor menyambut kunjungan pimpinan BPTP Kaltim.
Gubernur Kaltim mengakui penyebaran virus Corona begitu cepat, sementara vaksinnya belum ada, sehingga hasil riset apa pun yang berkaitan untuk mengatasi pandemi Covid-19 sangat dibutuhkan masyarakat, termasuk riset eucalyptus oleh Balitbangtan Kementan.
"Kami mengapresiasi riset Kementan dan mendorong Balitbangtan tetap melanjutkan riset eucalyptus sebagai upaya menangkal Corona. Ini harus terus dikembangkan dan perlu pengujian mendalam, semacam uji klinisnya," kata Isran Noor.
Menurutnya, tanaman Eucalyptus bukan barang baru di dunia kesehatan, khasiatnya sudah dikenal luas, sehingga tidak menutup kemungkinan dapat menangkal Corona. Riset Balitbangtan memberi harapan penanggulangan dan pengobatan pasien Covid-19.
Kepala BPTP Kaltim Muhammad Amin mengatakan bahwa eucalyptus untuk sementara digunakan sebagai aroma terapi anti Corona mengacu hasil kajian Balitbangtan, dan telah diluncurkan oleh Mentan Syahrul Yasin Limpo, maka BPTP Kaltim selaku UPT Kementan mendukung sosialisasi.
"Kami berupaya mensosialisasikan kepada kepala daerah baik gubernur, bupati dan walikota di seluruh Indonesia khususnya di Kaltim oleh BPTP Kaltim. Semoga eucalyptus menjadi alternatif menangkal virus Corona di Indonesia bahkan dunia," kata Muhammad Amin didampingi Kasie Kerja Sama dan Pelayanan Pengkajian BPTP Kaltim [Kasie KSPP] Margaretha Tarigan. [Etha]
Samarinda of East Borneo [B2B] - Indonesia´s Agriculture Ministry is in intensive care after testing positive for the novel coronavirus, as civil servants in head office and across the country were ordered to close over the health threat. The World Health Organization has said it is particularly concerned about high-risk nations with weaker health systems, which who may lack the facilities to identify cases, according to senior official of the ministry.