Dukung GratiEks, Penyuluh Berperan Vital Dorong Petani
Indonesian Govt Encourage Agriculture Extention to Increase Volume Export
Editor : M. Achsan Atjo
Translator : Dhelia Gani

PUBLISHED: Minggu, 05 Juli 2020 , 20:22:00 WIB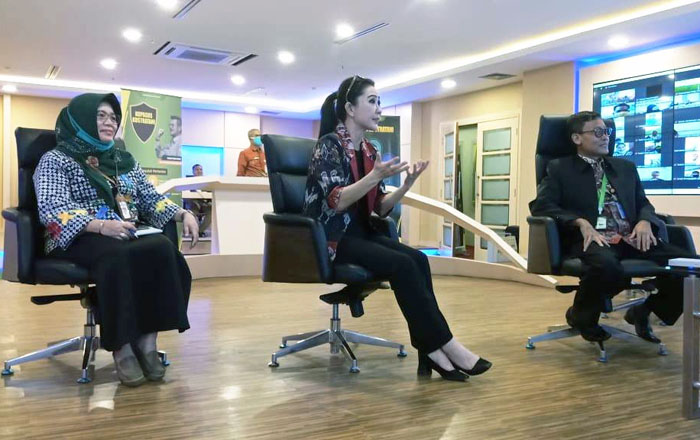 MSPP VOLUME 13: Kapusluh Leli Nuryati [kiri]; Anggota Komisi IV DPR, Julie Sutrisno Laiskodat [tengah] dan Kepala BPPSDMP Dedi Nursyamsi [Foto: Humas Pusluhtan]
Bogor, Jabar [B2B] - Petani bersama penyuluh berada di garda terdepan mendukung ekspor komoditas pertanian. Tujuannya, mendorong pertumbuhan ekonomi melalui program Gerakan Tiga Kali Ekspor disingkat GratiEks harus didukung kekuatan seluruh pelaku pembangunan pertanian dari hulu hingga hilir [on farm dan off farm] untuk menciptakan peluang jutaan lapangan kerja.
"Dampak ekspor akan melibatkan jutaan orang di sektor pertanian. Dukungan petani, penyuluh dan seluruh rakyat melalui GratiEks akan mendorong pengusaha dan eksportir melipatgandakan lalu lintas ekspor pertanian menjadi tiga kali lipat," kata Mentan di Bogor, Jumat (3/7) saat video conference dan live streaming dengan ribuan petani dan penyuluh di seluruh Indonesia.
Badan Pusat Statistik (BPS) mencatat volume ekspor semua sektor turun, Januari hingga Mei 2020, kecuali pertanian yang mencapai US$1,43 miliar atau tumbuh 5,63 persen dari periode sama 2019 sebesar US$1,35 miliar.
Menurutnya, sektor pertanian menentukan kelangsungan hidup rakyat sekaligus menjamin stabilitas nasional dari ketersediaan pangan. GratiEks merupakan bagian dari program jangka panjang dalam meningkatkan sisi produksi hingga 7% per tahun.
"Pertanian sangat penting dalam situasi apa pun. Kalau perang, meskipun senjata canggih didukung prajurit terampil, tidak ada artinya kalau perut kosong. Petani didampingi penyuluh harus sinergi memenuhi kebutuhan pangan rakyat," kata Mentan Syahrul didampingi Kepala Badan Karantina Pertanian (Barantan), Ali Jamil.
Anggota Komisi IV DPR RI, Julie Sutrisno Laiskodat menyatakan dukungan pada komitmen Kementerian Pertanian RI meningkatkan ekspor pertanian seraya mengingatkan untuk meningkatkan hasil produksi pertanian, untuk memenuhi kebutuhan pangan rakyat.
"Barulah surplus produksi pangan diekspor ke mancanegara untuk pemasukan negara melalui devisa dari ekspor pertanian," kata Julie Sutrisno Laiskodat di Jakarta didampingi Kepala BPPSDMP Dedi Nursyamsi.
Kepala Barantan, Ali Jamil selaku narasumber pada videoconference Mentan Sapa Petani dan Penyuluh (MSPP) Volume 13 mengatakan bahwa Barantan telah menetapkan langkah strategis didukung sistem dan informasi teknologi. Petugas karantina di lapangan dibekali peralatan canggih di era industrialisasi 4.0.
"Barantan mendukung langkah strategis Kementan untuk meningkatkan volume ekspor, mendorong pertumbuhan eksportir baru, menambah ragam komoditas ekspor dan menambah mitra dagang," kata Ali Jamil di Bogor.
Sementara Kepala BPPSDMP Dedi Nursyamsi memastikan bahwa Badan Penyuluhan dan Pengembangan SDM Pertanian (BPPSDMP) akan mengoptimalkan peran Komando Strategis Pembangunan Pertanian (KostraTani) di seluruh Indonesia mendukung GratiEks.
"Hal itu sejalan dengan instruksi dan arahan Mentan Syahrul, untuk menjadikan KostraTani sebagai pusat koordinasi dan kolaborasi pembangunan pertanian," kata Dedi Nursyamsi didampingi Kepala Pusat Penyuluhan Pertanian (Pusluhtan BPPSDMP) Leli Nuryati.
Menurut Dedi Nursyamsi, salah satu upaya BPPSDMP mendukung kebijakan Mentan adalah mengembangkan 2,5 juta petani milenial di seluruh Indonesia. "Mereka tergolong unggul, rata-rata berusia di bawah 40 tahun sebagai tumpuan masa depan pertanian Indonesia," ungkap dia. [Hevy]
Bogor of West Java [B2B] - The movement of Indonesian agricultural commodity exports must begin with the presence of exporters among the people, at the same time opening up employment opportunities widely, by increasing the movement three times exports [GratiEks] so GratiEks became part of the people´s movement to show that Indonesia is a strong country in the agricultural sector, according to Agriculture Minister Syahrul Yasin Limpo.