100 Soal 90 Menit, 1.464 Penyuluh 32 Provinsi Ikuti Uji Kompetensi Kementan
Indonesian Govt Socialization Revitalizing Agricultural Extensionist
Editor : M. Achsan Atjo
Translator : Dhelia Gani

PUBLISHED: Rabu, 08 Juli 2020 , 20:25:00 WIB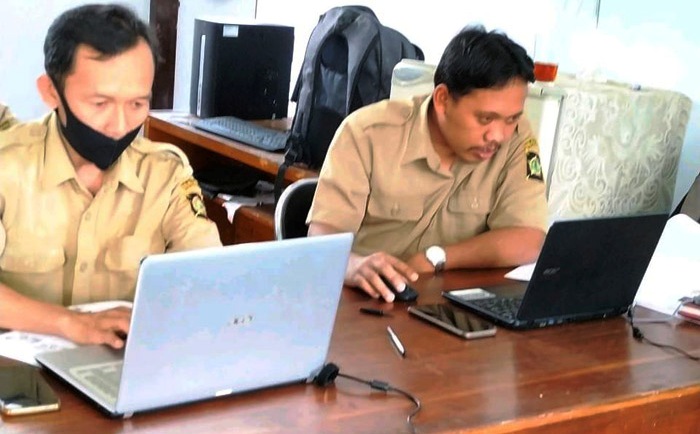 SISTEM KOMPUTER: Uji kompetensi dengan Computer Assisted Test [CAT] namun untuk 2020 tidak terkoneksi ke Badan Kepegawaian Negara [BKN], maka Kementan menyelenggarakan CAT dengan link tersendiri [Foto: Humas Pusluhtan]
Jakarta [B2B] - Kementerian Pertanian RI telah mengadakan uji kompetensi jabatan fungsional penyuluh pertanian, yang digelar serentak kepada 1.464 peserta dari 32 provinsi, Senin [6/7]. Uji kompetensi diharapkan akan mendukung kegiatan pendampingan dan pengawalan kegiatan pembangunan pertanian di wilayah masing-masing, kata Kepala BPPSDMP Dedi Nursyamsi.
Tahapan selanjutnya adalah wawancara bagi peserta uji kompetensi yang akan menduduki jenjang Ahli Madya atau Ahli Utama di 32 provinsi kecuali Provinsi Sumatera Utara dan Papua Barat, setelah mencukupi nilai Kriteria Ketentuan Minimal [KKM] atau passing grade.
"Peningkatan kompetensi sejalan dengan instruksi Menteri Pertanian RI Syahrul Yasin Limpo kepada penyuluh agar mampu beradaptasi di era industrialisasi 4.0, yang diwujudkan melalui pengembangan Komando Strategis Pembangunan Pertanian disingkat KostraTani," kata Dedi mengutip Mentan Syahrul.
Menurut Dedi, penyuluh otaknya petani dan penentu maju atau tidaknya pertanian di wilayah binaan, yang menuntut kehadiran penyuluh profesional andal, profesional dan berkompeten.
Sebelumnya diberitakan, uji kompetensi penyuluh 2020 diselenggarakan oleh Kementerian Pertanian RI khususnya Badan Penyuluhan dan Pengembangan SDM Pertanian [BPPSDMP] setelah Badan Kepegawaian Negara [BKN] tahun ini tidak menggelar Computer Assisted Test [CAT] lantaran pandemi Covid-19.
"Uji kompetensi dengan CAT System namun tahun ini tidak terkoneksi ke BKN, Kementan menyelenggarakan dengan link tersendiri," kata Kabag Organisasi Kementan, Nur Wahidah mewakili Biro Organisasi dan Kepegawaian Kementan di Jakarta, belum lama ini.
Setiap peserta mengerjakan 100 soal dalam waktu 90 menit. Peserta langsung dapat mengetahui hasil pekerjaannya apakah melampaui atau kurang dari KKM [passing grade]. [Nurjanah]
Jakarta [B2B] - Indonesian agricultural HR competencies especially agricultural extensionist became the focus of attention of Directorate General of Extension and Agricultural HR Development at the Agriculture Ministry or the BPPSDMP because extension is very vital to move farmers to improve their organizational and management skills through farmer groups.