Mandiri Pangan, Penyuluh BPP Marioriawa Ajak Warga Soppeng Tanami Pekarangan
Indonesian Agriculture Anticipate Covid-19 by Weaker Health Systems
Editor : M. Achsan Atjo
Translator : Dhelia Gani

PUBLISHED: Selasa, 30 Juni 2020 , 20:06:00 WIB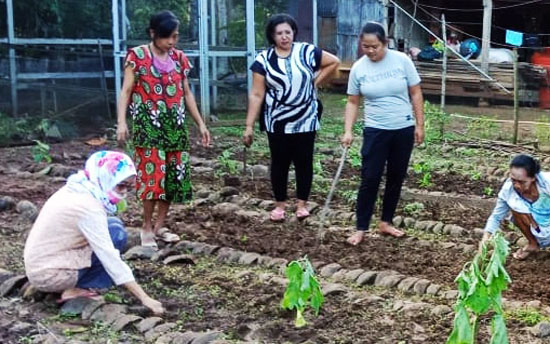 TANGKAL CORONA: Pangan lokal yang sehat dan bergizi dapat diperoleh dengan memanfaatkan pekarangan di sekitar kita. Menghadapi pelemahan ekonomi dan dampak pandemi, jawabannya adalah pertanian [Foto: Humas Pusluhtan]
Soppeng, Sulsel [B2B] - Penyuluh pertanian BPP Marioriawa di Kabupaten Soppeng tetap aktif mendampingi petani di tengah pandemi Covid-19. Penyuluh mengembangkan demonstration plotting (Demplot) budidaya sayuran semi organik sebelum menerapkannya pada lahan pekarangan petani maupun milik warga setempat.
Koordinator BPP Marioriawa, Syarifuddin mengatakan bahwa Demplot di lingkungan balai penyuluhan pertanian (BPP) merupakan tempat pembelajaran bagi penyuluh. Demplot penting dilakukan untuk menerapkan teknologi baru budidaya tanaman pangan dan hortikultura sebelum petani, kelompok tani (Poktan) dan gabungan kelompok tani (Gapoktan) menerapkan di lahan pertanian mereka.
"Kami berterima kasih pada penyuluh BPP Marioriawa, karena sukarela membantu dalam upaya menyediakan sayuran segar untuk konsumsi petugas dan masyarakat," kata Muhamad Sabir, petani di Desa Panincong yang juga anggota Poktan Iyate.
Kinerja BPP Marioriawa diapresiasi Kepala Dinas Tanaman Pangan, Hortikultura, Perkebunan dan Ketahanan Pangan Kabupaten Soppeng, A Fajar. penyuluh mengajak petani dan warga memanfaatkan lahan pekarangan untuk bercocok tanam atau beternak.
"Apabila setiap keluarga di Soppeng memanfaatkan lahan pekarangan untuk bercocok tanam, untuk memenuhi kebutuhan pangan di tengah pandemi Covid-19. Pangan sangat penting untuk memenuhi kebutuhan mendukung kekebalan tubuh," kata A Fajar melalui keterangan tertulis yang dihimpun Pusat Penyuluhan Pertanian (Pusluhtan BPPSDMP).
Penyuluh Pusat, Wellyana Sitanggang di Kementerian Pertanian RI selaku pendamping kegiatan penyuluhan pertanian di Provinsi Sulawesi Selatan mengatakan kinerja BPP Marioriawa sejalan dengan Program Pekarangan Pangan Lestari (P2L) yang inisiasi Menteri Pertanian RI Syahrul Yasin Limpo.
"Pangan lokal yang sehat dan bergizi dapat diperoleh dengan memanfaatkan pekarangan di sekitar kita. Menghadapi pelemahan ekonomi dan dampak pandemi, jawabannya adalah pertanian," kata Mentan Syahrul dalam berbagai kesempatan.
Kepala BPPSDMP Kementan, Dedi Nursyamsi berpendapat senada tentang manfaat P2L apabila lahan pekarangan dikelola serius dapat menambah pendapatan keluarga. "Bisa dikonsumsi sendiri. Kelebihan hasil bisa dijual."
Syarifuddin menambahkan BPP Marioriawa didukung alat mesin pertanian (Alsintan) untuk meningkatkan produktifitas pertanian di antaranya traktor roda dua (TR2) 320 unit, TR4 sebanyak 23 unit, mesin panen combine harvester 17 unit, mendukung peningkatan hasil panen padi hingga tujuh ton per hektar. [Liene]
Soppeng of South Sulawesi [B2B] - Indonesia´s Agriculture Ministry is in intensive care after testing positive for the novel coronavirus, as civil servants in head office and across the country were ordered to close over the health threat. The World Health Organization has said it is particularly concerned about high-risk nations with weaker health systems, which who may lack the facilities to identify cases, according to Agriculture Minister Syahrul Yasin Limpo.