Petani Kotawaringin Barat Siap Tanam setelah Panen Raya
Indonesian`s Agricultural Extensionists Support Farmers to Increase Production
Editor : M. Achsan Atjo
Translator : Dhelia Gani

PUBLISHED: Rabu, 10 Juni 2020 , 21:13:00 WIB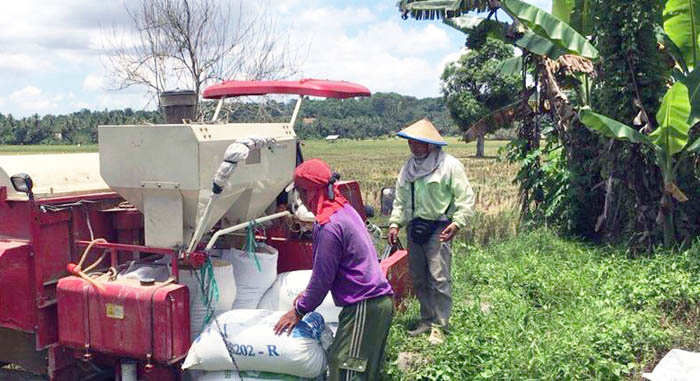 MESIN PANEN: Hasil panen pada akhir Februari di Desa Berabai Makmur seluas 81 hektar menghasilkan 6,88 ton gabah kering panen [GKP] per hektar dari varietas Inpari 30 [Foto: Humas Pusluhtan]
Kobar, Kalteng [B2B] - Petani padi di Kabupaten Kotawaringin Barat [Kobar] Provinsi Kalimantan Tengah berkomitmen segera menanam padi, setelah panen perdana di Desa Berambai Makmur, Kecamatan Pangkalan Banteng pada lahan milik Sudarmo, belum lama ini.
"Petani diharapkan segera tanam setelah panen raya. Khusus di lahan terdampak banjir, segera menanam setelah banjir surut. Penyuluh di lapangan agar terus meningkatkan peran aktifnya memotivasi petani untuk memanfaatkan teknologi tepat guna," kata Bupati Hj Nurhidayah yang memantau kegiatan panen perdana via videoconference pada Agriculture Operation Room [AOR] di Pangkalan Bun, ibukota Kobar.
Dia mengaku sangat gembira karena pandemi Covid-19 tidak menghalangi tekad dan semangat petani serta penyuluh. Hal itu seiring dengan kebijakan penguatan kegiatan yang diarahkan untuk mendukung komoditas padi, jagung dan kedelai. Jangan abai pada Protokol Covid-19.
Menurutnya, program dan kegiatan oleh pemerintah pusat melalui koordinasi Kementerian Pertanian RI dan daerah, diharapkan akan mengungkit secara langsung dan berdampak positif terhadap peningkatan produksi.
Koordinator Balai Penyuluhan Pertanian [BPP] Pangkalan Banteng, Jono melaporkan bahwa hasil panen pada akhir Februari di Desa Berabai Makmur seluas 81 hektar menghasilkan 6,88 ton gabah kering panen [GKP] per hektar dari varietas Inpari 30.
Menurut Jono, teknologi budidaya memanfaatkan pengolahan tanah ringan dengan herbisida; pemupukan dasar dengan pupuk kandang 50 sak; penanaman dengan sistim jajar legowo 6:1 manual; pemupukan susulan NPK 150 kg; pengendalian gulma dengan herbisida; dan pengendalian hama dengan insektisida nabati dan kimia.
Penyuluh pusat di Kementerian Pertanian RI, Susilo AH mengatakan bahwa hal itu sejalan dengan instruksi Menteri Pertanian RI Syahrul Yasin Limpo agar penyuluh selalu mendampingi petani untuk meningkatkan produksi dan kesejahteraan keluarga petani.
"Penyuluh pertanian diharapkan mendampingi petani, tanpa mengabaikan kewajiban untuk menambah wawasan dan pengetahuan tentang pertanian modern," kata Mentan Syahrul.
Sementara Kepala BPPSDMP Kementan, Prof Dedi Nursyamsi dalam berbagai kesempatan mengingatkan tentang peran penting pertanian bagi sebuah bangsa, karena setiap rakyatnya membutuhkan pangan yang hanya bisa dipenuhi oleh pertanian untuk menghasilkan kebutuhan pangan dan stabilitas nasional.
"Kalau suatu bangsa bisa menyediakan pangan, bangsa tersebut bisa eksis. Sebaliknya, jika tidak mampu maka akan terjadi distabilitas, disintegrasi, dan dampak buruk lainnya," katanya. [Liene]
West Kotawaringin of Central Borneo [B2B] - Indonesian agricultural instructors are expected to encourage farmers to use agricultural machinery [Alsintan] of the government through mentoring activities by training farmers, especially rice transplants, then reporting performance every day.