Jelang Soft Launching, Kepala BPPSDMP di Banten Koordinasi via AWR KostraTani
Indonesia`s Agricultural Extension Connected through the KostraTani
Editor : M. Achsan Atjo
Translator : Dhelia Gani

PUBLISHED: Jum'at, 24 Januari 2020 , 02:17:00 WIB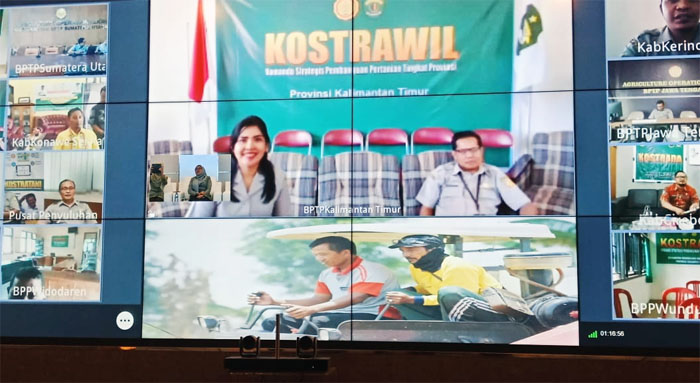 KOMUNIKASI SIMULTAN: Sekretaris BPPSDMP Siti Munifah [inset] dialog dengan Margaretha Tarigan, koordinator AOR pada BPTP Kaltim yang berlangsung simultan dengan AOR KostraTani di BPP, Kostrada dan Kostrawil [Foto: Humas Pusluhtan]
Jakarta [B2B] - Kementerian Pertanian RI terus menguji coba keandalan Agriculture War Room [AWR] KostraTani untuk teleconference dengan penyuluh di balai penyuluhan pertanian [BPP] seperti dilakukan Kepala BPPSDMP Prof Dedi Nursyamsi didampingi Gubernur Banten Wahidin Halim yang berada di Serang, Banten dengan Sekretaris BPPSDMP Kementan, Siti Munifah via AWR KostraTani di Ragunan, Jakarta, Kamis pagi [23/1].
Siti Munifah dari KostraTanas di AWR Kementan mengawali teleconference dengan menyapa Prof Dedi Nursyamsi dan Gubernur Wahidin Halim, kemudian menyapa sejumlah koordinator BPP antara lain BPP Widodaren dan BPP Wundulan melalui agriculture operation room [AOR] di masing-masing BPP selaku KostraTani yang berlangsung secara simultan.
Dedi Nursyamsi mengatakan bahwa Kementan mendukung pengembangan pertanian ´maju, mandiri, modern´ di seluruh Indonesia untuk mendukung pengembangan potensi sektor setiap daerah sesuai spesifik lokasi.
"Pemerintah RI melalui Kementan akan mendukung kredit usaha rakyat disingkat KUR dengan bunga rendah, 6 persen per tahun tanpa agunan untuk pinjaman di bawah Rp50 juta," katanya.
Koordinasi antara Banten dan Jakarta via AWR KostraTani melibatkan sejumlah penyuluh maupun koordinator BPP di sejumlah daerah melalui AOR masing-masing, serta kantor dinas pertanian yang bertindak selaku Kostrawil di tingkat kabupaten dan balai pengkajian teknologi pertanian [BPTP] di tingkat provinsi selaku Kostrawil seperti halnya BPTP Kaltim di Samarinda, BPTP Sumatera Utara di Medan dan BPTP Jawa Tengah di Semarang.
Sementara Kostrada yang terlibat antara lain Kabupaten Konawe Selatan di Provinsi Sulawesi Tenggara; Kabupaten Kerinci [Jambi] dan Kabupaten Cirebon [Jawa Barat]. Turut terlibat AOR Pusluhtan pada lantai lima Gedung D Kementan di Ragunan, Jakarta yang mengatur koordinasi dengan BPP.
Gubernur Banten Wahidin Halim mengatakan mendukung penuh KostraTani untuk revitalisasi peran penyuluh dan BPP di tingkat kecamatan sebagai sahabat petani dari hulu hingga hilir, setelah terbukti kesekian kalinya, hanya sektor pertanian yang bertahan ketika terjadi turbulensi ekonomi global dalam beberapa dekade terakhir.
"Banten mendukung KostraTani yang digagas Mentan, penyuluhan pertanian harus bangkit untuk mengembalikan jati diri penyuluh sebagai sahabat petani. Penyuluh harus proaktif dan konsisten mendukung petani sampai ke pelosok desa sehingga dapat mengelola pertanian dari hulu hingga hilir secara baik," katanya.
Setelah teleconference, Siti Munifah mengingatkan tim dari Pusat Data Informasi Pertanian [Pusdatin] di bawah koordinasi Kasubbag IT Pusdatin, Eko Nugroho dari sisi teknologi informasi 4.0, khususnya kualitas live streaming dan menihilkan delay selama teleconference berlangsung. Sementara kepada tim Pusluhtan, di bawah koordinasi Kasubbag Informasi dan Materi Penyuluhan, Septalina Pradini untuk meningkatkan koordinasi dengan BPP yang masuk pilot project KostraTani menjelang soft launching pada akhir Januari mendatang. [Liene]
Jakarta [B2B] - The Indonesian Agriculture Ministry to disseminate the development of agricultural extension centers at the sub-district level [BPP] into the center of Indonesian agricultural development [KostraTani] across the country, according to senior official of the ministry.