Kodim 1304 Gorontalo Dukung Percepatan Tanam Jagung di Bone Bolango
Indonesian Agricultural Extentionists must Accompany Farmers to Face Corn Harvest
Editor : M. Achsan Atjo
Translator : Dhelia Gani

PUBLISHED: Senin, 20 Juli 2020 , 22:00:00 WIB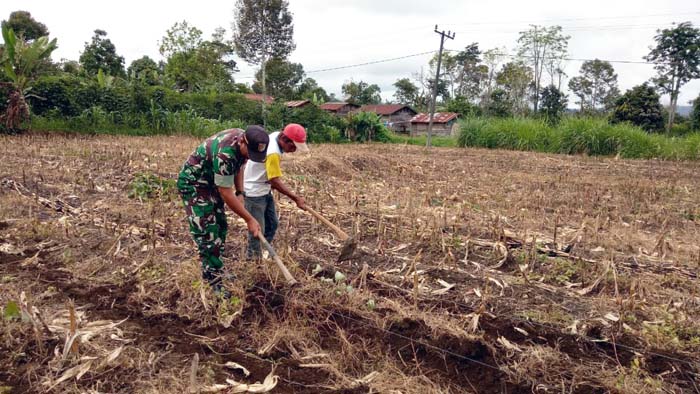 JELANG KEMARAU: Percepatan tanam jagung mengantisipasi berakhirnya bulan basah, berganti dengan musim kemarau maka hasil panen jagung akan bermanfaat mendukung ketahanan pangan [Foto: istimewa]
Bone Bolango, Gorontalo [B2B] - Antisipasi dini kelangkaan pangan di tengah pandemi Covid-19 ditempuh Kodim 1304/Gorontalo bersama Pemkab Bone Bolango di Provinsi Gorontalo melalui percepatan menanam jagung oleh prajurit TNI AD bersama petani dan penyuluh pertanian.
Kegiatan tersebut dipimpin Komandan Korem (Danrem) 133/Nani Wartabone, Kolonel Czi Bagus Antonov Hardito MA di Desa Tunggulo, Kecamatan Tilongkabila, belum lama ini.
"Kegiatan ini mengantisipasi serta mencegah kelangkaan bahan pangan di wilayah teritorial kita, terutama saat pandemi Covid-19 masih mewabah seperti yang terjadi saat ini," kata Danrem Kolonel Czi Bagus AH.
Menurutnya, percepatan tanam jagung mengingat tidak lama lagi bulan basah akan segera berakhir, berganti dengan musim kemarau maka hasil panen jagung akan bermanfaat mendukung ketahanan pangan.
Musyawarah pimpinan daerah (Muspida) Bone Bolango mendukung inisiasi TNI AD yang didukung para petani dari kelompok tani (Poktan) setempat. Hadir pula Bupati Hamim Pou, Wakil Bupati Mohamad Kilat Warta Bone; Sekretaris Daerah, Ishak Ntoma; Kepala Dinas Pertanian dan Peternakan, Roswaty Agus, Ketua DPRD Bone Bolango, Halid Tangalu dan Camat Tilongkabila, Marten Hunawa serta Dandim 1304/Gorontalo Letkol Inf Allah Surya Lesmana sebagai inisiator kegiatan tersebut.
Penyuluh Pusat, Inang Sariyati di Kementerian Pertanian RI selaku pendamping kegiatan penyuluhan pertanian di Provinsi Gorontalo mengatakan langkah tersebut sejalan dengan arahan Menteri Pertanian RI Syahrul Yasin Limpo bahwa masyarakat tidak perlu khawatir soal pangan. Ketersediaan pangan bahan pokok dikawal pemerintah secara intens, didukung kerja keras petani dan para pemangku kepentingan.
Pendapat senada dikemukakan Kepala BPPSDMP Dedi Nursyamsi bahwa pandemi Covid-19 mempengaruhi perekonomian, namun sektor pertanian semakin kokoh lantaran kerja keras petani didampingi penyuluh.
Bupati Hamim Pou mengapresiasi dukungan TNI AD dan para pemangku kepentingan terhadap ketahanan pangan Bone Bolango. "Kegiatan ini sangat tepat dan menginspirasi kita agar peduli pada kondisi saat ini dengan memanfaatkan potensi di sekitar kita."
Dia pun mengajak masyarakat memanfaatkan lahan-lahan kosong terutama pekarangan untuk bercocok tanam guna menopang ketersediaan bahan pokok selama masa pandemi Covid-19. [Liene]
Bone Bolango of Gorontalo [B2B] - Agricultural extensionists are required to support farmers in Bone Bolango district of Gorontalo province facing the corn harvest, considering the strategic role of increasing farmers´ knowledge of technology and new agricultural information to improve the welfare of farmers.