Didukung IPDMIP, Kementan Sosialisasi KostraTani di Kuningan
Indonesia`s Agricultural Extension Connected through the KostraTani
Editor : M. Achsan Atjo
Translator : Dhelia Gani

PUBLISHED: Senin, 27 Juli 2020 , 22:20:00 WIB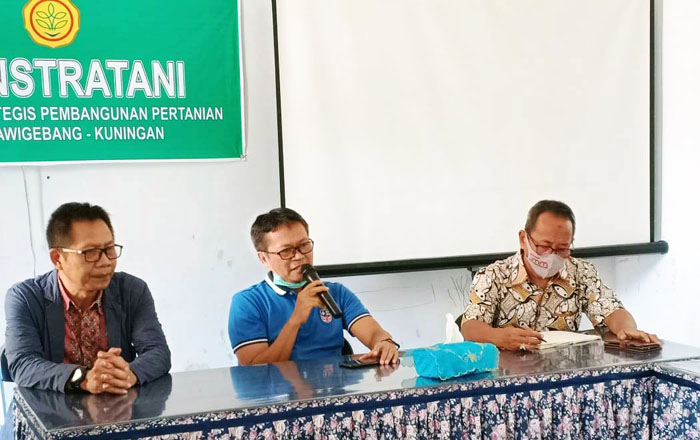 DUKUNGAN PEMKAB: Manajer IPDMIP Welly Nugraha [kiri] dan Kadistan dan Penyuluh Pusat Kementan, Basuki Setiabudi [Foto: Humas Pusluhtan]
Kuningan, Jabar [B2B] - Sejumlah penyuluh di Balai Penyuluhan Pertanian [BPP] Kecamatan Ciawigebang di Kabupaten Kuningan, Provinsi Jawa Barat mengikuti pelatihan teknologi informasi [IT] dan sosialisasi manajemen data serta informasi pertanian oleh Kementerian Pertanian RI di BPP Ciawigebang selama dua hari, 24 - 25 Juli 2020.
Pengembangan BPP model KostraTani di BPP Ciawigebang didukung Integrated Participatory Development and Managemen of Irigation Project [IPDMIP]. Bagian dari Pinjaman Hibah Luar Negeri [PHLN] yang mendukung pendanaan redesign KostraTani untuk 2020 terhadap 723 BPP pasca pemotongan anggaran APBN 2020 terkait penanganan pandemi Covid-19.
Pelatihan dan sosialisasi digelar Badan Penyuluhan dan Pengembangan SDM Pertanian [BPPSDMP] menyiapkan BPP Ciawigebang menjadi model KostraTani di bawah koordinasi Kepala Pusat Penyuluhan Pertanian [Pusluhtan] Leli Nuryati.
BPP Ciawigebang, satu dari enam BPP model KostraTani binaan Pusluhtan. Lima lainnya adalah BPP Genteng di Banyuwangi, Jawa Timur; BPP Bone Pantai di Kabupaten Bone Bolango, Gorontalo; BPP Gebang di Kabupaten Cirebon, Jabar; BPP Gantar di Kabupaten Indramayu, Jabar dan BPP Patokbeusi di Kabupaten Subang, Jabar.
"BPP model KostraTani sesuai arahan Kepala BPPSDMP Dedi Nursyamsi mengacu instruksi Menteri Pertanian RI Syahrul Yasin Limpo, BPP di tingkat kecamatan merupakan locust pembangunan pertanian," kata Leli Nuryati pada berbagai pertemuan.
Kegiatan Tim Pusluhtan BPPSDMP di BPP Ciawigebang dipimpin Penyuluh Pusat Kementan, Basuki Setiabudi didampingi Manajer Proyek IPDMIP, Welly Nugraha. Setelah memastikan BPP Ciawigebang dekat unit pelaksana teknis [UPT] Kementan. Punya jaringan listrik, telepon dan internet lantaran koneksi online data dan informasi ke Agriculture War Room [AWR] di Jakarta.
Kepala Dinas Ketahanan Pangan dan Pertanian Kabupaten Kuningan, Ukas Suharfaputra mengapresiasi dukungan Kementan memperkuat BPP jadi Kostratani. Dia meyakini dukungan BPP KostraTani meningkatkan produksi beras di Kuningan, sementara target produksi padi 2020 sebesar 227.367 ton terlampaui.
"Pemerintah kabupaten siap mendukung transformasi 16 BPP di Kuningan menjadi Kostratani," kata Ukas S saat membuka Sosialisasi KostraTani di BPP Ciawigebang yang terhubung online dengan AWR Kementan.
BPP model KostraTani ke depan berfungsi menjadi pusat data dan informasi, pusat gerakan pembangunan pertanian, pusat pembelajaran, pusat konsultasi agribisnis dan pusat pengembangan jejaring kemitraan.
"Selama ini peran tersebut belum optimal, karena itu melalui BPP model Kostratani maka tugas, fungsi dan peran BPP akan lebih optimal," kata Kepala BPPSDMP Dedi Nursyamsi pada video conference Mentan Sapa Petani dan Penyuluh [MSPP] di Jakarta, Jumat [24/7].
Basuki Setiabudi menambahkan, kegiatan sosialisasi di BPP Ciawigebang dilanjutkan pelatihan terkait pemanfaat IT kepada tim penyuluh di BPP Ciawigebang sehingga dapat menyampaikan data dan laporan yg tetkoneksi langsung dengan AWR Kementan, Sabtu [25/7]. [Liene]
Kuningan of West Java [B2B] - The Indonesian Agriculture Ministry to disseminate the development of agricultural extension centers at the sub-district level [BPP] into the center of Indonesian agricultural development [KostraTani] across the country, according to Indonesian senior official of the ministry here on Friday [July 24].