Reses DPR, Penyuluh Manggarai Timur Dukung Identifikasi Lahan Tidur
Indonesia`s East Nusa Tenggara Utilizes Abandoned Land for Agriculture Land
Editor : M. Achsan Atjo
Translator : Dhelia Gani

PUBLISHED: Senin, 27 Juli 2020 , 22:52:00 WIB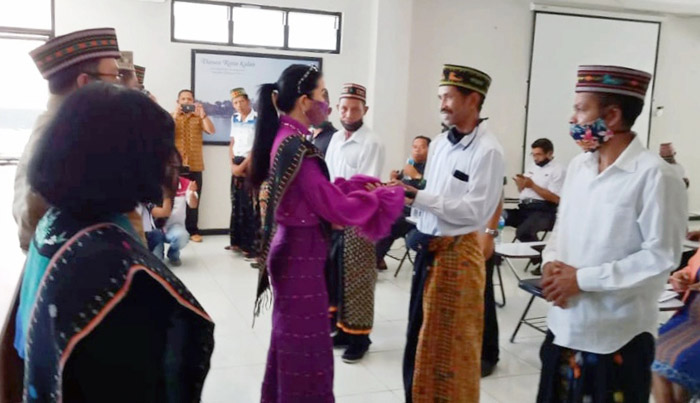 BANTUAN KEMENTAN: Anggota Komisi IV DPR RI Julie Sutrisno Laiskodat menyerahkan bantuan Kementan pada petani Manggarai Timur [Foto: istimewa]
Manggarai Timur, NTT [B2B] - Kabupaten Manggarai Timur [Matim] direncanakan menjadi kawasan peternakan integrasi tanaman pangan dan perkebunan di Provinsi Nusa Tenggara Timur [NTT]. Penyuluh pertanian diharapkan berperan aktif mendukung rencana tersebut, khususnya dalam identifikasi lahan tidur optimalisasi alat mesin pertanian [Alsintan].
Bupati Agas Andreas mengajak penyuluh mendukung rencana pemerintah kabupaten [Pemkab] menjadikan Matim sebagai kawasan peternakan integrasi tanaman pangan dan perkebunan di NTT.
"Kotoran sapi bisa mendukung pertanian organik. Di Matim, peternakan adalah simbol budaya sekaligus penggerak ekonomi. Para kepala dinas dari tiap SKPD harus kasih contoh. Kembangkan ternak kerbau, sapi, dan lainnya sesuai minat dan kemampuan," katanya saat menerima kunjungan Anggota Komisi IV DPR RI Julie Sutrisno Laiskodat yang sedang mengikuti masa reses DPR di NTT.
Sementara Julie SL mengemukakan harapannya pada penyuluh pertanian sebagai garda terdepan pembangunan pertanian, karena sektor pertanian menentukan kelangsungan hidup rakyat sekaligus menjamin stabilitas nasional dari ketersediaan pangan.
"Pertanian sangat penting dalam situasi apa pun. Petani didampingi penyuluh harus sinergi memenuhi kebutuhan pangan rakyat," kata Julie SL yang menyerahkan bantuan bibit kopi, benih jagung dan Alsintan bantuan Kementan senilai Rp75 juta.
Penyuluh pertanian pusat di Kementerian Pertanian RI, Yulia Tri Sedyowati mengemukakan hal itu sejalan dengan instruksi Menteri Pertanian RI Syahrul Yasin Limpo tentang ketahanan pangan dengan perekonomian negara sekaligus penentu stabilitas nasional, maka pertanian tidak boleh bersoal.
"Ini tantangan yang berdampak pada rakyat. Ketahanan pangan di tengah pandemi Covid-19 adalah solusi tepat untuk kepentingan nasional," kata Mentan Syahrul seperti dikutip Yulia TS yang menghadiri kegiatan reses legislator Senayan, Julie SL.
Kepala BPPSDMP Kementan Dedi Nursyamsi menekankan pentingnya kekuatan SDM pertanian sebagai penggerak utama pertanian nasional, khususnya upaya Badan Penyuluhan dan Pengembangan SDM Pertanian [BPPSDMP] mengembangkan 2,5 juta petani milenial di seluruh Indonesia. [Liene]
East Manggarai of East Nusa Tenggara [B2B] - Communication, coordination and synchronization efforts by Indonesian Agriculture Ministry with the provincial and city governments and farmers to to utilize ´abandoned land´ hundreds of hectares owned by farmers.