Aceh dan Sumut Berupaya Capai Target IPDMIP Pertanian
Indonesian Farmers Admit Satisfied on Improved Irrigation
Editor : M. Achsan Atjo
Translator : Dhelia Gani

PUBLISHED: Minggu, 02 Agustus 2020 , 22:07:00 WIB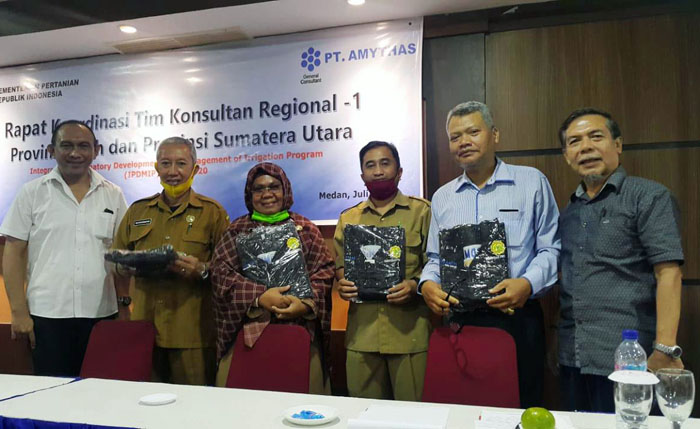 RAKOR & EVALUASI: Rapat Koordinasi dan Workshop Konsultan Regional 1 [Aceh dan Sumut] dihadiri oleh Kepala Bappeda Pemprov Sumut, Hasmirizal Lubis diwakili Kasubbid Sarana dan Prasarana, Jefri [Foto: Humas Pusluhtan]
Medan, Sumut [B2B] - Pengadaan benih dasar [fundamental seed] untuk Sekolah Lapang pada Musim Tanam II [MT] Oktober-Maret [Okmar] dan penempatan tiga konsultan selaku tenaga ahli didukung seorang koordinator untuk masing-masing kabupaten pelaksana kegiatan Integrated Participatory Development and Management Irrigation Program [IPDMIP] di Aceh dan Sumatera Utara [Sumut] untuk mendukung pencapaian target IPDMIP 2020 di kedua provinsi tersebut.
Keputusan tersebut mengemuka dari Rapat Koordinasi dan Workshop Konsultan Regional 1 [Aceh dan Sumut] di Medan, belum lama ini yang dikemukakan oleh Kepala Bappeda Pemerintah Provinsi [Pemprov] Sumut Hasmirizal Lubis diwakili Kasubbid Sarana dan Prasarana, Jefri dan Kasie Penyuluhan Dinas Tanaman Pangan dan Hortikultura Sumut, Sutarman mewakili Kadis M Azhar Harahap.
Menurut Hasmirizal Lubis, rapat koordinasi [Rakor] tersebut bertujuan mendapatkan gambaran umum tentan Program IPDMIP yang sudah berjalan di provinsi maupun kabupaten pelaksana.
"Tujuan Rakor mendapatkan masukan berbagai permasalahan serta langkah-langkah yang harus ditempuh selanjutnya," katanya dalam arahan yang dibacakan Kasie Jefri melalui keterangan tertulis Pusat Penyuluhan Pertanian yang diterima pada Sabtu [31/07] malam.
Turut hadir Dinas Pekerjaan Umum-Pengelolaan Sumber Daya Air [PU-PSDA] Pemprov Sumut dan Konsultan Institutional Strengtherning In Agriculture and Irrigation [ISAI] Regional I selaku narasumber.
Sebagaimana diketahui Program IPDMIP di Aceh dan Sumut berjalan sejak 2018 yang dilaksanakan oleh Bappeda dan Dinas PU-SDA, sedangkan sektor pertanian dikelola oleh Dinas Tanaman Pangan dan Hortikultura Pemprov Sumut baru dimulai pada 2020 berkoordinasi dengan Kementerian Pertanian RI khususnya Badan Penyuluhan dan Pengembangan SDM Pertanian [BPPSDMP].
Menteri Pertanian RI Syahrul Yasin Limpo mengatakan bahwa Kementan memberikan perhatian serius untuk program IPDMIP. Sebab, salah satu tujuan IPDMIP adalah untuk meningkatkan ketahanan pangan.
Sementara Kepala Badan Penyuluhan dan Pengembangan SDM Pertanian [BPPSDMP] Dedi Nursyamsi menegaskan IPDMIP berupaya meningkatkan nilai pertanian beririgasi secara berkelanjutan.
"Salah satu aspek terpenting dalam pertanian adalah ketersediaan air. Lewat IPDMIP, produktivitas dan nilai pertanian akan ditingkatkan dengan cara irigasi berkelanjutan," katanya.
Jefri mengatakan, Bappeda Sumut selaku Province Project Management Unit [PPMU] mengharapkan keterlambatan pelaksanaan program IPDMIP Pertanian dapat dipacu agar tujuan program peningkatan SDM pertanian dan pendapatan petani dalam upaya mendukung ketahanan pangan dan meningkatkan pendapatan masyarakat pedesaan.
Hal itu digarisbawahi oleh Sutarman mewakili Kadistan M. Azhar Harahap bahwa seharusnya beberapa kegiatan pada 2020 yang sudah direncanakan dapat berjalan lancar, namun terkendala refocusing anggaran untuk mendukung penanggulangan Pandemi Covid-19.
"Di antara kegiatan yang menyangkut petani adalah pengadaan benih dasar atau fundamental seed untuk Sekolah Lapang MT 1 pada April hingga September 2020 tidak terealisasi, karena penggantian kepala bidang yang menangani kegiatan. Hal ini diupayakan dapat terealisasi untuk MT 2 pada Oktober 2020 hingga Maret 2021," jelasnya.
Sutarman menambahkan, untuk mendukung kelancaran pelaksanaan Program IPDMIP bidang pertanian telah telah ditempatkan tenaga ahli sejak 1 Juli 2020 terdiri atas tiga tenaga konsultan. Ketiganya adalah tenaga ahli sistem pertanian, tenaga ahli rantai nilai dan tenaga ahli keuangan pedesaan mencakup Aceh dan Sumut.
"Satu orang koordinator kabupaten untuk masing-masing kabupaten pelaksana Program IPDMIP meliputi Aceh Besar, Bireun, Aceh Utara, Aceh Timur, Simalungun, Asahan, Tapanuli Tengah dan Humbang Hasundutan," kata Sutarman. [Liene]
Medan of North Sumatera [B2B] - Indonesian Agriculture Ministry will continue to improve its strategy and operational activities to support increased agricultural production until 2024. The strategy is to increase the availability and use of land and water, infrastructure and facilities, strengthening farmer institutions, and strengthening food and agricultural financing.