Dirikan Poktan, Inisiasi Mama Papua Didampingi Penyuluh Jayapura
Urban Farming Supports the Decline of Poor Households in Indonesia
Editor : M. Achsan Atjo
Translator : Dhelia Gani

PUBLISHED: Selasa, 07 Juli 2020 , 23:26:00 WIB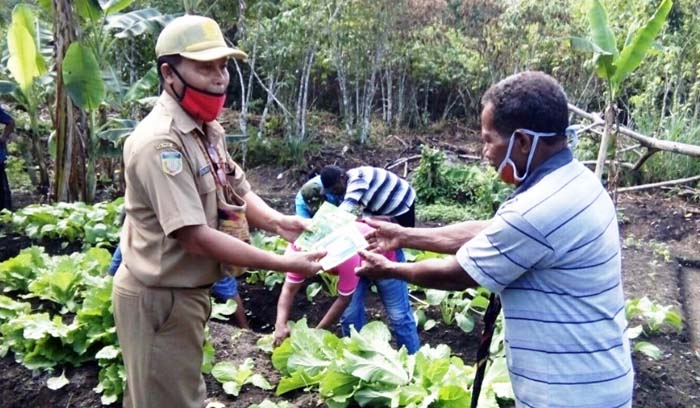 PEMERINTAH DAERAH: Pemkab Jayapura juga memberi bantuan bibit tanaman sayuran, bibit ubi Siafu dan pupuk organik untuk kelanjutan usaha tani Yosepina dan kawan-kawan [Foto: Humas Pusluhtan]
Jayapura, Papua [B2B] - Yosepina Fransina Ondikleuw di Kampung Sereh, Distrik Sentani menyambangi Metty, penyuluh pendamping di Kabupaten Jayapura. Tekadnya bulat, ingin membentuk kelompok tani [Poktan] untuk memanfaatkan lahan pekarangan yang selama ini terbengkalai, padahal potensinya ekonomi untuk bertani.
Poktan inisiasi Mama Papua di Jayapura tersebut dinamai Othauw Mokho. Hari-hari ini mereka sibuk memanfaatkan lahan kosong di pekarangan untuk bercocok tanam. Tanaman yang dipilih umbi-umbian, jagung, pisang, pinang dan aneka tanaman sayuran untuk konsumsi keluarga dan menambah uang belanja rumah tangga.
Penyuluh Metty mengatakan orang asli Papua, kerap disingkat OAP kini merasakan manfaat berkelompok. Guna memanfaatkan lahan pekarangan mendukung pengembangan Pekarangan Pangan Lestari [P2L], yang diinisiasi Menteri Pertanian RI Syahrul Yasin Limpo.
"Penumbuhan kelompoktani merupakan bagian yang tidak terpisahkan dalam pelaksanaan kegiatan penyuluhan sebagaimana diamanatkan Pasal 19 dari UU Sistem Penyuluhan Pertanian, Perikanan dan Kehutanan No 16/2006," kata Metty melalui keterangan tertulis yang dihimpun Pusat Penyuluhan Pertanian [Pusluhtan BPPSDMP].
Menurutnya, meskipun baru terbentuk ternyata Poktan Othauw Mokho menarik perhatian Kepala Dinas Tanaman Pangan dan Hortikultura Kabupaten Jayapura, David Zakaria Kondobua yang menyempatkan hadir pada panen perdana.
Pemkab Jayapura juga memberi bantuan bibit tanaman sayuran, bibit ubi Siafu dan pupuk organik untuk kelanjutan usaha tani Yosepina dan kawan-kawan.
David ZK mengapresiasi inisiatif dan kerja keras Poktan Othauw Mokho merupakan teladan bagi masyarakat untuk menyediakan bahan makanan bagi keluarga dan masyarakat sekitar di tengah pandemi Covid-19. "Kelebihan hasil bisa dijual ke Pasar Sentral Sentani untuk menambah pendapatan keluarga."
Penyuluh Pusat, Siti Nurjanah di Kementerian Pertanian RI selaku pendamping kegiatan penyuluhan pertanian di Provinsi Papua mengatakan kinerja Poktan Othauw Mokho sejalan dengan instruksi Mentan Syahrul Yasin Limpo.
"Pangan lokal sehat dan bergizi dapat diperoleh dari pekarangan di sekitar kita. Menghadapi pelemahan ekonomi dan dampak pandemi, jawabannya adalah pertanian," kata Mentan yang dikutip Siti Nurjanah.
Kepala BPPSDMP Kementan, Dedi Nursyamsi mengurai tentang manfaat P2L apabila lahan pekarangan dikelola serius dapat menambah pendapatan keluarga. "Bisa dikonsumsi sendiri. Kelebihan hasil bisa dijual."
Penyuluh pendamping Metty menambahkan bahwa BPP setempat akan terus mendampingi agar tumbuh dan berkembang sebagai kelembagaan petani yang kuat dan mandiri. Memiliki kemampuan pengembangan agribisnis dan dapat menjalankan fungsinya sebagai kelas belajar; wahana kerjasama; dan unit produksi. [Liene]
Jayapura of Papua [B2B] - Food security in Indonesia can start from the family, by developing urban farming in yard area of house to meet food needs by planting chili so it can save the household expenses because chili prices often soared during the religious holidays and National holiday, according to Indonesia senior official.