Distan Bartim Kalteng Gelar Tanam Perdana Dukung Seruan Mentan SYL
The Local Government in Central Borneo Seeks to Increase Rice Production
Editor : M. Achsan Atjo
Translator : Dhelia Gani

PUBLISHED: Selasa, 14 Januari 2020 , 23:32:00 WIB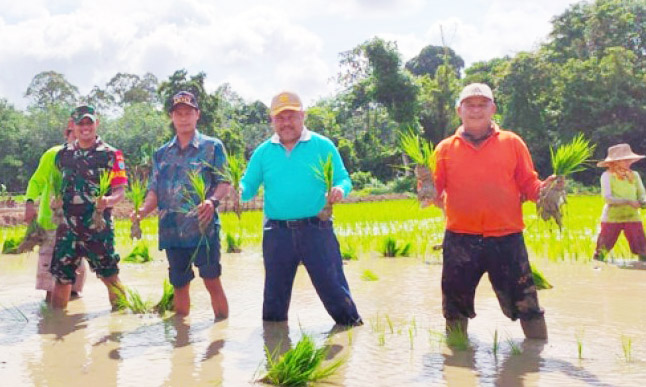 PENANGKAR BENIH: Kadistan Pemkab Bartim, Riza Rahmadi bersama Koordinator BPP Pematang Karau, Yudi Irwanto dan para PPL pada lahan Poktan Desa Kupang Bersih di Kecamatan Pematang Karau [Foto: Humas Pusluhtan]
Barito Timur, Kalteng [B2B] - Pemerintah Kabupaten Barito Timur di Provinsi Kalimantan Tengah [Pemkab Bartim] bersama penyuluh pertanian setempat berupaya menyokong kinerja petani untuk menanam padi dua kali dalam setahun [IP 200], sehingga dapat menyuplai beras untuk kabupaten lain di Kalteng, sekaligus melakukan penangkaran benih padi yang dimotori para petani milenial. Langkah tersebut selaras dengan seruan Menteri Pertanian RI Syahrul Yasin Limpo [SYL] untuk mencapai kedaulatan pangan.
Hal itu dikemukakan oleh Kepala Dinas Pertanian Pemkab Bartim, Riza Rahmadi bersama Koordinator Balai Penyuluhan Pertanian [BPP] Pematang Karau, Yudi Irwanto dan para penyuluh pertanian lapangan [PPL] pada lahan kelompok tani [Poktan] Desa Kupang Bersih di Kecamatan Pematang Karau pada Selasa [14/1].
Riza Rahmadi mengatakan tanam padi perdana di wilayah kerja BPP Pematang Karau untuk mendukung pencapaian target luas tambah tanam [LTT] serta memantau kondisi pertanaman padi pada saat musim hujan berada pada puncaknya di bulan Januari.
"Kalau kita bisa tanam dua kali, maka kita bisa menyuplai beras untuk kabupaten lain di Kalteng. Kita juga berharap bisa melakukan penangkaran benih padi yang dimotori para petani milenial," kata Riza Rahmadi kepada pers usai tanam padi perdana.
Dia mengaku Pemkab Bartim mendorong milenial semakin terlibat dalam pertanian yang didukung mekanisasi pertanian, melalui pemanfaatan alat mesin pertanian [Alsintan] sebagai salah satu kunci efisiensi budidaya pertanian.
"Kalau semakin efisien, kita semakin berdaya saing artinya kesejahteraan petani semakin bisa ditingkatkan pemerintah," kata Riza Rahmadi.
Koordinator BPP Pematang Karau, Yudi Irwanto mengatakan rencana tanam selanjutnya, dan rencana tanam untuk perbenihan sudah dipersiapkan sekitar 10 hektar sebagai sumber benih penangkaran yakni pada Poktan di Desa Kupang Bersih, akan sangat mendukung usaha untuk melakukan kegiatan peningkatan produksi.
"Masyarakat di sini masih memerlukan infrastruktur seperti peningkatan jalan, karena jalan usaha tani yang ada saat ini masih belum dapat dimanfaatkan secara maksimal serta saluran irigasi, karena pada musim hujan sulit digunakan untuk mengangkut hasil produksi petani di sini, sehingga perlu didukung untuk menopang kelancaran transportasi dari lokasi panen ke pusat pemasaran," kata Yudi Irwanto.
East Barito of Central Borneo [B2B] - The East Barito district government in Central Kalimantan province together with local agricultural extension workers seeks to bolster the performance of farmers to grow rice twice a year so that it can supply rice to other districts as well as breeding rice seeds driven by millennial farmers, according to the head of the agriculture service office Riza Rahmadi.