Cegah Penyakit Degeneratif, Tanah Sehat Hasilkan Pangan Bergizi
Indonesian Govt Commemorates World Soil Day in Bogor
Reporter : Gusmiati Waris
Editor : Cahyani Harzi
Translator : Dhelia Gani

PUBLISHED: Kamis, 05 Desember 2019 , 02:34:00 WIB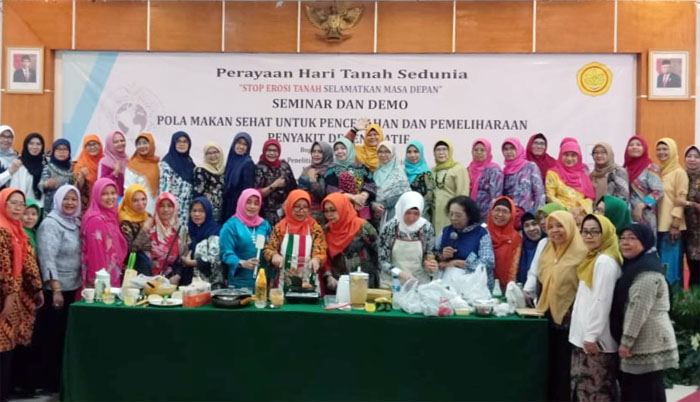 100 PESERTA: Seminar didukung demonstrasi cara memasak menu sehat oleh ahli gizi Nazarina M Med Sc dihadiri 100 peserta [Foto: Humas Pusluhtan/Septalina P]
Kota Bogor, Jabar [B2B] - Balai Besar Litbang Sumberdaya Lahan Pertanian - Kementerian Pertanian RI [BBSDLP - Balitbangtan] mengampanyekan pola makan sehat dengan konsep gizi seimbang dibutuhkan untuk pencegahan penyakit degeneratif, sebagai bagian dari rangkaian perayaan Hari Tanah Sedunia 2019.
"Dari tanah yang sehat, akan dihasilkan makanan yang sehat sebagai pangan bergizi kaya nutrisi," kata Kepala BBPSDLP Dr Husnain saat membuka seminar dan demo 'pola makan sehat' yang dihadiri 100 peserta di kampus BBPSDLP Cimanggu, Kota Bogor pada Rabu [4/12].
Menurut Dr Husnain, tanah adalah sesuatu yang sangat penting untuk dijaga dan dipelihara oleh seluruh masyarakat Indonesia. Tanah memiliki banyak fungsi untuk kehidupan mahluk di bumi, yakni tempat atau habitat hidup dan tempat tumbuh, tempat menyimpan cadangan air, tempat penyedia nutrien dan hara tanaman.
"Tanah pun memiliki kemampuan mendukung berbagai kegiatan manusia di bidang pertanian, lingkungan, perlindungan alam, arsitektur lansekap dan aplikasi perkotaan," katanya.
Ketua Dharma Wanita Persatuan Balitbangtan Indri Fajry Jufry menyampaikan bahwa saat ini ancaman penyakit generatif di usia yang tidak lagi tua mengalami peningkatan disebabkan pola makan individu yang kurang sehat.
"Ketika suami dan anak anak ada di rumah, kita bisa mengontrol pola makan mereka. Namun ketika mereka berada di luar rumah, mereka makan apa yang disukai dan tidak terkontrol," katanya.
Sementara narasumber dari Pusat Penelitian dan Pengembangan Gizi, dr Reviana Christijani, MKM menegaskan bahwa pola makan yang salah meningkatkan resiko penyakit generatif.
Dia mengimbau pola makan yang sehat adalah pola makan dengan gizi seimbang, yaitu karbohidrat, lemak, protein, mineral, vitamin dan air.
"Disebut gizi seimbang apabila zat gizi dana makanan sesuai yang dibutuhkan tubuh, manfaatnya untuk energi, pembanunan dan pengatur," kata dr Reviana.
Seminar didukung demonstrasi cara memasak menu sehat oleh ahli gizi Nazarina M Med Sc, yang diharapkan peserta dapat menerapkan pengetahuan tentang pola makan untuk dirinya sendiri dan keluarganya serta dapat menyebarluaskana kepada keluarga, kerabat, teman dan komunitasnya. [Liene]
Bogor of West Java [B2B] - ´Stop Soil Erosion, Save the Future´ was chosen by the Indonesian Agriculture Ministry as the theme of commemorating the 2019 World Soil Day which will last for three days, 3 to 5 December 2019 in Bogor city of West Java province.