Dibina Pusluhtan, PHLN Kementan Dukung KostraTani Model BPP Gebang
Indonesia`s Agricultural Extension Connected through the KostraTani
Editor : M. Achsan Atjo
Translator : Dhelia Gani

PUBLISHED: Senin, 27 Juli 2020 , 23:08:00 WIB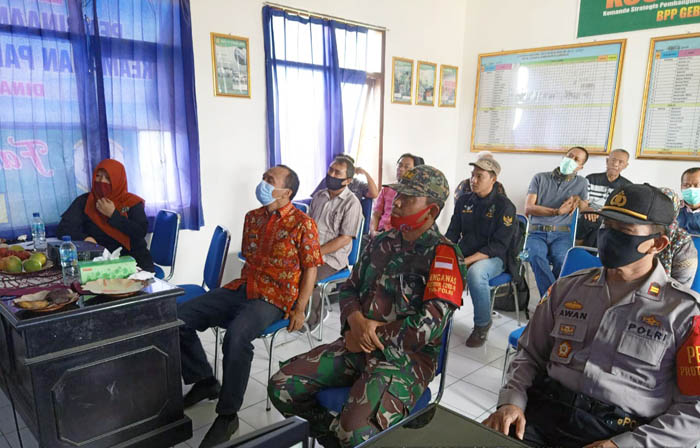 SOSIALISASI: Kegiatan Tim Pusluhtan BPPSDMP di BPP Gebang dipimpin Sri Mulyani [kiri] selaku Penyuluh Pusat Kementan [Foto: Pusluhtan]
Cirebon, Jabar [B2B] - Sejumlah penyuluh di Balai Penyuluhan Pertanian [BPP] Kecamatan Gebang di Kabupaten Cirebon, Provinsi Jawa Barat, mengikuti pelatihan teknologi informasi [IT] dan sosialisasi manajemen data serta informasi pertanian dari Kementerian Pertanian RI di BPP Ciawigebang, Jumat pekan lalu [24/7].
Pengembangan BPP model KostraTani pada BPP Gebang didukung Pinjaman dan Hibah Luar Negeri [PHLN] yang mendukung pendanaan rancang ulang [redesign] KostraTani untuk 2020 terhadap 723 BPP, pasca pemotongan anggaran APBN 2020 oleh Pemerintah RI untuk penanganan pandemi Covid-19.
Pelatihan oleh Badan Penyuluhan dan Pengembangan SDM Pertanian [BPPSDMP] bertujuan menyiapkan BPP Gebang menjadi model KostraTani di bawah koordinasi Kepala Pusat Penyuluhan Pertanian [Pusluhtan BPPSDMP] Leli Nuryati.
BPP Gebang, satu dari enam BPP model KostraTani binaan Pusluhtan. Lima lainnya adalah BPP Gantar di Kabupaten Indramayu; BPP Ciawigebang di Kabupaten Kuningan dan BPP Patokbeusi di Kabupaten Subang, kesemuanya di Jawa Barat; sementara BPP Genteng di Kabupaten Banyuwangi, Jatim dan BPP Bone Pantai di Kabupaten Bone Bolango, Gorontalo.
"BPP model KostraTani sesuai arahan Kepala BPPSDMP Dedi Nursyamsi mengacu instruksi Menteri Pertanian RI Syahrul Yasin Limpo, BPP di tingkat kecamatan merupakan locust pembangunan pertanian," kata Leli Nuryati pada berbagai pertemuan.
Kegiatan Tim Pusluhtan BPPSDMP di BPP Gebang dipimpin Penyuluh Pusat Kementan, Sri Mulyani, setelah Kementan memastikannya berada dekat unit pelaksana teknis [UPT] Kementan. Punya jaringan listrik, telepon dan internet lantaran koneksi online data dan informasi ke Agriculture War Room [AWR] di Jakarta.
"Kita harus tetap semangat bekerja. Penyuluh harus tetap semangat walaupun di tengah minimnya anggaran. Kita harus tetap produktif, pertanian tak boleh berhenti," kata Sri Mulyani saat sosialisasi di BPP Gebang mengutip arahan Kepala BPPSDMP Dedi Nursyamsi.
Menurutnya, fasilitasi lebih 5.000 BPP sebagai KostraTani selayaknya dilakukan pada 2020, namun terpaksa ditunda lantaran refocusing anggaran APBN pada kementerian dan lembaga negara [K/L] untuk mengatasi pandemi Covid-19 di Indonesia.
BPP model KostraTani ke depan berfungsi menjadi pusat data dan informasi, pusat gerakan pembangunan pertanian, pusat pembelajaran, pusat konsultasi agribisnis dan pusat pengembangan jejaring kemitraan.
"Selama ini peran tersebut belum optimal, karena itu melalui BPP model Kostratani maka tugas, fungsi dan peran BPP akan lebih optimal," kata Dedi Nursyamsi. [Liene]
Cirebon of West Java [B2B] - The Indonesian Agriculture Ministry to disseminate the development of agricultural extension centers at the sub-district level [BPP] into the center of Indonesian agricultural development [KostraTani] across the country, according to Indonesian senior official of the ministry here on Friday [July 24].