Korporasi Petani, Pusluhtan Fasilitasi Bimtek Koperasi Tebas Gemilang di Sambas
Indonesian Govt Facilitate Sambas Farmers to Develop Corporations
Editor : M. Achsan Atjo
Translator : Dhelia Gani

PUBLISHED: Senin, 26 Agustus 2019 , 02:04:00 WIB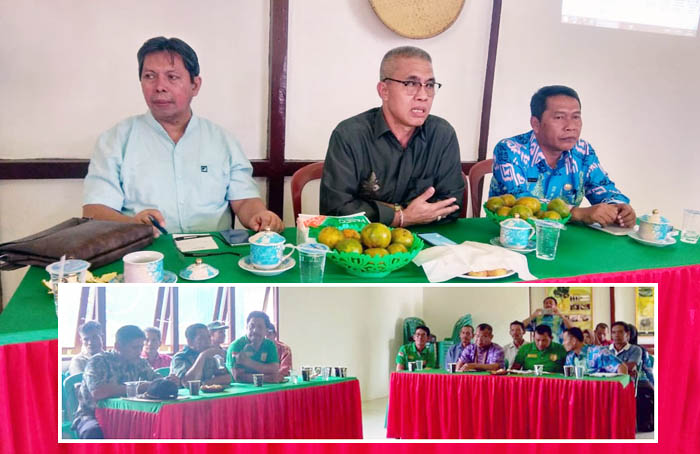 FASILITASI BPPSDMP: Kabid Penyelenggaraan Penyuluhan Pusluhtan, I Wayan Ediana [tengah, foto utama]; Fathan Al Rasyid [kiri] dan Kabid Penyuluhan Pemkab Sambas, U Joni S [Foto2: Pusluhtan]
Sambas, Kalbar [B2B] - Koperasi Tebas Gemilang di Kecamatan Tebas menjadi pilot project Pusat Penyuluhan Pertanian [Pusluhtan BPPSDMP Kementan] mengembangkan kelembagaan ekonomi petani [KEP] untuk meningkatkan entitas bisnisnya menjadi korporasi petani didukung off taker [pembeli] mengingat besarnya potensi lahan pertanian di Kabupaten Sambas, untuk memenuhi kebutuhan pasar beras premium di Provinsi Kalimantan Barat maupun peluang ekspor ke negeri jiran, Malaysia.
"Langkah awal yang disepakati Koperasi Tebas Gemilang dengan off taker adalah kontrak pengadaan 100 ton beras per bulan dan beras medium 10 ton per bulan, yang akan diawali dengan pengajuan proposal untuk bimbingan teknis dan pembelian peralatan," kata I Wayan Ediana, Kabid Penyelenggaraan Penyuluhan Pertanian - Pusat Penyuluhan Pertanian [Pusluhtan BPPSDMP Kementan di Sambas, Jumat [24/8] pada pertemuan dengan pengurus koperasi di BPP Sambas.
Menurut I Wayan Ediana, Pusluhtan menjadikan KEP Koperasi Tebas Gemilang untuk mengembangkannya menjadi korporasi petani didukung off taker. Hal sesuai arahan Kepala BPPSDMP Kementan, Prof [R] Dedi Nursyamsdi dan Kepala Pusluhtan, Leli Nuryati untuk mewujudkan instruksi Presiden RI Joko Widodo kepada Mentan Amran Sulaiman agar Kementan khususnya Pusluhtan mendorong dan memfasilitasi pengembangan korporasi petani didukung Poktan dan Gapoktan.
Dia menambahkan, petani tanpa berorganisasi melalui kelompok tani maka hasil usaha taninya tidak berpihak kepada petani, sementara Koperasi Tebas Gemilang yang dibentuk pada 2018 beranggotakan ribuan petani yang tergabung pada 24 gabungan kelompok tani atau Gapoktan dan para penyuluh pertanian di BPP Tebas.
"Bergerak pada usaha produksi beras dan perbenihan padi sebagai core business, Koperasi Tebas Gemilang ddidukung potensi lahan 5.100 hektar di Kecamatan Tebas sebagai sentra produksi beras Kabupaten Sambas," kata I Wayan Ediana didampingi Kasubbid Kelembagaan Petani, Yoyon Haryanto.
Fathan Al Rasyid selaku off taker produksi beras Koperasi Tebas Gemilang mengatakan kebutuhan beras premium untuk Sambas dan Kalbar masih terbuka luas pangsa pasarnya, apalagi bisa membuka pasar ekspor ke Malaysia, "kami ingin bermitra untuk memenuhi peluang pasar tersebut."
Tawaran tersebut ditanggapi positif oleh Suliati, Ketua Koperasi Tebas Gemilang, "kami siap bermitra," katanya yang langsung diamini oleh seluruh pengurus Gapoktan dan sangat didukung oleh Kabid Penyuluhan Pertanian dari Dinas Pertanian Pemkab Sambas, U Joni S.
"Peluang bisnisnya sangat besar dan terbuka luas, tentunya masih perlu didukung mekanisasi pertanian untuk menghasilkan beras premium berkualitas, sementara dari sisi SDM maka kemampuan para pengurus Gapoktan ditingkatkan melalui Bimtek," kata U Joni S.
Kabid I Wayan Ediana menyatakan bahwa Pusluhtan BPPSDMP Kementan siap memfasilitasi kegiatan Bimtek tersebut, sesuai instruksi Presiden Jokowi dan arahan Mentan Amran Sulaiman. [Liene]
Sambas of West Borneo [B2B] - The Tebas Gemilang Cooperative in Tebas sub-district became a pilot project of Agricultural Extension Center at the Indonesian Agriculture Ministry [Pusluhtan BPPSDMP Kementan] developing farmer economic institutions [KEP] to improve its business entity to become a farmer corporation supported by off takers considering the huge potential of agricultural land in Sambas district, to meet the needs of the premium rice market in the province of West Kalimantan and export opportunities to the neighboring country, Malaysia, according to senior official of the agriculture ministry.