Digitani App, Aplikasi Konsultasi IPB untuk Petani Milenial dan Penyuluh
Bogor`s Agriculture Institute Developing Digital App for Farmers
Editor : M. Achsan Atjo
Translator : Dhelia Gani

PUBLISHED: Selasa, 12 November 2019 , 03:27:00 WIB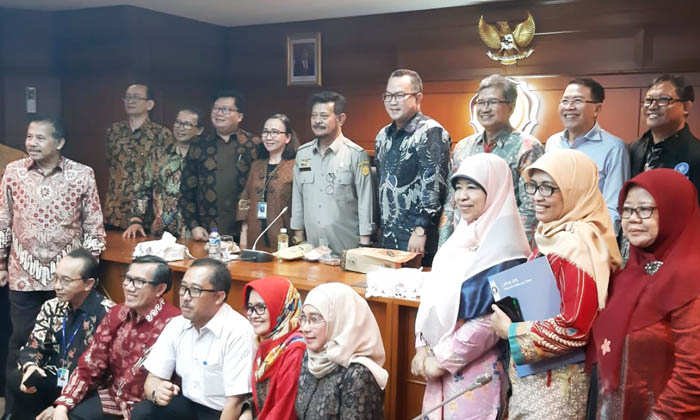 BERTEMU MENTAN SYL: Rektor IPB Bogor, Dr Arif Satira SP, MSi [belakang, ke-4 kanan] dan Mentan Syahrul Yasin Limpo [belakang, ke-4 kiri] beserta tim dari IPB [Foto: Biro Humas Kementan]
Jakarta [B2B] - Rektor Institut Pertanian Bogor [IPB] Dr Arif Satira SP, MSi berniat mengundang Menteri Pertanian RI Syahrul Yasin Limpo [SYL] pada peluncuran aplikasi digital, DigiTani, yang dijadwalkan berlangsung pada Jumat [15/11]. Digitani dikembangkan oleh Tani Center IPB, untuk mendukung petani dan kinerja penyuluh pertanian melalui konsultasi dengan Tani Center.
"IPB punya Tani Center, itu berbasis digital, nama aplikasinya Digitani. Petani dan penyuluh bisa konsultasi apa pun terkait pertanian dengan kita. Jadi kita bisa tahu di mana, tanah cocok ditanam apa, kapan cocok ditanam," kata Arif Satria kepada pers usai pertemuan dengan Mentan SYL di Jakarta, Senin [11/11].
Menurutnya, IPB mendorong akselerasi pertanian yang berbasis 4.0 segera dilakukan. Banyak aspek termasuk di pertanian, perlu sentuhan digital. Sociopreneur yang akan memberikan pendampingan terhadap petani juga bakal memanfaatkan teknologi dalam pekerjaannya.
"IPB mendorong transformasi masyarakat pedesaan agar siap dengan perkembangan teknologi. Pasalnya, penyuluhan pertanian konvensional akan tergeser akibat perkembangan teknologi informasi saat ini di era 4.0," katanya.
Indonesia menghadapi masalah regenerasi petani, hal itu disampaikan Arif Satira pada pertemuan dengan Mentan SYL, mengingat usia rata-rata petani di Indonesia sebagian besar berusia di atas 47 tahun.
"Apabila regenerasi petani tidak berjalan optimal, maka diprediksi akan terjadi krisis petani dalam kurun waktu 10 sampai 15 tahun mendatang. Poin pentingnya, perlu ada pemanfaatan teknologi dalam pertanian," kata Arif Satria.
Generasi milenial yang lahir pada dekade 80-an dan 90-an memang banyak memanfaatkan internet dan ponsel pintar untuk kegiatan sehari-hari. Konsep ´milenial´ tergambar melalui technopreneur dan sociopreneur di kalangan mahasiswa IPB yang disiapkan menuju era 4.0.
"Technopreneur adalah pelaku usaha, sementara sociopreneur adalah orang-orang yang memanfaatkan inovasi untuk pendampingan, apalagi dengan 4.0 di mana teknologi berbasis artificial intelligence dan blockchain makin luar biasa. Ini akan kita perkuat," kata Arif Satria.
Sementara Mentan SYL mengharapkan dukungan penuh dari perguruan tinggi dan dunia pendidikan terhadap pembangunan pertanian ke depan.
"Saya mengharapkan dukungan penuh dari dunia pendidikan, dalam hal ini dari semua universitas di Indonesia untuk mengembangkan dan membangun pertanian ke depan, khususnya IPB, karena saat menjadi kepala daerah juga didukung oleh perguruan tinggi," kata Mentan. [Liene]
Jakarta [B2B] - Indonesia´s Bogor Agriculture Institute [IPB] will launch digital application, Digitani, November 15, 2019 which was developed to support farmers and agricultural extension workers for consultations on agriculture, according to the Rector IPB, Arif Satria.