Surplus 1,5 Juta Ton, Stok Beras Jatim sampai Agustus
Indonesia`s East Java Estimated Rice Production Surplus of 1.5 Million Tons
Reporter : Gusmiati Waris
Editor : Cahyani Harzi
Translator : Dhelia Gani

PUBLISHED: Minggu, 17 Mei 2020 , 04:03:00 WIB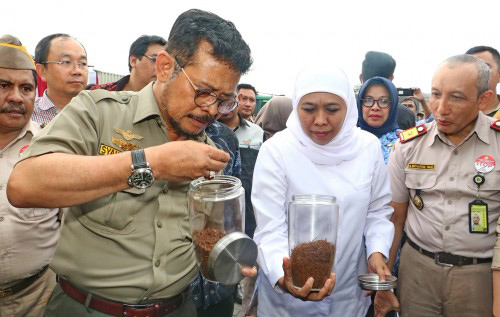 KUNJUNGAN KERJA: Mentan Syahrul Yasin Limpo [kiri] dan Gubernur Jawa Timur Khofifah Indar Parawansa [Foto: Biro Humas Kementan]
Surabaya, Jatim [B2B] - Gubernur Jawa Timur Khofifah Indar Parawansa mengatakan pandemi Covid-19 memberikan kesadaran bahwa ketersediaan dan ketahanan pangan adalah kunci keberhasilan hidup manusia dan setiap bangsa.
Provinsi Jawa Timur telah melakukan sejumlah langkah operasional menjaga stok beras cukup sampai Agustus 2020, dari surplus produksi 1,5 juta ton setelah total produksi dikurangi konsumsi.
"Stok beras Provinsi Jawa Timur cukup sampai Agustus 2020, karena surplus produksi 1.414.239 ton mengacu pada ketersediaan beras Januari hingga April sebesar 2.899.088 ton sementara kebutuhan konsumsi sekitar 1.484.849 ton," kata Gubernur Khofifah IP di Surabaya, belum lama ini.
Menurutnya, perkiraan produksi beras pada Mei sampai Agustus 2020 sebesar 1.474.676 ton maka secara keseluruhan, perkiraan surplus beras Januari sampai Agustus mencapai 1.509.933 ton atau 1,5 juta ton.
"Kami perkirakan sasaran tanam pada Mei dan Juni 2020 seluas 487.884 hektar," katanya.
Gubernur Khofifah menambahkan langkah operasional yang dilakukan adalah mengoptimalkan seluruh lahan pertanian. Tujuannya meningkatkan produksi dengan percepatan tanam pada Mei 2020 untuk memastikan stok cukup sampai musim tanam berikutnya. Jatim juga terus melakukan memantauan untuk antisipasi kekeringan dan serangan hama penyakit tumbuhan. Diikuti efisiensi rantai pemasaran dengan prioritas keberpihakan pada petani.
"Pemberlakuan PSBB di sejumlah kabupaten berimplikasi pada terhambatnya distribusi dari sentra produksi ke wilayah perkotaan sebagai sentra konsumsi," katanya.
Secara nasional, Badan Pusat Statistik [BPS] menyatakan neraca beras nasional surplus jutaan ton hingga Juni 2020. Total stok beras nasional pada April - Juni 2020 sekitar 14 juta ton, dengan rincian stok akhir Maret sebesar 3,45 juta ton dan panen April - Juni 2020 sekitar 10,56 juta ton.
Persediaan tersebut melebihi kebutuhan konsumsi beras nasional pada April - Juni 2020 sekitar 7,61 juta ton atau rata-rata 2,5 juta ton per bulan. Artinya, sampai beberapa bulan ke depan, Indonesia akan surplus beras sekitar 6,4 juta ton.
Surabaya of East Java [B2B] - Indonesia's East Java provincial government estimates 2020 rice production is surplus of 1,5 millon tons, exceeding public consumption. Governor Khofifah Indar Parawansa said estimated rice production in May to August 2020 reached 1,474,676 tons, so overall, the estimated rice surplus from January to August reached 1,509,933 tons or 1.5 million tons.