Moratorium PNS? "Tidak Berlaku bagi Penyuluh Pertanian," kata Mentan SYL
Indonesian Agricultural Extension Remains Appointed as the Civil Servants
Reporter : Gusmiati Waris
Editor : Cahyani Harzi
Translator : Dhelia Gani

PUBLISHED: Kamis, 06 Februari 2020 , 04:48:00 WIB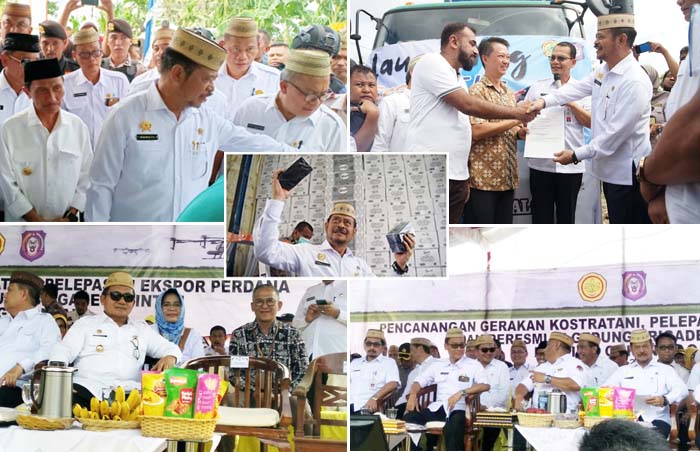 LEPAS EKSPOR: Mentan SYL melepas ekspor komoditas pertanian Gorontalo didampingi Kepala BPPSDMP Prof Dedi Nursyamsi; Dirjen PSP Kementan, Sarwo Edhy; dan Kepala Pusluhtan BPPSDMP Leli Nuryati [Foto2: B2B/Mya & Pusluhtan/FB Indra Nugraha]
Gorontalo [B2B] - Penyuluh pertanian menjadi penentu kinerja petani maka ketentuan moratorium pegawai negeri sipil [PNS] diusulkan tidak berlaku bagi penyuluh pertanian, setelah Menteri Pertanian RI Syahrul Yasin Limpo [SYL] berinisiatif menyurati Presiden RI Joko Widodo dengan usulan pengangkatan 6.000 penyuluh honorer menjadi PNS setiap tahun sehingga tersedia 30.000 penyuluh PNS di seluruh Indonesia dalam lima tahun ke depan.
"Urusan perut tidak bisa ditunda untuk memenuhi kebutuhan pangan bagi 267 juta jiwa. Moratorium satu hari saja bisa bermasalah apalagi kalau berbulan-bulan. Bertahun-tahun. Artinya, status dan hak penyuluh pertanian dikecualikan dari ketentuan moratorium PNS," kata Mentan SYL yang dikutip Kepala BPPSDMP Kementan, Prof Dedi Nursyamsi dalam sambutannya pada ramah-tamah dengan Forum Komunikasi Pimpinan Daerah [Forkopimda] di rumah dinas Gubernur Rusli Habibie di Kota Gorontalo, Rabu [5/2].
Mentan SYL, kata Dedi Nursyamsi, menyadari peran vital penyuluh bagi kemandirian petani sehingga bersikeras mempertahankan dan membela kepentingan penyuluhan pertanian, karena disadari yang mampu mendukung kinerja petani hanya penyuluh sekaligus berperan mendorong peningkatan produktivitas pertanian.
"Pemerintah menetapkan moratorium pengangkatan PNS, namun Mentan berupaya meyakinkan Presiden tentang tugas dan fungsi penyuluh pertanian bagi Kementan, sehingga kebijakan moratorium PNS dikecualikan bagi penyuluh agar bisa ditinjau dari sisi lainnya," kata Mentan SYL seperti dikutip Dedi Nursyamsi.
Menurutnya, Mentan SYL menginginkan jumlah penyuluh pertanian mendekati kondisi ideal untuk mendukung kelembagaan dan ketenagaan penyuluh sekaligus menggantikan penyuluh yang pensiun.
Inisiatif dan komitmen dukungan bagi penyuluh pertanian, kata Dedi Nursyamsi, membuktikan bahwa Mentan SYL menaruh perhatian begitu besar kepada penyuluh, apalagi saat ini Kementerian Pertanian RI telah didukung teknologi informasi era 4.0 melalui Komando Strategis Pembangunan Pertanian [KostraTani] didukung Agriculture War Roiom [AWR] untuk revitalisasi peran penyuluh dan balai penyuluhan pertanian [BPP] di kecamatan selaku KostraTani.
Dedi Nursyamsi mengajak para penyuluh pertanian di seluruh Indonesia untuk berkomitmen meningkatkan kompetensi di bawah koordinasi Kepala Pusat Penyuluhan Pertanian [Pusluhtan BPPSDMP] Leli Nuryati didukung seluruh unit kerja eselon satu dan unit pelaksana teknis [UPT] Kementan di 34 provinsi untuk menggelar pendidikan, pelatihan, sertifikasi dan sebagainya, sehingga upaya dan komitmen Mentan SYL ke depan tidaklah sia-sia.
"Biaya pelatihan memang tidak murah maka manfaatkanlah KostraTani untuk mengakses informasi terkini untuk meningkatkan kompetensi. Saat ini hanya penyuluh berkompetensi yang dibutuhkan petani. Mereka yang biasa-biasa saja akan tertinggal dan digilas mereka yang kinerjanya cemerlang. Suka tidak suka, penyuluh harus menampilkan kinerja luar biasa," katanya.
Gorontalo [B2B] - Indonesian agricultural extension determines the performance of the farmer, the provisions of civil servants proposed moratorium does not apply to agricultural extension, after Agriculture Minister Syahrul Yasin Limpoberinitiatif wrote to President Joko Widodo with the proposal to appoint 6,000 honorary extension workers to become civil servants every year, according to senior official of the ministry here on Wednesday [February 5].